While I continue to remain short on the British pound, I had previously asserted that going long the New Zealand kiwi dollar is an ideal way to exploit a GBP weakness. While the trade did indeed prove to be profitable, here is why I am now shorting the pound against the Aussie dollar given a gradual weakening of the kiwi dollar.
Even in spite of lower oil prices, the Aussie dollar continues to be an attractive currency this month. Based on a strong-weak analysis this month, the AUD has consistently come out as one of the strongest currencies against the USD, while the GBP has come out as one of the weakest. But what explains this strong trend behind the AUD?
As I had previously pointed out, the Aussie economy more generally is diversifying itself away from commodity dependence, and this has been evidenced by a decreasing dependence on commodities and the mining sector in favor of more productivity-based growth. As evidence of this, Brexit has so far not had a major impact on the Australian economy with ongoing employment rates rising and a monthly survey by the National Australia Bank standing at a score of +8 which is still above the long-run average.
In this regard, given that economic sentiment is positive on Australia and this is translating into its currency, I am long AUD and short GBP. Specifically, here is how I am trading the GBP/AUD: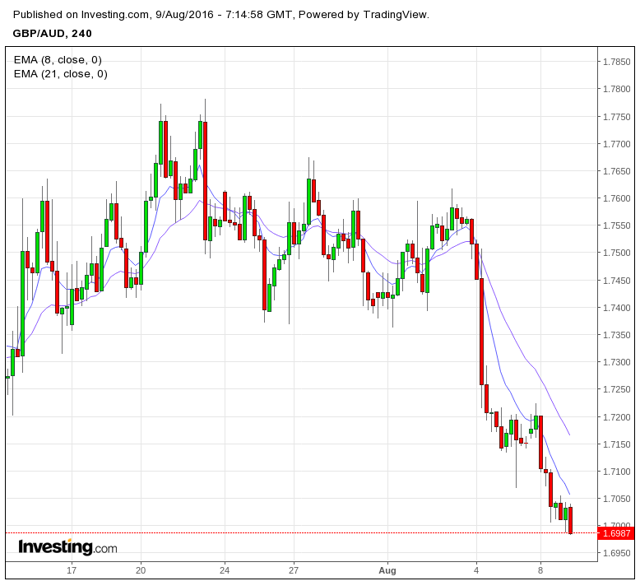 Stop Loss: 1.714
Entry: 1.70302
Profit Target: 1.68102
Moreover, the Aussie dollar has continued trending downwards at the time of writing, having gained 100+ pips against the GBP. In this context, I see a take profit rate of 1.68102 as a significant probability by the end of this week.
To conclude, the GBP continues its weakness and I do not see significant probability of strength in the week ahead. While I had previously asserted that the NZD would continue to gain against the GBP (and still may happen), I see the AUD as the strongest candidate for a short GBP play.
Disclosure: I am/we are short GBP/AUD.
I wrote this article myself, and it expresses my own opinions. I am not receiving compensation for it (other than from Seeking Alpha). I have no business relationship with any company whose stock is mentioned in this article.
Additional disclosure: Please note that foreign exchange is a rapidly moving market, and the above analysis reflects the author's opinion at the time of writing only. The author's stated views/positions should not be taken as any form of investment advice, and the author may subsequently modify his views/positions on the basis of new information.