Four involuntary bankruptcy petitions were to be discussed on August 9th by the Amsterdam court
As you may remember from our previous articles, hedge fund Aurelius, through its Syzygy Capital Management unit, filed a legal proceeding in Amsterdam asking the court to declare Oi Brazil (NYSE:OIBR) Holdings Cooperatif bankrupt.
Later on, two different parties, International law firm Grimaldi, representing several European retail and institutional bondholders, and Loomis filed three different petitions with the same purpose.
OI had already replied that such "aggressive action by a minority holder [Aurelius] was not unexpected, and [that] Oi is fully prepared to take all available measures, including in The Netherlands, to protect against such actions and does not expect any impacts to the judicial reorganization process in Brazil".
Their latest court move, however, may be in denial of the last sentence, as OI's request for a "suspension of payment" will open the door to the appointment of a trustee who will have the power to represent Portugal Telecom (NYSE:PT) bondholders during the RJ.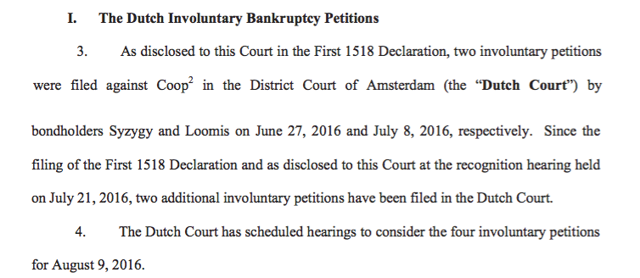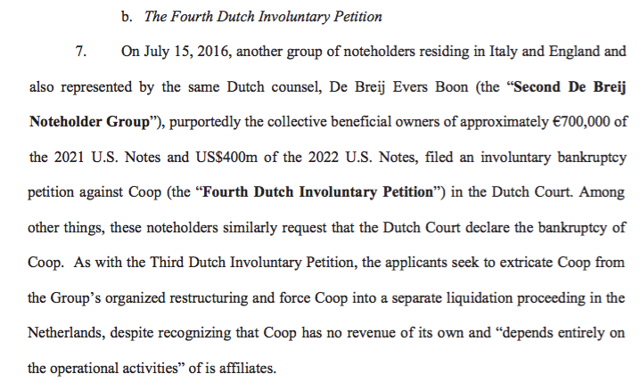 Images from OI's Chapter 15 court filing made on August 4th
What is a suspension of payment according to the Dutch law? Why has OI chosen this defense move?
A suspension of payment under Dutch law serves to create a temporary stand-still of the company vis-à-vis its creditors.
The suspension of payments is requested by the company itself, when it believes that it can't continue to pay its debt when due. There is no doubt that this is OI's situation, as it filed the equivalent of a Chapter 11 proceeding in Brazil.
The law provides that a preliminary suspension of payment may be granted immediately, which in most cases it means the very same day it is requested.
At a later date a creditors' meeting is usually set to discuss the grant of a definitive suspension of payments. The discussion for definitive suspension of payments is scheduled for May 18, 2017.
The grant of a suspension of payment implies that the court will appoint a trustee.
The trustee is an independent person, often an experienced lawyer, who has a strong voice in the proceeding, acting like an administrator. The management of the company has no authority and no power to represent the company unless the trustee allows them to.
In a large majority of cases the suspension of payment leads to bankruptcy. However, as OI is already in bankruptcy, in this case the suspension of payment could become a more permanent measure.
The Dutch trustee will probably be in close contact with the foreign trustee who heads the Brazilian RJ and will probably wait for the negotiations with the creditors at this international level to end before deciding whether to file for bankruptcy or to support the Brazilian scheme of arrangement to the creditors.
A request by the company for a suspension of payment prevails over a pending request from a creditor to declare the company bankrupt.
In other words, OI preferred to chose its own fate, even it opens the door to the appointment of a trustee, as it was not really sure that the Dutch court would rule in its favor.
Conclusion
Oi's legal move in the Amsterdam court is the acknowledgment of its failure to keep the company's bankruptcy just under the Brazilian Recuperação Judicial jurisdiction.
We believe that it will now be more difficult for OI to come out with a proposal very similar to the one made to the Moelis group, as PT and OI Coop bondholders will now have a stronger voice in the RJ thanks to the appointment of a trustee who will be acting in their sole interest.
As a reminder, OI's proposal contemplated a 35% recovery on principal to the Telemar (Brazilian) bonds and a 25% only recovery to the Dutch ("foreign") bonds (issued by PT and OI Coop).
Mr. Market, which has recently narrowed the gap between PTIF and Telemar bonds, seemed to know in advance how weak OI's position was in the Amsterdam court.
The company finally accepted reality and chose the lesser evil, a voluntary request for suspension of payment.
It may not sound as bad as a full bankruptcy, but its effects may be the same for its creditors. There is little doubt that this is an indirect win for Aurelius, Loomis and Grimaldi whose bankruptcy request has produced the desired effect: the appointment of a trustee acting in the interest of PTIF and OI Coop creditors.
Disclosure: I/we have no positions in any stocks mentioned, and no plans to initiate any positions within the next 72 hours.
I wrote this article myself, and it expresses my own opinions. I am not receiving compensation for it (other than from Seeking Alpha). I have no business relationship with any company whose stock is mentioned in this article.
Editor's Note: This article covers one or more stocks trading at less than $1 per share and/or with less than a $100 million market cap. Please be aware of the risks associated with these stocks.