Since early July, oil prices have fallen due to an oil supply glut. I think oil prices will continue to decline due to a lack of measures to reduce the oil production, as well as the declining efficiency of oil corporations' businesses, which creates additional pressure on oil prices.
Wildfires in Canada have forced oil corporations to cut oil production by approximately 750 million b/d only in May 2016. Considering that they were stopped only on July 5th, production was reduced by about 1.5 million b/d.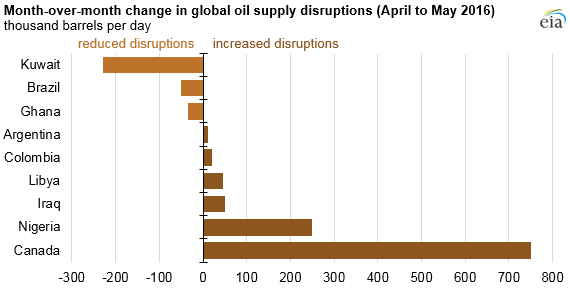 (Source: eia)
Thus, the July data on the global oil production will reflect production growth by approximately 750 million b/d in connection with the resumption of oil production.
Moreover, Iraq has increased its oil production. The July oil supplies increased by 0.25 million b/d from the previous month due to an advancement of the Iraqi army in battles against the Islamic State (ISIS) and an expansion of its network of oil fields.
Based on the fact that conquered fields in most cases require restorations, I think the oil production in Iraq will increase even more in August 2016 that will be reflected in data on production volume. In addition, Saudi Arabia has reduced its oil prices for Asian partners, which will increase the competition among oil producers and contributes to the reduction of oil prices.
The growth in the number of US rigs should also be noted. Oil explorers have begun to increase its number in June when oil prices have overcome the level of $50 per barrel. This growth is already reflected in the data on oil stocks in the US, which began to grow again.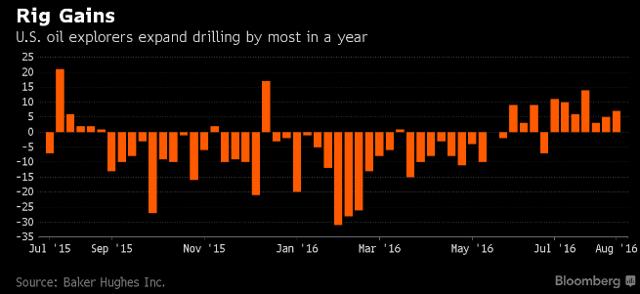 (Source: Bloomberg)
Taking into account а significant reduction of mining production in the US, I think the considerable increase in the number of active rigs will contribute to the growth of oil reserves, increasing the oil supply glut.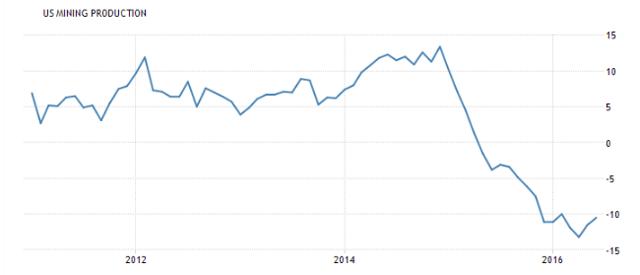 (Source: tradingeconomics)
Consequently, I think the oil supply glut will only increase due to the facts above, which are pointing to the growth in oil production in Q3 2016. Despite the fact that refineries are increasing their production capacity every June and July due to a rising demand for gasoline, a risk of a decline in oil prices increases. This occurs because operating margins of oil companies have declined substantially due to falling prices, burdening them with massive debts and pushing them to lower prices to preserve or enlarge a number of customers (Saudi Aramco as an example). I think such competition will have an adverse effect on oil prices in the third quarter of 2016.
Furthermore, the number of long positions in gasoline futures and options dropped to the level of 2010, and the number of hedge funds' short positions in WTI increased to the highest level since 2006. This trend reflects investors' confidence in a further decline in oil prices and putting pressure on the profitability of oil corporations that contributes to the additional growth of the competition.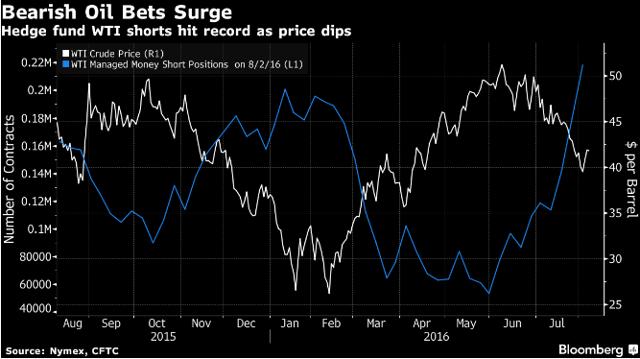 (Source: Bloomberg)
Conclusion
Therefore, I recommend opening short positions in BNO and DBO and hold them until the end of Q3 2016.
Disclosure: I am/we are short BNO, DBO.
I wrote this article myself, and it expresses my own opinions. I am not receiving compensation for it (other than from Seeking Alpha). I have no business relationship with any company whose stock is mentioned in this article.