Interpump (OTC:IPGLF) is a well-managed company that operates within niche industries. With a market cap of €1.5Billion, Interpump is a leader in two niche markets: Hydraulics and Water Jetting Pump. They have grown at a double digit CAGR for the last few years. The company has maintained this strong competitive position thanks to great acquisitions.
Due to a solid financial position, it has room to do more M&A to improve synergies and to consolidate its leadership position. Based on my valuation the company is undervalued by 56%.
NB: There is a much higher volume of the shares traded on the Italian exchange under the ticker "IP".
The Company:
Interpump is an Italian company and a leader in Hydraulic and Water Jetting pump production. IPGLF was founded in 1977 by its current chairman, co-CEO Fulvio Montipo. Interpump's sales are based 80% on developed markets (Europe and North America), and 20% on the rest of the world. Thanks to M&A, Interpump counts more than 20 companies operating around the world.
The products:
With a turnover of EUR 895 Million, more than 20 companies around the world, and 46 plants, IPGLF operates in two industries: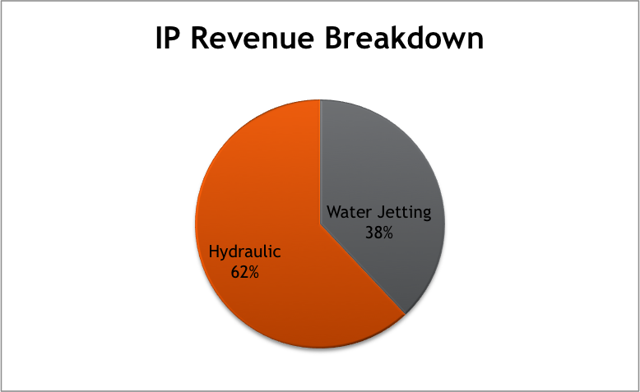 Source: Author's Work
Hydraulic: This includes production and sales of power take-off systems. Power take-off systems are used to send power from the engine to other hydraulic components in industrial vehicles. These products allow the execution of special functions, such as lifting a cargo bed, moving a crane or activating a cement mixer.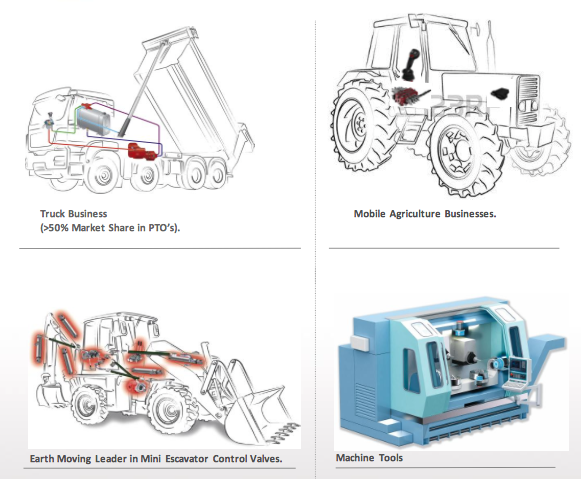 Source: Company Presentations 2015
Water Jetting: The other business involves high-pressure plunger (HPP) and very high-pressure plunger pumps (VHPP) for fluids transportation. Such pumps are widely used for industrial application of auto cleaner, tools cleaner implant, and osmosis plants. Very high-pressure pumps and systems are used for the following:
Cleaning surfaces, ships, and various types of pipes.
Removing machining burr, cutting and removing asphalt cement.
Removing paint coatings from stone, cement, and metal surfaces.
Cutting solid materials.
Example of a great M&A:
Interpump is an example of a successful M&A operation. Since 1990, the company has started expanding into the professional and consumer cleaning equipment niches through several procurements. In 1998, the company made its first U.S. acquisition: General Pump (active in very high-pressure pumps in the U.S.).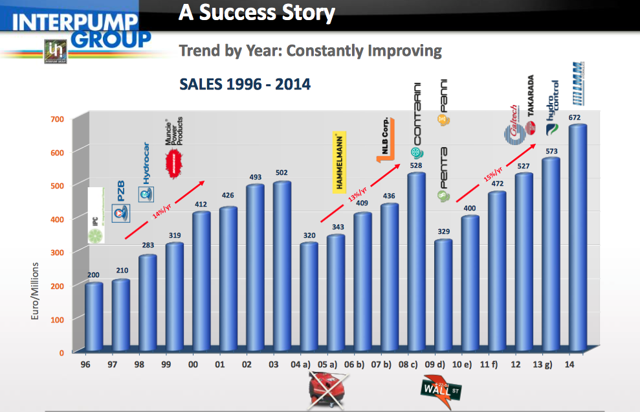 Source: Company Presentations 2015
In 2005, management decided to improve profitability and decrease business risk by selling its companies in the cleaning sector. The Cleaning sector was characterized by low profitability (EBITDA margin 10%), strong competition within the industry and high client concentration. For all these reasons, management decided to leave the Cleaning sector and concentrate on the Hydraulic and Water Jetting sectors that have a higher entry barrier.
In 2004, Interpump sold companies in the Cleaning sector. Once those companies were sold, Interpump saw a 36 percent decrease in revenue. However, those sales improved Interpump's balance sheet to where it could spend a lot of cash concentrating on its new businesses in the more profitable sectors. From 2005 there have been 15 accessions to develop segments with a higher level of technology and high profit. (Hydraulic and Water Jetting).
Target companies are only those that can bring synergies and reinforce entry barriers. Synergies helped to improve margins. As we can see from the graph, operating margin before 2005 was an average about 10% while today, it is around 15%.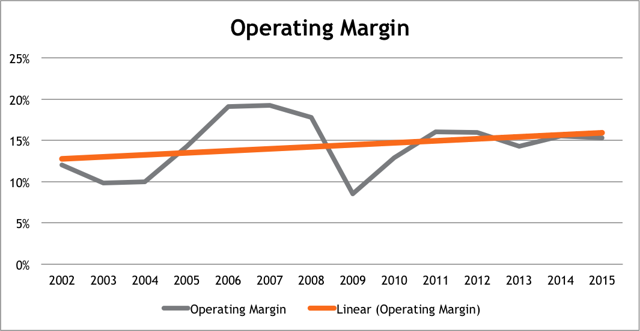 Source: Author's Work
Acquisitions also reinforced EBITDA margin. In effect, Interpump bought companies with EBITDA margins around 5x. Despite this, Interpump maintained an EBITDA margin around 20x. This is attributable only to great synergies in cost, distribution, and business that the company created.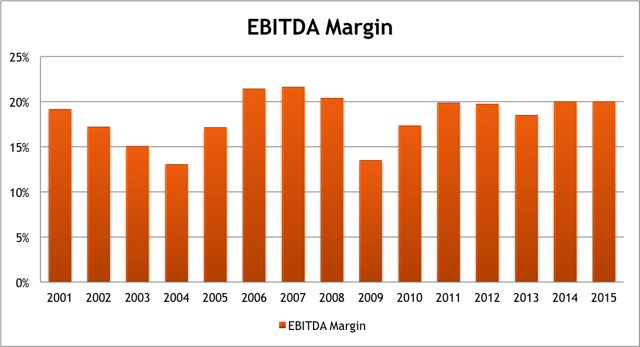 Source: Author's Work
Leader in Hydraulic and Water Jetting niche
M&A helped Interpump obtain a leadership position in niche markets. We can see from the graph that in 2006, the company had a market share of 6.8%. Interpump represents around 12% of the market today.

Source: Author's Work
This is because IPGLF's revenue increased at a CAGR of 8.54% during the last 10 years. Meanwhile, the sector's average revenue increased at an average of 3.26%. This huge difference in the growth rate is due to a focused procurement that improved business synergies. Indeed, the company has exploited clients from acquired companies to sell other services and products. This helped revenue growth in the last few years.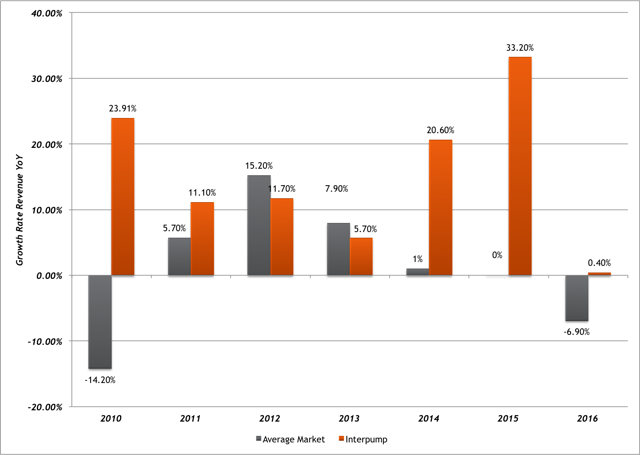 Source: Author's Work
According to Interpump estimates, the global automotive pump market is worth €50Billion. This is consistent with other research that forecasts the global market for automotive pumps to grow at a CAGR of 6.4% from 2014 -2019 and reach a value $48.9 billion by 2019.
NB:The market share was computed by considering the revenue from Pump segment of the following companies: Eaton Corporation, PLC (NYSE:ETN), Weir Group PLC (OTC:WEIGF), Bucher Industries AG (OTC:BCHHF) and Sulzer AG (OTCPK:SULZF). Unfortunately, these companies don't provide information about sub-segment such as High-Pressure Pump, whereas, Interpump claims to have around 40-50% of that market share.
Rock-Solid Balance Sheet:
Management continues improving organic and external growth, but at the same time keeping a strong balance sheet.
Interpump must be ready to acquire when the market has good deals for target companies. This will only be possible if the company maintains a low debt level. In 2009, IPGLF reached Net Debt/EBITDA up to 4x, causing a financial crisis, then decreased its debt. Net Debt/EBITDA decreased about 65% and today it is only 1.4x.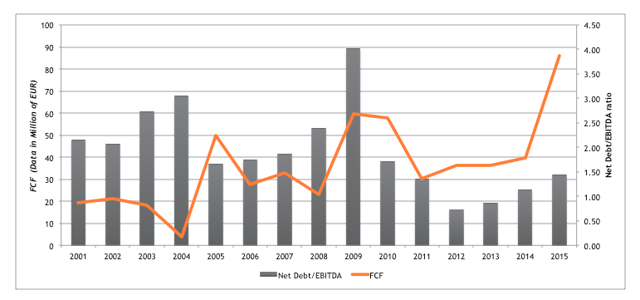 Source: Author's Work
With an FCF yield of 8.8% and a Net Debt/EBITDA of 1.4x, the company has significant M&A firepower.
Valuation:
The valuation used for IPGLF was Earnings Power Value (EPV) adjusted for the value of growth as Greenwald in his book.
For the author, growth has value only if ROIC > Cost of Capital
The first step is comparing the Return on Invested Capital and the Cost of Capital.
ROIC is around 17%. A widely accepted approach for calculating the Cost of Capital is the Weighted Average Cost of Capital formula.
WACC = ((E/V) * Re) + [((D/V) * Rd)*(1-T)]
E = Market value of the company's equity
D = Market value of the company's debt
V = Total Market Value of the company (E + D)
Re = Cost of Equity
Rd = Cost of Debt
T= Tax Rate
Market Premium: 7.55%
Beta: 0.72
Cost of Debt: 1.71%
Tax Rate: 35%
WACC = 5.15%
So the return on capital is more than thrice the cost of capital; a great position. (ROIC/R ~ 3.26).
The revenue has grown by 8.5% during the last 10 years while EPS has been around 19.5% during the last 5 years. For the valuation, a conservative growth rate of 2.6% was used, based on an average of different countries' long-term growth. (Data by OECD).
At the start of 2015, Interpump had €461 million in capital invested to support sales of €895 million. The net profit margin is 13% and ROE is 25.5%. If Interpump wants to grow by 2.6%, it will need an additional investment of €12 million. Therefore, new Net Income is about €102 million (distributable to investors).
From Greenwald's book the equation to find Margin of Safety with growth is:
M = PV/EPV
Where
PV = (NI Distributable to investors)/(WACC - G)
EPV = NI adjusted/WACC
Note: For NI adjusted value it waused an amount of€93.5million to add back 25% of D&A.
The margin of safety is 1.18, so a fair price of the company is around €22- €23 per share, based on a conservative growth rate of 2.6%.
The stock is trading around 14.5€ which gives a discount of 56%.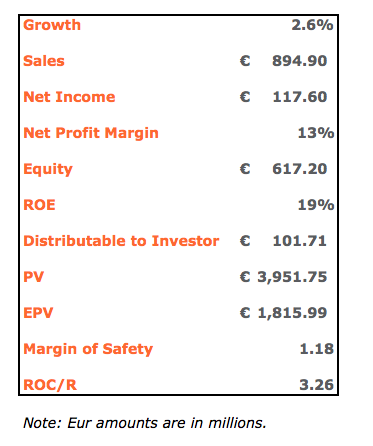 Source: Author's Work
Disclosure: I am/we are long IPGLF.
I wrote this article myself, and it expresses my own opinions. I am not receiving compensation for it (other than from Seeking Alpha). I have no business relationship with any company whose stock is mentioned in this article.
Editor's Note: This article discusses one or more securities that do not trade on a major U.S. exchange. Please be aware of the risks associated with these stocks.