CURRENT RATING: BUY
In my previous coverage of Honeywell International (NYSE:HON) last January, I had argued the company to be significantly mispriced at the price of $97.11 at the time. The stock has since made significant gains, up to $116.04 at the time of writing: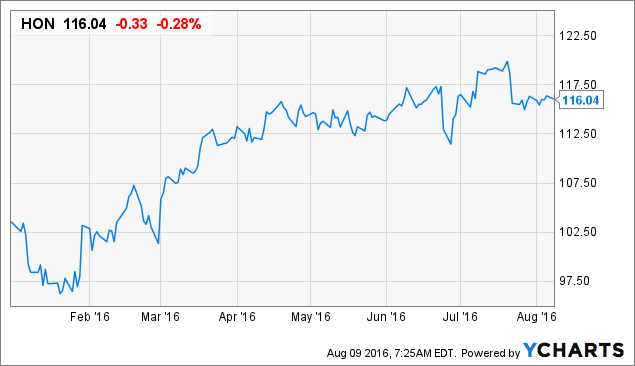 Among the reasons I cited for the evident mispricing of this stock were vibrant increases in earnings and free cash flow while price remained stagnant. Moreover, an expected growth rate of 15 percent in sales in emerging markets (compared to 6 percent growth in developed markets) is due to increasing urbanization in such areas, a trend that is not expected to cease any time soon in spite of some short-term headwinds.
In spite of recently lower revenue expectations across both developed and emerging markets, I continue to be optimistic on Honeywell International. One of the major reasons for lower revenue expectations stems from a fall in organic sales in its core business areas. However, I see this as being largely macroeconomic related. For instance, a fall in oil and gas prices has understandably softened demand for the company's aerospace products, in addition to performance materials and technologies taking a hit due to lower gas processing, licensing and equipment sales. In general, a fall in the energy markets has hit sales given that the company's products are largely energy-related.
However, I continue to remain optimistic on the long-term outlook for the company. Honeywell has continued to make large-scale acquisitions in order to expand its product line, and I not only see this as widening the company's customer base long term, but also by allowing Honeywell to lower the negative impact of lower energy prices long term. For instance, the company's agreement to acquire material handling and software engineering company Intelligrated for $1.5 billion allows for further penetration into the supply chain management industry by gaining access to expertise in areas such as robotics and warehouse execution systems.
From a competitive standpoint, growth in earnings and free cash flow per share on a five-year basis continues to be the highest among its competitors: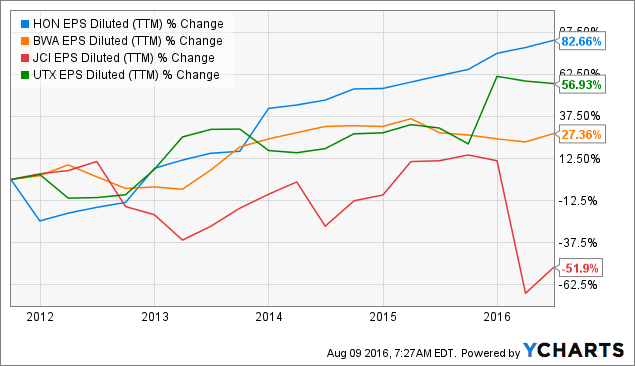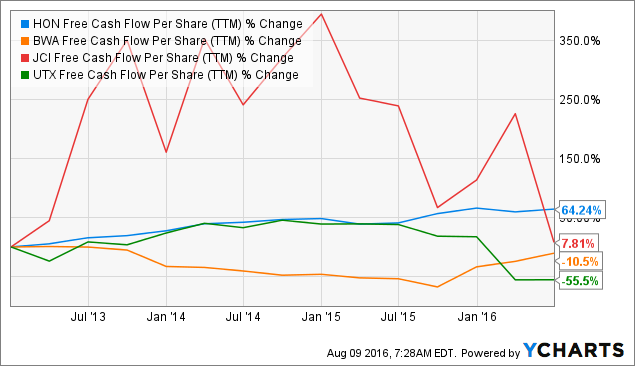 To conclude, I see Honeywell International as a company that has a solid future ahead. In spite of lower sales figures, I see the company as a strong leader in its industry and any potential weakness could represent a good buying opportunity.
Disclosure: I/we have no positions in any stocks mentioned, and no plans to initiate any positions within the next 72 hours.
I wrote this article myself, and it expresses my own opinions. I am not receiving compensation for it (other than from Seeking Alpha). I have no business relationship with any company whose stock is mentioned in this article.