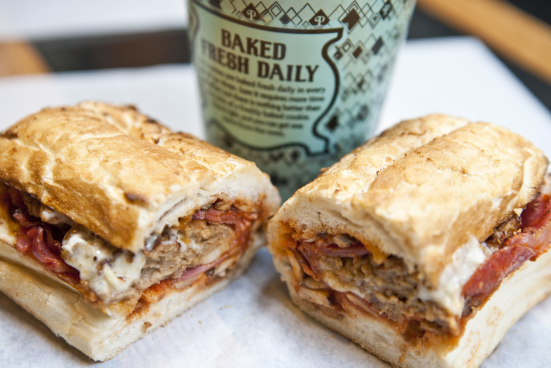 For basically its entire life as a public company, I've been bearish on Potbelly (NASDAQ:PBPB). The stock was just another highflying fledgling restaurant chain that had absurd growth expectations built into its share price, and for that reason, I disliked it. That is until after Q1 earnings changed my mind on the long-term growth story and the valuation had come in some. But since I said Potbelly was finally a buy, the stock has bounced around and is down marginally. So what can Q2 earnings tell us about Potbelly's growth trajectory, and with the stock still at $13, am I still calling it a buy?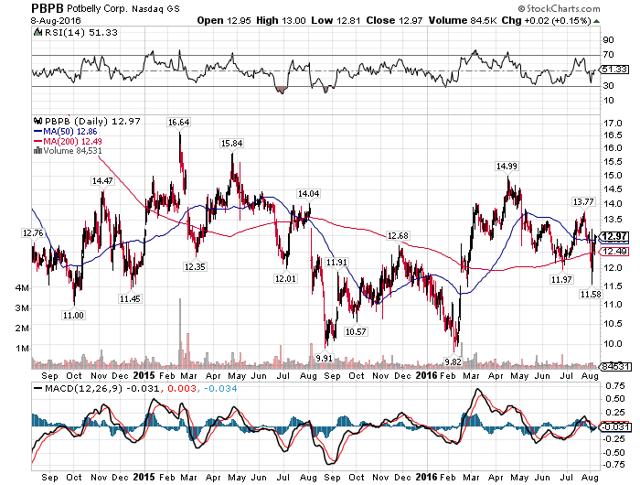 There is nothing wrong with Potbelly's business model; the stores are nice, and you can tell when you walk in exactly where you are. The food is reasonably priced, and it is good; I've never had anything at Potbelly where I felt like I didn't get what I paid for. The problem is that investors took a nice business model and bid it up to the point where there was simply no way for PBPB to deliver. But of late, Potbelly seems to be catching up to the stock as the latter continues to bounce sideways over time.
Potbelly's revenue continues to fly higher as it is very much in its growth phase, opening new shops at a rapid rate. Potbelly runs a bit against the sandwich shop mold in that it owns roughly 90% of its system; franchises are a very small piece of the puzzle rather than the other way around. That leads to lots of capex, but it also leads to a lot of revenue growth and the fact that PBPB gets to keep its operating profits rather than just sharing in revenue and/or a sliver of the profits as it would in a franchise-heavy environment.
That setup allows PBPB to produce very strong revenue growth on a dollar basis, and in Q2, the top line was up 9.5%. As you'd expect, almost all of that was due to new stores, but comps did come in at +1.7% for Q1. That's not exactly a blistering rate of growth, and for a company that is still in its infancy with roughly 400 stores, I was hoping for better. Indeed, Potbelly has been producing much higher growth than that for a very long time, but in 2016 so far, comp sales growth has slowed materially. This is something I certainly hadn't accounted for after Q1 when I said it was a buy, so to say I'm concerned is more than fair.
As I mentioned, comps were +1.7% in Q2, but that represents a massive slowdown against any period you can think of. Last year's Q2 saw a very impressive 4.9% gain, and this year's Q1 saw roughly double the comp sales gain that Q2 produced. Those are big discrepancies, and it means that PBPB's comp sales numbers may be at risk over the longer term. That puts a damper on the bull case to be sure because when you see comp sales numbers fall off a cliff like that, something is going on. Indeed, management is now guiding for just 1% to 2% comp sales growth this year and that certainly doesn't help the bulls.
On the bright side, Potbelly's margins are absolutely huge and getting better over time. Unit-level margin was 21.2% in Q2, up 60 bps from last year's Q2 and even more than that over this year's Q1. Margins have never been a problem at Potbelly, and in fact, this is one of the reasons why I liked the stock after Q1. Companies with 20%+ operating margins are really nice finds, and in particular, for a company that is still growing very quickly. Net income margin is still just over three percent, but that will improve over time as Potbelly spreads corporate costs over a larger and larger revenue base. But in terms of margins, I have no concerns, and in fact, margins are a source of strength.
But is it enough? We have a stock that is going for an almost unbelievable 35 times this year's earnings and even 29.5 next year's estimates. Those multiples are huge and portend an enormous amount of earnings growth that hasn't happened yet. And while I believe in the product and the company's margins, its marked slowdown in comp sales is a little alarming. For that kind of price, I'm not willing to accept 1% or 2% comp sales growth because the stock has built in more growth than that. Potbelly's margins are still tremendous and will continue to get better over time; of that, I have no doubt. But the stock should have traded down over the past couple of months and hasn't, meaning I'm rescinding my buy recommendation and instead moving to a cautiously bearish stance. If PBPB breaks through its 200DMA - currently about 50 cents below the stock - it could be a nice short. I wouldn't short it until then, but fundamentally, I think the case for Potbelly has changed, and thus, I'm changing my view as well.
Disclosure: I/we have no positions in any stocks mentioned, and no plans to initiate any positions within the next 72 hours.
I wrote this article myself, and it expresses my own opinions. I am not receiving compensation for it (other than from Seeking Alpha). I have no business relationship with any company whose stock is mentioned in this article.