Mannkind Corporation (NASDAQ:MNKD) continues to gasp for breath, and garner a fascinating following for such an unsuccessful experiment. The company announced another loss in its Q2 results. With a $30 million loss, the company has fared worse than the same quarter last year. Some may point to the losses per share being the same as last year, but if you look closer you can see that the eps looks unchanged year over year due to the larger amount of outstanding shares currently trading (455 million versus last year's 401 million). The share count also influenced Q1's "lower" losses in earnings per share. The stock has reacted accordingly today.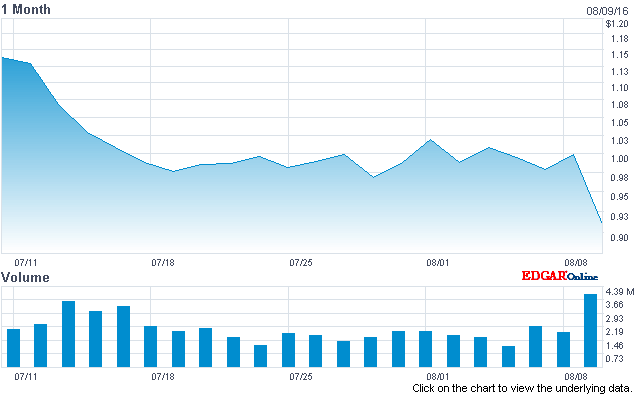 (Source:Nasdaq.com)
The situation is too far gone
It's a true shame that a product like this was mismanaged. Now the company is banking on a relaunch of Afrezza under their own marketing and supervision rather than the old setup with Sanofi (NYSE:SNY). Even if the firm creates an uptick in sales volumes, is it really going to matter to investors at this point? How long can you ride the ship with holes in the hull? Mannkind lost $368 million last year with zero revenues on the income statement. The company's balance sheet is terrifying. The debt position and crumbling of assets overshadow any fledgling Afrezza prescriptions. Cash and cash equivalents increased to $63.3 million but most of this came from proceeds from another public offering. This further dilutes any potential future profits.
Manufacturing costs were $3.7 million as production of the drug started up again in the second quarter. This expense isn't a big deal assuming they can actually sell it. The sales history thus far is not super promising for the drug. The lack of any success with Sanofi pushing Afrezza is a pretty good indicator that there won't be any success with Mannkind doing it. Consider the fact that the company has no experience in sales and marketing. They're essentially starting from scratch. That's expensive. There's a learning curve. How much money will the company burn while they "learn"? All of this is fine and dandy for those that have been in it from the beginning. They're desperate for the company to survive because they've lost so much in it. Anyone outside should stay away. This stock has nothing to offer.
At the current rate of $30 million in losses per quarter, they'll burn their cash position by the end of this year. They have an additional $30 million available under a loan agreement, and $50 million in an ATM facility. So at current losses, they have less than 5 quarters to turn a profit. They could always sell more stock, but that gets pretty difficult at $0.90 a share, assuming its stays there.
Disclosure: I/we have no positions in any stocks mentioned, and no plans to initiate any positions within the next 72 hours.
I wrote this article myself, and it expresses my own opinions. I am not receiving compensation for it (other than from Seeking Alpha). I have no business relationship with any company whose stock is mentioned in this article.
Editor's Note: This article covers one or more stocks trading at less than $1 per share and/or with less than a $100 million market cap. Please be aware of the risks associated with these stocks.