First Horizon National (NYSE:FHN) has followed the trajectory that most American banks have since the beginning of the financial crisis. The stock price crashed, then recovery/turnaround efforts, now struggling for profitability in a low rate environment. FHN did take a little longer than most banks to clear its legal trouble and secure financial solvency post-recession. This has led to speculation that shares of First Horizon still haven't fully rebounded and represent value. The company's stock is nowhere near where it traded in 2006, but I don't view shares as undervalued at current levels.
The bank has managed a successful turnaround lifting its shares from the lows seen a few years ago. A look at the long-term chart for FHN shows just how far the bank fell and subsequently recovered from: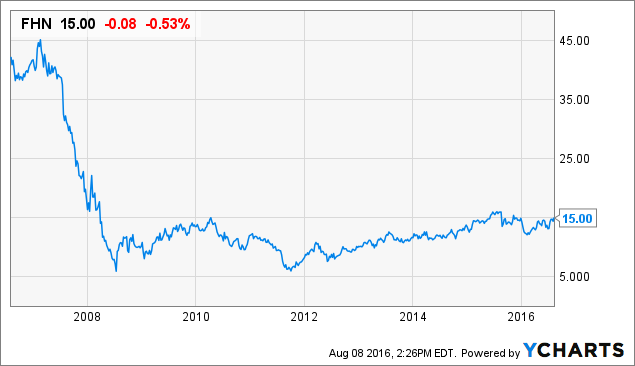 The collapse in share price that occurred in late 2007-early 2008 was undoubtedly related to the Financial Crisis and the bank struggled for years. FHN first proved that it can return to profitability in 2014 when it reported EPS of $0.90/share, an increase of 800% year over year (Morningstar). Earnings in 2015 were only $0.34 on a per share basis, but that figure is significantly weighed down by a large litigation charge incurred in Q1 of 2015 worth approximately ($0.51/share).
EPS in 2015, adjusted to exclude the legal charge, amounted to $0.95/share. Multiple years of steady income will be essential in proving to investors that the bank can deliver profits consistently. With all the regulatory noise out of the way, FHN is poised to continue its return to earnings growth in 2017. The chart below shows the consensus earnings estimates for FHN:

*This table uses the adjusted figure of $0.95/share for FY15*
The lack of earnings growth in 2016 is easy to blame on the expected rate hikes that never arrived, but no growth is still no growth. Investors can breathe a sigh of relief at the earnings estimates for FY 2017 and 2018, but those too could be revised downward should the Fed decide to delay additional interest rate hikes further.
Quarterly Highlights
A few things to note from FHN's Second Quarter Earnings Report (all growth rates are year over year).
Consolidated revenue increased 8%
Average loan balance increased 6%
Average deposits increased 9%
Expenses increased 4%
Growth in both interest income and fee income
The metrics above do indicate the bank is strengthening its position, but there isn't much about First Horizon that makes it a standout company. It's a good bank working to improve from the Great Recession in a tough environment for financial institutions. Shares are currently fairly valued, if not overvalued. The following two charts show FHN compared to a few competitors in terms of price-to-book and price-to-earnings.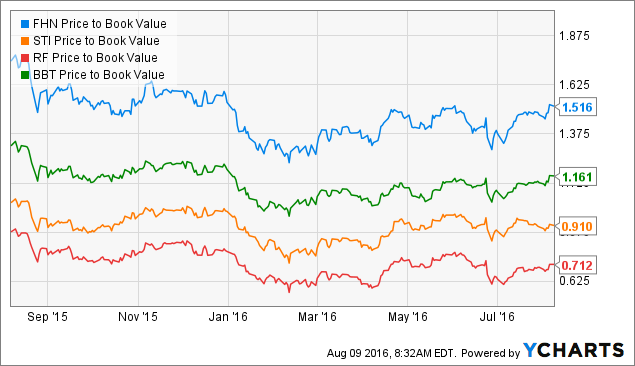 FHN Price to Book Value data by YCharts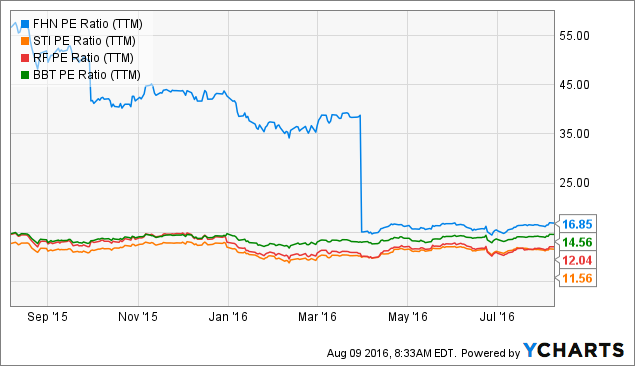 FHN PE Ratio (TTM) data by YCharts
First Horizon National bank is not a bad stock or bank, but its shares fully represent the value created by management's recovery efforts and should not be bought at these levels.
Disclosure: I/we have no positions in any stocks mentioned, and no plans to initiate any positions within the next 72 hours.
I wrote this article myself, and it expresses my own opinions. I am not receiving compensation for it (other than from Seeking Alpha). I have no business relationship with any company whose stock is mentioned in this article.