During the Q1 2016 conference call, Allergan (NYSE:AGN) CEO Brent Saunders referred to Teva's planned $40.5 Billion acquisition of Allergan's Global Generics business. It appears that the $40.5 billion has shrunk to a net of only $29.9 billion, representing the cash received plus the TEVA shares received less debt repayments. So what happened to all the money?

Allergan's Pro-Forma balance sheet that was filed in the August 4th 8K explains some of the difference but not all of the $2.1B off the top. We learned on July 13 that the cash proceeds to be received were to be reduced by $221MM. We can also see that the value of Teva's stock was reduced by $400MM from the August 2nd 8K to the August 4th 8K due to the value being discounted 5.9% for the restriction on the marketability of Teva's stock.
I'm not sure what is causing the rest of the difference since the Q1 call on May 10 but the remaining unexplained $1.5B difference of the $2.1B is less than a 4% discount from the May 10 $40.5B planned acquisition price so we'll leave it at that.
$8.5B of the sale proceeds were automatically used to pay down debt to note and loan holders and $35MM was paid in deal costs. On the surface it looks like mostly all of the debt was paid off except $34.15B in Senior Notes. However, total liabilities only decreased by $187.3MM. How is that possible?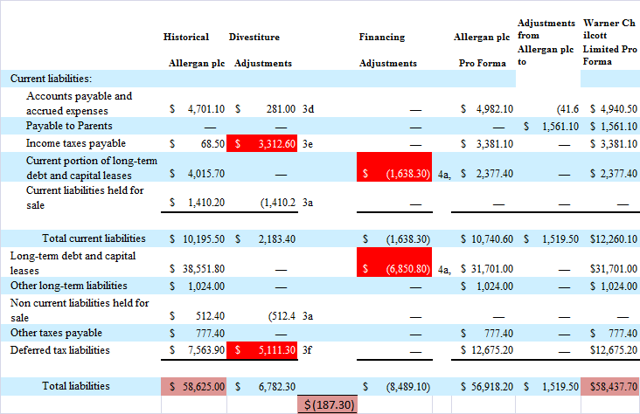 Allergan had to increase it's deferred tax liabilities by $5.1B as the company utilized a benefit recognized in 2015 then also had to record a $3.3B current income taxes payable.
While deferred tax liabilities may not represent future cash out the door, it's clear that Allergan has used up $8.5B of the sale proceeds and has only achieved a less than 1% reduction in total liabilities on their balance sheet.
Therefore, after the transaction and the effective rollover of liabilities from private note holders to the tax authorities, only $24.9B in cash proceeds remain from the sale and $5.036B in Teva stock.
$29.9B is a far cry from the previously announced $40.5B Acquisition.
Investor's should be aware that Allergan's diminished "War Chest," GAAP losses from Continuing Operations, and the company's continued reliance on non-GAAP measures - all offset by the company's stock repurchase plan - may not be enough to sustain it's lofty valuation over the long term.
Disclosure: I am/we are long VRX.
I wrote this article myself, and it expresses my own opinions. I am not receiving compensation for it (other than from Seeking Alpha). I have no business relationship with any company whose stock is mentioned in this article.