About 2 months ago, we argued that Ambarella (NASDAQ:AMBA) was in the early innings of its growth story and that share prices had good upside. Since then, shares are up more than 25%. We think the catalyst that has shot shares up over the past 2 months, accelerated demand outside of the action camera market, will persist and that the valuation still has room to expand. Additionally, a potential Hero 5 catalyst in the back-half of the year could provide additional runway for shares.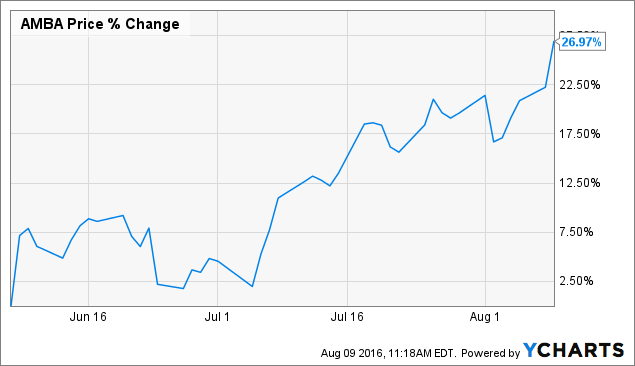 For better or for worse, AMBA is a stock that tends to trace the performance of its customers' stocks. This was for better in the back-half of 2014 when post-IPO giddiness carried shares of GoPRO (NASDAQ:GPRO) up more than 100% over 6 months. GPRO took AMBA up with it, and AMBA shares rose more than 60% from GPRO's IPO in June to the end of the year. Needless to say, both stocks hugely outperformed the broader market.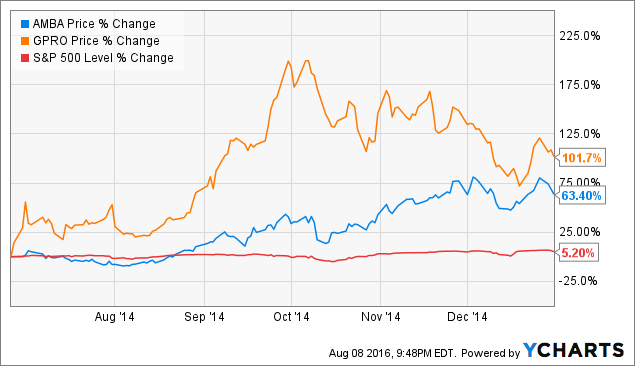 This was for the worse once GPRO investors took off their rose-colored glasses and realized the media side of the company was more of a pipeline dream than an immediate growth catalyst. This was followed by GPRO struggling to comp against record Hero 4 sales, and the stock tumbled more than 80% from July 2015 highs to February 2016 lows. AMBA took a similar tumble, falling just short of 60% in that time.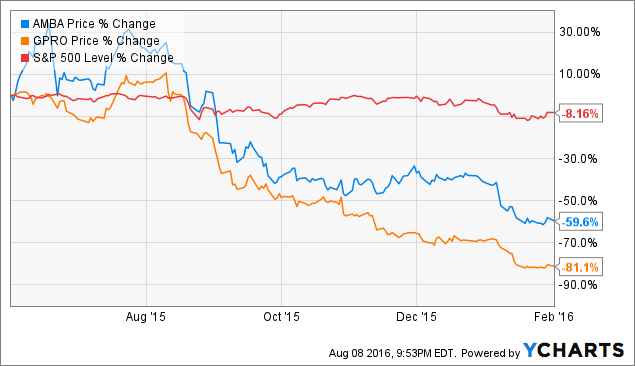 Recently, though, this has been for the better, as AMBA broke its GPRO pairing and rallied in-line with another one of its customers, TASER (TASR). Since early May, both stocks are up ~60% behind accelerated demand for TASR's Axon Body 2 Cams, built on AMBA SoCs.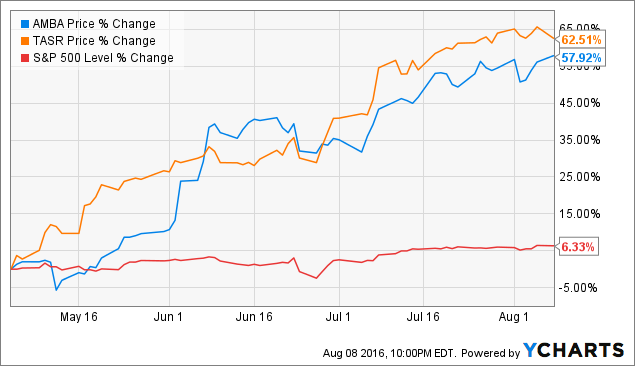 TASR just reported another record quarter with body cam shipments growing 55% Q/Q, and management expects those shipments to significantly increase next quarter, but the stock has barely moved in response. Since that report, AMBA stock has actually moved higher by more than 6% while TASR has lost almost a percent.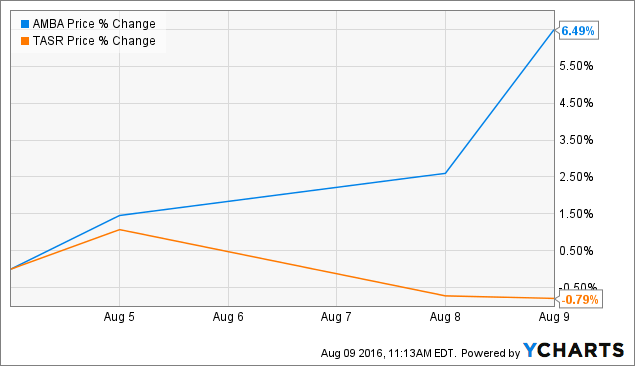 Why? We think the answer is two-fold:
Valuation.
GPRO.
Firstly, we argue that TASR's upside is capped by its full valuation, but we don't see the same situation with AMBA. We actually think shares of AMBA can continue to rally on strong TASR financial performance despite a sideways TASR stock. While both companies are well-off their 52-wk high valuation, AMBA is almost 70% off its 52-wk high forward P/E multiple while TASR is only 27% off its 52-wk high forward P/E multiple. From this perspective, AMBA has much more room for multiple expansion to regain what it lost in the GPRO debacle.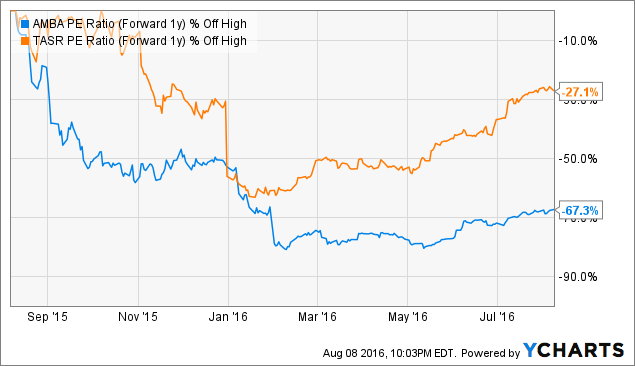 A better way of looking at this is by seeing how much each stock has rebounded in terms of actual share price. Accelerated body cam and smart weapon demand has shot TASR stock up to just shy of its 52-wk highs. AMBA, although off its low, is still ~50% off its 52-wk highs.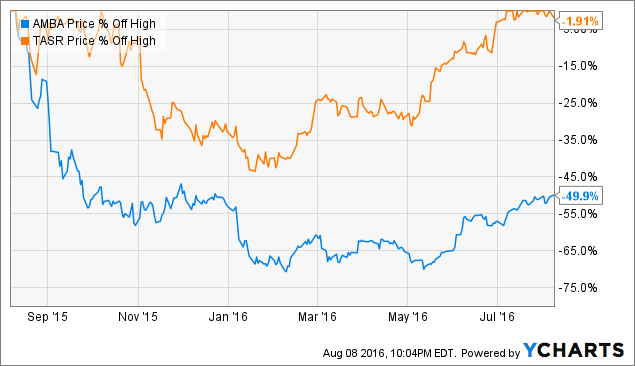 Beyond the charts, the valuation doesn't feel full at 21.2x forward earnings on 22.4% growth next year. That is a sub-1 PEG for a company that is in the early stages of growth in the flying, automotive, and home markets.
The other reason for recent stock strength is likely excitement around GPRO's Hero 5 launch in the back-half of the year. While it is unclear what SoC GPRO's newest camera will be built on, the market clearly feels that rumors of a switch to Qualcomm's (NASDAQ:QCOM) Snapdragon are unlikely to materialize. Both GPRO and AMBA are up more than 6% since TASR's earnings.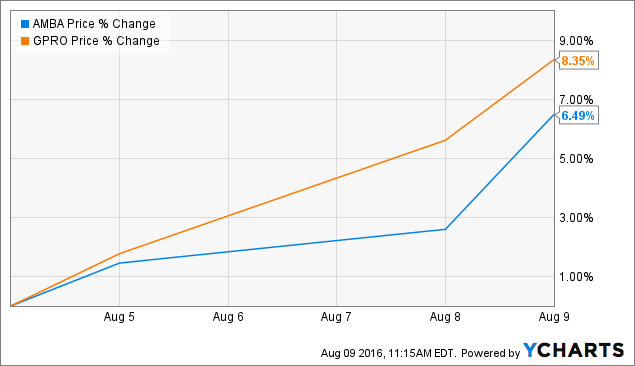 We have always liked AMBA because exposure to several high-growth markets means the company doesn't need GPRO to continue to grow at a strong rate. GPRO, though, could provide a nice catalyst for the stock in the back-half of this year if the Hero 5 is indeed built on an AMBA SoC.
We don't love the stock here because it has rallied more than 25% in 2 months and will likely pullback if it is announced that the Hero 5 will not be built on an AMBA SoC chip. As such, we have done some profit taking. We do, however, like the stock and remain largely long as the stock is still 50% off its 52-wk highs at a reasonable valuation and could move significantly higher if action camera growth comes back online and couples with new flying, automotive, and home market growth. We think the reasonable valuation mitigates risk, and believe the reward is quite attractive considering that the catalyst that drove shares above $100 a year ago might come back online and couple with the catalyst that has carried shares up more than 25% in 2 months.
Disclosure: I am/we are long AMBA, GPRO.
I wrote this article myself, and it expresses my own opinions. I am not receiving compensation for it (other than from Seeking Alpha). I have no business relationship with any company whose stock is mentioned in this article.