Twitter (NYSE:TWTR) sold off following the Q2 results as the market originally focused solely on revenue guidance. The key to the social news network remains user growth.
The stock has quickly rallied from the post-earnings lows due mostly to buyout rumors. Now approaching $19, the stock appears set for yearly highs as the company positions for the next ad spend boom.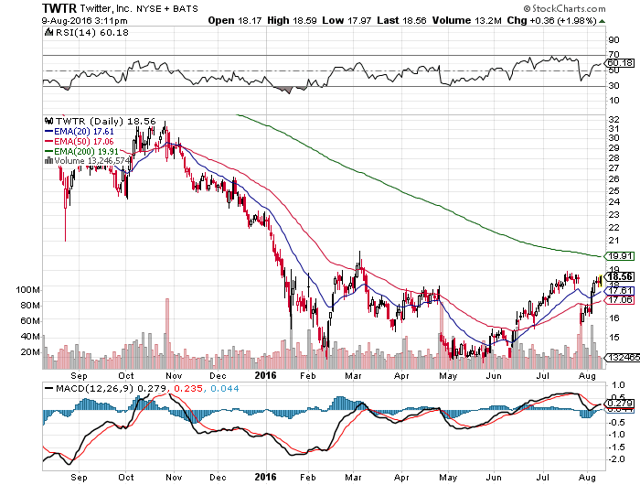 User Growth Reemerges
The common knowledge with any network is that if it isn't growing, it is dying. As Jack Dorsey was rehired as the CEO, Twitter was on the verge of a possibly irreversible slide.
The site originally saw user growth stall at 307 million MAUs last Q3. Due to a long list of product improvements, the social site has reversed the negative trend with ever so slight advancements in monthly users, now up 8 million off the Q4 lows.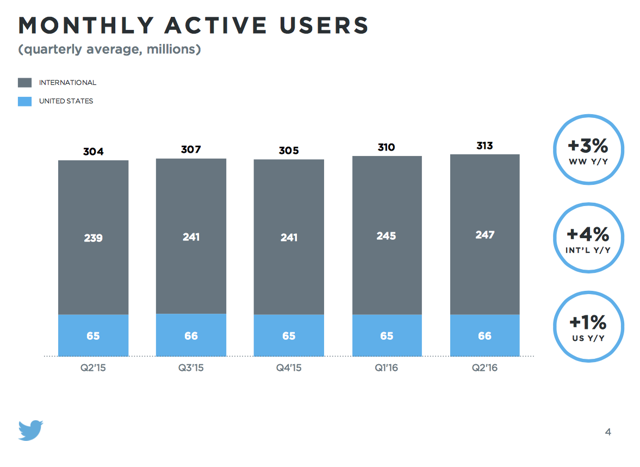 Now with streaming deals with the NFL, Bloomberg, and numerous other sports and news outlets, Twitter is set to go through another period of user growth. The big question is the amount of users these new video efforts can generate.
Video Ad Spending
The reason that user growth still remains much more important than revenues at this point is the growth opportunity in digital video ad spending. As a company focused on live streaming via Periscope and building such options into the main Twitter service, video is increasingly becoming the future of the service.
According to eMarketer, the digital market for video ad spending is set to surge from $7.7 billion in 2015 to $16.7 billion by 2020. Even this growth rate leaves an estimated $77.2 billion still up for grabs from traditional broadcast media.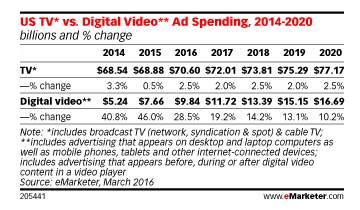 A previous research report from February went further to break out the opportunity between desktop and mobile where Twitter and especially Periscope is primarily focused. The mobile video ad spending segment is expected to see even bigger growth from only $2.8 billion last year to $6.8 billion by 2019.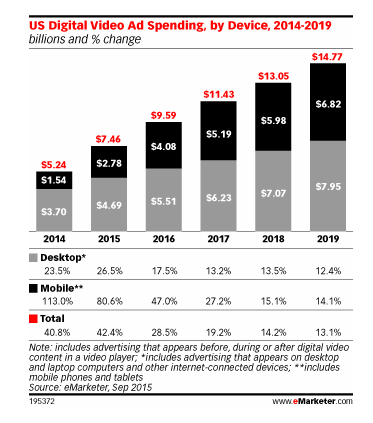 Note the total market estimate for digital video ad spending in 2019 increased by $420 million over the course of a few months.
As usual, Alphabet's (NASDAQ:GOOGL) (NASDAQ:GOOG) Google with YouTube and Facebook (NASDAQ:FB) are the dominant brands utilized by US marketers. Twitter even acknowledged this quarter that competition was a big part of the revenue warning as leading marketers likely partially shifted ad dollars away from the service in concerns that the social news site was stagnant and no longer vibrant like the Facebook sites that include Instagram.
Takeaway
The key investor takeaway is that all isn't lost for Twitter. The stock is rallying due to buyout rumors, but the company is perfectly positioned to take advantage of the growing video market. The company must execute, but a valuation below $13 billion is rather low for a stock with $2 billion in annual revenues and primed to benefit from surging demand for digital video ads.
Disclosure: I am/we are long TWTR.
I wrote this article myself, and it expresses my own opinions. I am not receiving compensation for it (other than from Seeking Alpha). I have no business relationship with any company whose stock is mentioned in this article.
Additional disclosure: The information contained herein is for informational purposes only. Nothing in this article should be taken as a solicitation to purchase or sell securities. Before buying or selling any stock you should do your own research and reach your own conclusion or consult a financial advisor. Investing includes risks, including loss of principal.