Impinj, Inc. (NASDAQ: PI) - Buy Recommendation - $20.25 PT
The quiet period on underwriter analyses for the Impinj, Inc. IPO will come to an end on Aug. 15, 2016. This will allow the underwriters to release their analyses and reports and to make recommendations on Aug. 16, 2016. The share prices are likely to at least temporarily increase upon the release of the underwriters' reports, providing an additional investment opportunity in the company.
Business overview: Maker of radio-frequency identification technology
Impinj, headquartered in Seattle and founded in 2000, uses radio-frequency identification technology, or RFID, to digitally connect a broad variety of products. The technology the company offers has applications in the healthcare, retail, automotive and food industries, allowing businesses and healthcare providers to easily locate, identify and track individual products. First becoming profitable in 2013, Impinj has since seen steadily increasing revenues and profits. The company has its own proprietary platform called RAIN, and it says it is the only tech company offering software, connectivity and endpoints.
Management team highlights
Chris Diorio is the CEO, vice-chair and founder of Impinj. He holds 125 patents and has more than 30 years of experience in radio and computer engineering. Diorio graduated from the California Institute of Technology with his Ph.D.
The COO and president of Impinj, Eric Brodersen joined the company in 2014. Prior to that, he served at Isilon Systems as the senior vice president of marketing and development. Brodersen holds an MBA from the University of Michigan and a Bachelor of Arts in government from Harvard University.
Financials overview: Steadily increasing revenues and profits
In its filings, Impinj reported that it had revenues of $63.8 million in 2014 and $78.5 million in 2015. The company also reported that it had net profits in 2014 of $297,000 and in 2015 of $900,000. The company opened up by 29 percent in its IPO. It set its initial price range for the IPO at $12 to $14 and opened at $18.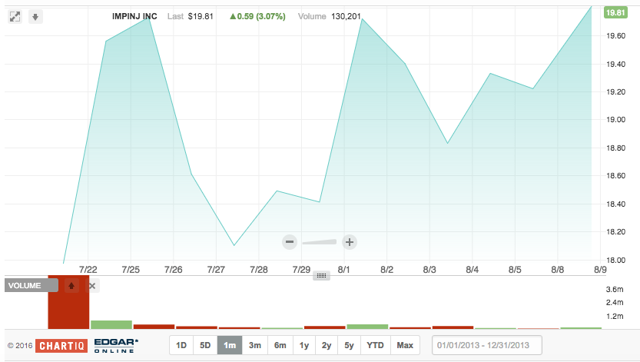 (Nasdaq.com)
The company has a huge potential market across a wide variety of industries, meaning that its potential for continued growth and expansion is vast.
Conclusion: Excellent Buying Opportunity
As we previously mentioned in our preview of the Impinj IPO, venture capitalist Tom Alberg optioned to purchase an additional 38,461 shares at the IPO, which is a very rare move. The company's potential to increase its reach across a vast market, its relative lack of direct competitors, and its steadily increasing profits and revenues all combine to make us believe that Impinj will continue to grow and become increasingly profitable. The release of the underwriter reports, from a strong team comprised of Piper Jaffray, RBC Capital Markets and Pacific Crest Securities; is also likely to give at least a temporary boost in the share price. We recommend that investors consider purchasing shares in advance of the quiet period expiration.
Disclosure: I am/we are long PI.
I wrote this article myself, and it expresses my own opinions. I am not receiving compensation for it (other than from Seeking Alpha). I have no business relationship with any company whose stock is mentioned in this article.