LVMH-Moët Hennessy Louis Vuitton (OTCPK:LVMHF, OTCPK:LVMUY) has a lot to offer. Its brands are iconic and irreplaceable, hard to duplicate, and have that "old world" charm that never seems to go out of style. I recently looked at Coach (COH), but decided to give LVMH a look too before allocating some capital to the consumer discretionary space.
Diversity between brands, geographies, and segments
LVMH is a diversified luxury conglomerate, mostly dwelling in the differentiated luxury and fashion markets, but its high-margin wine and spirits businesses also provide a backstop of diversity. The company sells everything, from its iconic Louis Vuitton bags to Hennessy Cognac to Tag Heuer watches. Many of its brands have been established for centuries, not decades.
Revenues paint an interestingly diverse picture as well:

Source: LVMH 2016 1H Report
Strong incoming dollars are definitely a bonus in today's environment.
A wide moat, in numbers
I'd say LVMH has a very wide moat just off the strength of its brands, but I also think that its ability to consistently achieve double-digit returns on invested capital backs up this assertion, making it a strong argument.
Singling out the equity slice of its capital structure specifically, "headline" return on equity reads as follows: 13.41% for fiscal 2013, 23.31% for 2014, and 15.50% for 2015. This is where I'd like to make some adjustments.
I pulled numbers form the firm's financial statements and tweaked the numbers to better reflect (at least in my opinion) economic reality. According to footnotes in LVMH's 2015 Annual Report:
In 2014, the net gain / (loss) related to available for sale financial assets and other financial instruments consisted mainly of the 3,189 million euro capital gain recognized following the exceptional distribution in kind of Hermès shares.
I decided to back put this exceptional item from 2014's numbers, then applied the average tax rate of fiscal 2013 and 2015 to estimate an adjusted net income figure. I entered the resulting figures into the below DuPont analysis.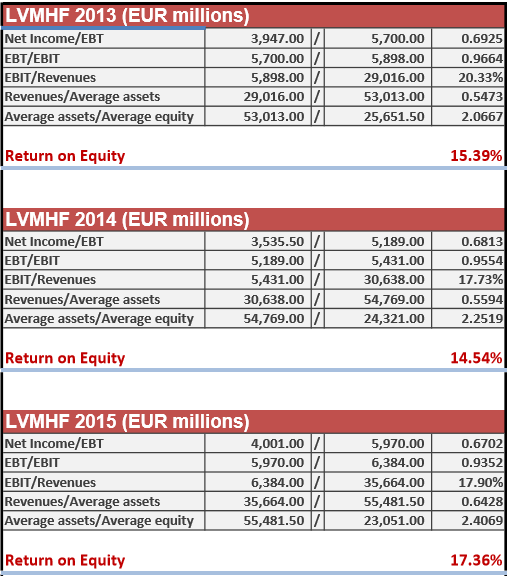 These numbers aren't GAAP or IFRS, just rough "guesstimates" on my part to get a better idea of the firm's truer underlying ROE. I also used "net profit before minority interests" and equity before minority interest. Otherwise, the tax burden (net income/EBT) would be artificially high in my DuPont analysis, reflecting a tax rate of over 40%.
After adjustments, the ROE looks less erratic. Two encouraging things immediately jump out too: an improving asset turnover (revenues/assets), indicating better utilization of its asset base, and high operating margins, even if they are slightly lower over the last three years. Higher financial leverage is magnifying ROE as well, but LVMH's balance sheet is relatively strong, so I see no concerns. Overall, pretty solid numbers for the luxury conglomerate.
More on those margins
Speaking of operating margins, some segments are higher than others. LVMH is currently halfway through fiscal 2016, and we can use the half-year report to see where margins are at so far this year.
By far the most profitable segments are Fashion & Leather Goods (operating margins of 27.7% so far this year) and Wine & Spirits (27.5% operating margins). These numbers are calculated using "profit from recurring operations". Combined, these segments comprise only about 46% of overall sales, but almost three-fourths of profit from recurring operations due to their impressive margins.
The Perfumes and Cosmetics segment equals about 13.6% of sales, with relatively skinny margins of 11.6%; while Watches & Jewelry have slightly higher margins at 12.7%, but only add up to about 9.36% of sales. The Selective Retailing segment sells a lot of product at roughly 32% of first-half 2016 sales, but weak operating margins of only 7.5% aren't exactly impressive.
We can probably sum things up by saying Louis Vuitton bags, liquor, and champagne are the real breadwinners here.
Conclusion
LVMH is the luxury conglomerate to own, in my opinion. The company's diversity is beneficial, and there doesn't seem to be much "bloat" within its stable of businesses and brands. I especially like that it's diversified with alcohol. Shares trade at roughly 20 times trailing earnings and almost 18 times forward earnings. Not exactly a steal, but certainly a decent deal. The dividend yields over 2% as well, but a good amount gets eaten away by taxes due to LVMH's French domicile. Still, with solid growth prospects and a rich lineage of success and iconic portfolio of prestigious brands, I'm considering establishing a starter position soon.
If you enjoyed this article and would like to receive further updates and articles in the future, please feel free to hit the "Follow" button at the top of the page next to the author's name.
Disclosure: I/we have no positions in any stocks mentioned, but may initiate a long position in LVMUY over the next 72 hours.
I wrote this article myself, and it expresses my own opinions. I am not receiving compensation for it (other than from Seeking Alpha). I have no business relationship with any company whose stock is mentioned in this article.
Additional disclosure: Articles I write for Seeking Alpha represent my own personal opinion and should not be taken as professional investment advice. I am not a registered financial adviser. Due diligence and/or consultation with your investment adviser should be undertaken before making any financial decisions, as these decisions are an individual's personal responsibility.
Editor's Note: This article discusses one or more securities that do not trade on a major U.S. exchange. Please be aware of the risks associated with these stocks.