I've always felt a bit guilty focusing my analyses primarily on US equities. After all, contemporary portfolio allocation strategies almost always include a non-US diversification recommendation. But when investors talk of buying emerging market stocks or ETFs, such as the go-to iShares MSCI Emerging Markets ETF (NYSEARCA:EEM), they typically are more focused on growth prospects than diversification alone.
The central idea is that the US market offers little growth, with much of its stocks trading at high - perhaps overly high - valuations. Even Warren Buffett, who once said something along the lines of "If you cannot get rich in the US market, you cannot get rich anywhere," now buys foreign stock. But I've always taken issue with that concept.
I believe that much of the growth we see in emerging markets flows into the US to some extent. For instance, the richest Chinese have found ways around their government's restrictions on foreign investments, illegally bringing their Yuan to the US stock exchange and North American housing markets. Having lived abroad, including China, I've noticed that the hardest working people tend to have a drive to "level up" by moving their person and capital to the West.
Being stuck in an emerging market stifles productivity. Harsh bankruptcy laws in Japan, for example, push the industrious entrepreneur type away from business creation as they really only have one chance. Other cultural factors, such as the crabs in a barrel phenomenon mentioned by many Filipinos, raise the barrier to entry to innovative business plans.
Much of the growth we have seen in the Chinese market is simply mimicking US business ideas and monopolizing them in the local market. Alibaba (NYSE:BABA) and Baidu (NASDAQ:BIDU) are examples of this - strong companies but necessarily following in the footsteps of the true innovators such as eBay (NASDAQ:EBAY) and Alphabet (NASDAQ:GOOG) (NASDAQ:GOOGL). I'd rather bet on the US horses.
The presumed potential growth yet to be seen in emerging markets overemphasizes the gross population, ignoring the fact that income inequality restricts companies from growing their profits in lower socioeconomic demographics. Power imbalances also reduce transparency for the investor to perform due diligence, as I described in my articles on Baidu (NASDAQ:BIDU) and Alibaba (NYSE:BABA).
The current world economy is acting as if it were a single country with a single currency, a phenomenon that begun in the 1990s with the removal of restrictions on the flow of currency. The snag here - one rarely mentioned - is that a single country has both freedom of movement in capital and trade. The world economy allows capital to travel freely while restricting trade, and this leads to huge trade deficits and surpluses - imbalances that are unlikely to disappear anytime soon.
And this is where emerging market investors must be careful. In July, we saw a record inflow of capital to EM markets: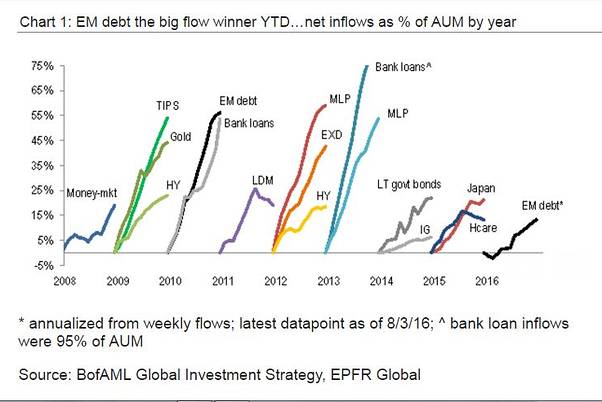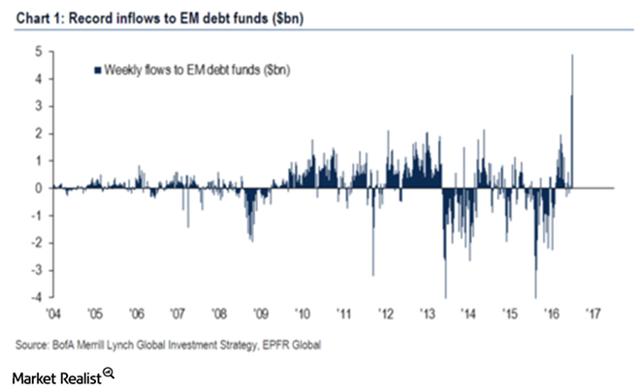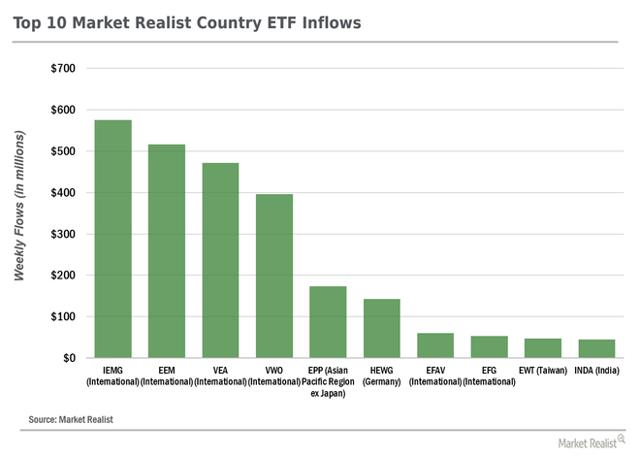 But is that capital properly allocated? In other words, is it going to investments that outperform? You decide: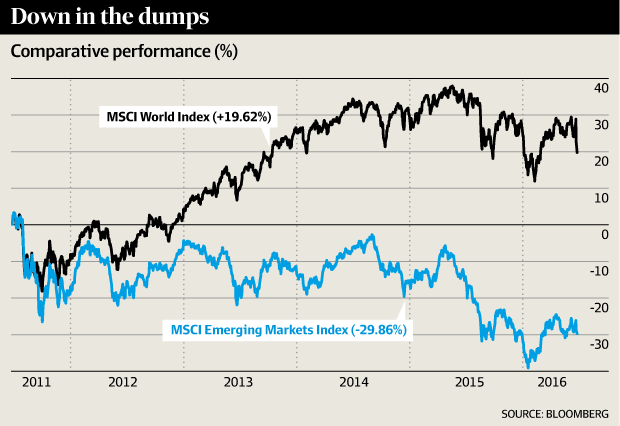 Hype drives money to the wrong places. Currently, Brazil is in the news with the Rio Olympics, and investors have seemingly forgotten that Brazil is in a slump. I have the feeling that after the Olympics come to a close, investors will remember that Brazil is a better short than a long.
My current concern is that investors are falling into a sort of macro pump-and-dump play. The truth is that trade has virtually plateaued in nearly every world market. Seeing outperformance or higher yields in foreign markets is akin to believing that these markets, now highly correlated to the US market, are somehow growing differently than the US.
Overall, while the EM trade seems to be the trade of the month, I believe it is an overcrowded one and based more on hopes than actual facts. In addition, August is one of the worst seasons for this trade, historically: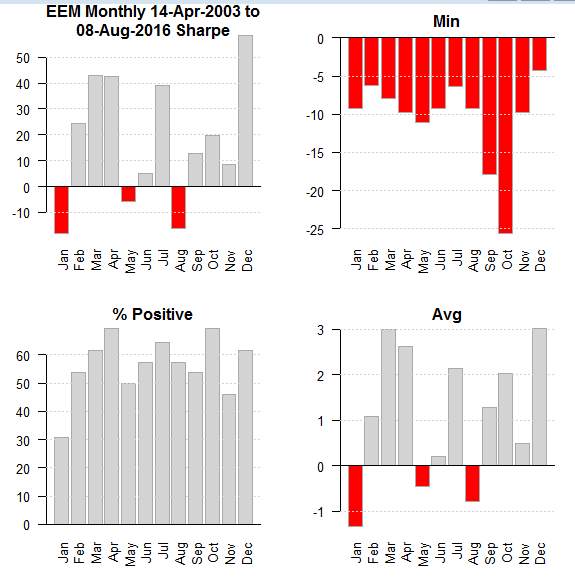 I suggest you buck the trend. If you really do have a good reason to dedicate a large portion of your portfolio to an ETF such as EEM, at least wait for a pullback and set September as your entry point. Everyone is trying to beat the crowd here, an act highly similar to a penny stock pump-and-dump or the dot-com rush.
While EM is not a bubble, it is also not the answer for rediscovering growth in a portfolio that has weakened in performance. Ignore the hype for now.
Learn More about Earnings
Exposing Earnings - my earnings prediction newsletter - is now live, here on Seeking Alpha. In this newsletter, we employ both fundamental and pattern analyses to predict price movements of specific companies after specific earnings. I offer specific strategies for playing those earnings reports. To date, we are 94% accurate on earnings report predictions.
Disclosure: I/we have no positions in any stocks mentioned, and no plans to initiate any positions within the next 72 hours.
I wrote this article myself, and it expresses my own opinions. I am not receiving compensation for it (other than from Seeking Alpha). I have no business relationship with any company whose stock is mentioned in this article.