As investors begin to digest what happened to Bristol-Myers Squibb (NYSE:BMY) failed Phase 3 trial of Opdivo in advanced non-small cell lung cancer, 2 takeaways are becoming obvious. First, Bristol-Myers tried for a homerun, when all they needed was a bunt single. The company tried to achieve the biggest patient population possible by enrolling patients whose tumors had the PD-L1 biomarker on at least 5 percent of their cancer cells. This would have allowed BMS to treat roughly 75% of the non-small cell lung cancer population. In contrast, Merck's successful NSCLC trial of Keytruda only enrolled patients whose tumors had the PD-L1 biomarker on at least 50 percent of their cancer cells. This limited the total treatable patient population to only 15%, but still gives Merck a huge advantage over the next year or two as the leading lung cancer drug. By swinging for the fences, the company set themselves back a couple years and could lose billions in revenue as it tries to catch up.
The second takeaway is a little more sobering. Opdivo has been a great success for BMS and cancer patients alike. The treatment has been one of the biggest steps forward in treating cancer in decades.
However, this failed trial shows that Opdivo as a monotherapy is likely going to be limited to a smaller patient population than initially expected. PD-L1 inhibitors, like Opdivo and Keytruda, have shown success in patients who have a high PD-L1 expression. This means in order for these drugs to maximize their potential, combination therapies are going to be gaining attention and interest. Luckily for cancer patients and BMS investors, the company has been actively investing in combination therapies for quite some time.
Bristol-Myers Squibb and Five Prime Therapeutics (NASDAQ:FPRX)
In October 2015, BMS built on their existing partnership with Five Prime by signing a $1.74 billion deal to develop an Opdivo/CSF1R combination. Under the deal, BMS paid Five Prime $350 million upfront with the possibility of up to $1.05 billion in regulatory and milestone payments. In addition, Five Prime has a favorable royalty structure of high teens to low twenties on total sales. The massive upfront payment and large royalties is what peak my interest in Five Prime. It's very unusual to see such a high upfront commitment to a drug only in Phase 1 trials. Because BMS and Five Prime have been developing this drug together for the past several years, its likely BMS sees tremendous synergy in the combination with Opdivo.
Developed by Five Prime, Cabiralizumab (FPA008) is an antibody that inhibits colony stimulating factor-1 receptor (CSF1R), which targets macrophages and monocytes. Tumor-associated macrophages are elevated in many tumor types and are thought to suppress the immune response against tumors. In a similar fashion to the way PD-L1 inhibitors work, CSF1R is expressed on the surface of macrophages and cabiralizumab blocks the binding of both CSF1 and IL-34 to CSF1R, which inhibits the activity and survival of tumor-associated macrophages.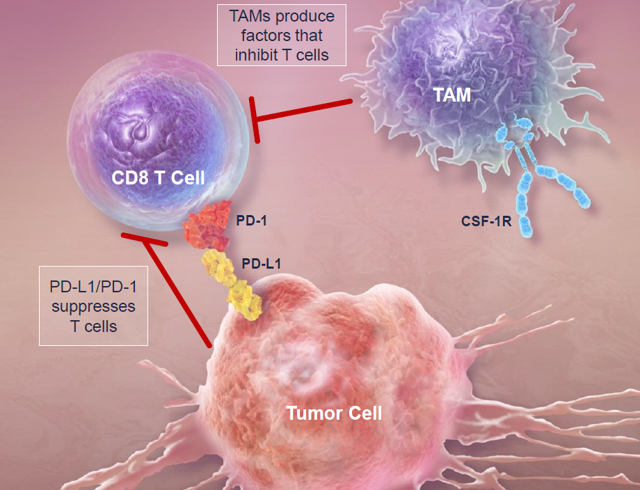 Source: Five Prime Corporate Overview
Pre-clinical data preformed in vivo shows the synergy between Opdivo (anti-PD1) and cabiralizumab (FPA008). By limiting macrophage activity against T-cells, it allows the body's own immune system to more effectively fight the tumor. The chart below shows potential of combining the 2 drugs to fight cancer cells, compared to each as monotherapies.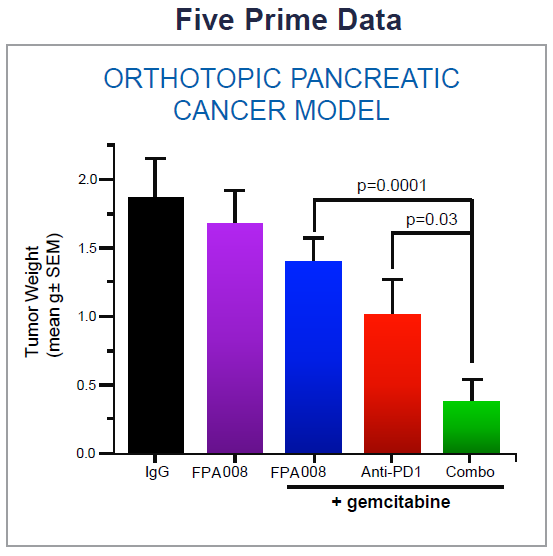 Source: Five Prime Corporate Overview
Five Prime Phase 1a/1b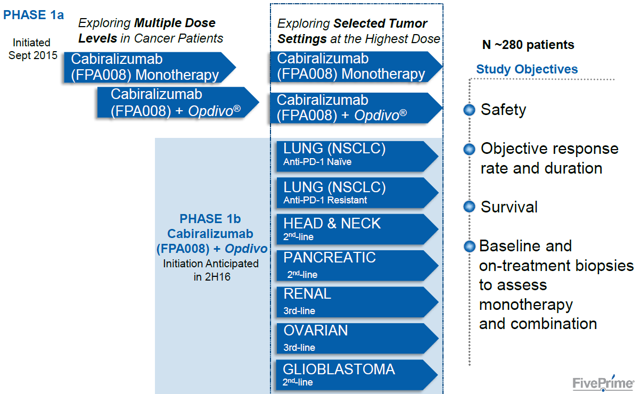 Source: Five Prime 2nd Quarter Earnings Update
In September 2015, Five Prime and BMS initiated a Phase 1a trial exploring the combination of Opdivo and cabiralizumab in a variety of tumor types. Five Prime recently expanded the Phase 1a trial to enroll additional patients at the highest cabiralizumab level as a monotherapy and at the highest level in combination with Opdivo. Importantly, the expansion included more patients who had tumors that were refractory to approved PD-1 checkpoint inhibitors. This is significant because it shows the possibility of treating patients who initially didn't respond to Opdivo or Keytruda and represent an expanded patient population. Phase 1a trials should wrap-up within the next couple months and the expanded Phase 1b trial is slated to begin in the second half of 2016. The Phase 1a readout will be significant because it will not only show safety data, but also response rates of enrolled patients on cabiralizumab as a monotherapy as well as in combination with Opdivo. If the combination therapy can address the Opdivo's shortcomings in only treating patients with high expressed levels of PD-L1, it could be a game changing breakthrough.
Investment Thesis
The recent failure of Opdivo in its Phase 3 trial of NSCLC, painfully showed that PD-1 inhibitors are not a magic bullet for all cancer types. In order to expand the treatable population base, combination therapies are needed. BMS's heavy investment in Five Prime shows their confidence in this combination therapy and the possibility of demonstrating efficacy in cancer patients who have low PD-L1 expression levels. This sets up Five Prime in a good position to partner its lead drug with one of the best immunotherapies in the industry.
In addition to Cabiralizumab being partnered with Opdivo in a variety of tumor types, Five Prime owns 100% rights to develop the drug to treat Pigmented Villonodular Synovitis (PVNS), which is in Phase 2 trials. PVNS is a rare joint disease with roughly 25,000 patients in the US. Cabiralizumab blocks the binding of CSF-1 and inhibits the activity and survival of macrophages that form the bulk of the tumor.
Five Prime's pipeline also includes FPA144, which targets FGFR2b-overexpressing tumors in gastric cancer, and FP-1039, a FGF Ligand trap for cancer cells. The company also plans to advance an undisclosed candidate for IND in 2017 and 1 yearly thereafter.
The company has a cash rich balance sheet, with $469 million in cash as of June 30, 2016 and the expectation to end 2016 with at least $400 million. This gives Five Prime the ability to advance not only its lead candidate in combination with Opdivo, but also expand its pipeline in immuno-oncology without the need to raise cash through debt or a public offering of new common stock. For small-cap biotech investors, removing the overhang of shareholder dilution cannot be overstated. Five Prime can move its current pipeline to completion without the need to raise any more money.
Take-Away
The failure of Opdivo in NSCLC in phase 3 trials, shows the need of combination therapies to treat a broader cancer patient population. BMS has shown confidence in Five Prime Therapeutics to accomplish this need by combining Opdivo with Five Prime's cabiralizumab. Phase 1a results should be made available in the next several months and will provide an excellent insight as to the effectiveness of the combination therapy. Five Prime is a high risk/high reward investment, but its cash rich balance sheet and partnership with BMS should limit downside while maintaining upside potential. Five Prime could very well end up being the ace up the sleeve of BMS.
Disclosure: I am/we are long FPRX.
I wrote this article myself, and it expresses my own opinions. I am not receiving compensation for it (other than from Seeking Alpha). I have no business relationship with any company whose stock is mentioned in this article.