Last Thursday, Lee Enterprises (NYSE:LEE) reported fiscal third-quarter earnings. Operating revenues declined 4.9% on a year-over-year basis. That was the fifth consecutive quarter of revenue declines greater than 4.4%. The drop in revenue was led by large decline in retail and classified ad revenue (see below). The bright spot for Lee continues to be digital ad growth, which jumped 4.9%. Its impact, however, on Lee's overall operating revenue is muted as digital makes up less than a quarter of total ad revenue and only ~17% of total revenues.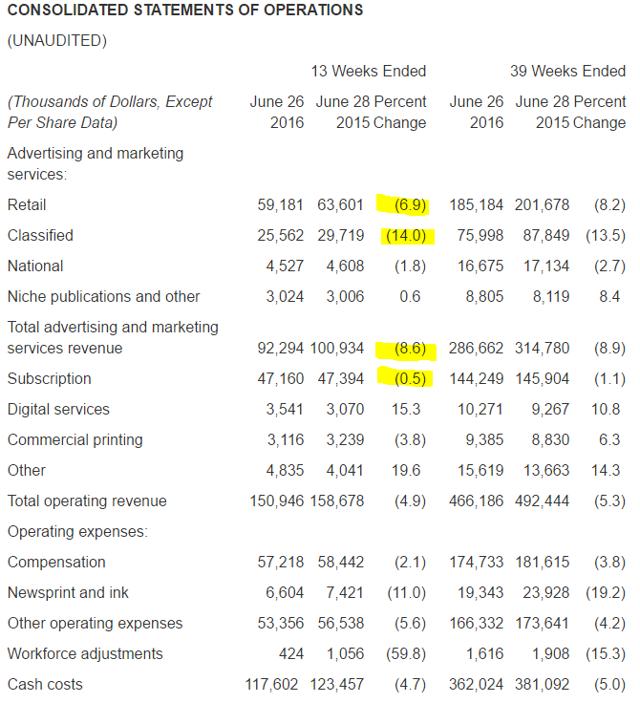 Source: earnings press release
It is not likely that increases in digital ad revenue will offset the losses of retail and classifieds print anytime soon. I expect to continue to see high single-digit declines in ad revenue for some time. There are simply too many online alternatives for free or lower cost classified ads (craigslist, letgo, Close5, numerous online job boards, etc.). And it is a simple fact that retailers do not pay as much for online advertisements as they once did for print, particularly on mobile.
To offset the decline in advertising revenues, Lee is cutting costs aggressively in order to protect profitability. During the most recent quarter, Lee cut operating expenses by 4.3%.

Source: quarter earnings press releases
As you can see, the decline in revenues has exceeded the decline in expenses for the past two quarters. This has led to declines in adj. EBITDA.

Source: quarterly earnings press releases
Still, free cash flow has been strong and consistent at about $65M for each of the last two years. Lee has also been disposing of assets (mainly real estate) and recently received a $30.6M insurance settlement, all of which is being used to reduce debt.

Source: 10 Qs/Ks
Going forward, Lee does have a lot of owned real estate up for sale. On the earnings call, the company gave an update on where it stands in terms of disposing of some of the properties and using the proceeds to further reduce debt.


So it does not sound likely we will see any substantial sales within the next twelve months. That means debt reduction will likely be limited to the $60-$65M in annual free cash flow the operating business will likely generate.
The company is in a race to reduce debt down to a sustainable level as quickly as possible. Clearly, EBITDA will continue to decline. Adjusted EBITDA has declined by about $20M annualized over the last four years. Offsetting much of the lower EBITDA has been lower interest expense. The debt reductions over the same period have saved about $16M. However, the company needs to continue to aggressively cut costs in order to protect EBITDA. The last two quarters saw revenues decline at a faster rate than the decline in expenses. If that trend continues, EBITDA declines will accelerate. The company's weighted average cost of debt is 9.6% (Source: latest 10-Q). For every $60M in debt reduction the company will save approximately $5.75M in interest expense. The company generated $156.6M in adjusted EBITDA over the last twelve months, which is down only $1.7M year over year. Over the past year, debt is down by $105M, which has saved $10M in interest expense on an annualized basis. So the company is succeeding in reducing debt at a quicker rate than the decline in EBITDA. However, going forward, debt will likely not decline at the same accelerated pace it has in the past year. The company needs to find a way to either slow the top-line burn or speed up expense reductions to avoid deteriorating free cash flow. Of course, there are only so many expenses that can be cut before one starts hitting bone and the quality of their product suffers. It will be more difficult to find fat to cut going forward.
Conclusions
Lee Enterprises is still a long way from having a sustainable level of debt. At more than 4x EBITDA, there is still significant doubt about the long-term viability of the equity. As such, I do not expect the stock to trade much higher over the next 1-2 years unless the company can slow the revenue decline to below 3% on a consistent basis. EBITDA can stabilize if that happens and more investors could take a chance on the equity. I do not see Lee returning any capital to shareholders until debt is reduced to 2-2.5x EBITDA. Barring large asset sales, that level of leverage is still several years off. Lee Enterprises could be dead money for some time. I will continue to hold my small stake but don't anticipate adding to it unless the revenue picture significantly improves. With the decline in the lucrative print business expected to continue unabated and the limited ability of the company to increase subscription-based revenues, it will be very difficult for Lee to improve its revenue profile. The company's debt is more attractive than the equity at this juncture, particularly the 12% 2nd lien which Lee can tender for at par next year.
Disclosure: I am/we are long LEE.
I wrote this article myself, and it expresses my own opinions. I am not receiving compensation for it (other than from Seeking Alpha). I have no business relationship with any company whose stock is mentioned in this article.