Stratasys Ltd. (NASDAQ: SSYS)
A less well known but popular use for 3-D printing is as a phenomenal way to save money on prototyping engineering designs for industrial applications.
Previously, many prototyping endeavors required the creation of specialty molds for plastic to be injected into. Or a blacksmith to create certain required shapes. These days a 3-D printer can spit out complex, sturdy, and accurately shaped plastics in a matter of hours, depending on the project. From there, any tuning to the product can be made in a visual-based 3-D modeling program and another version of the prototype rolled out in short order.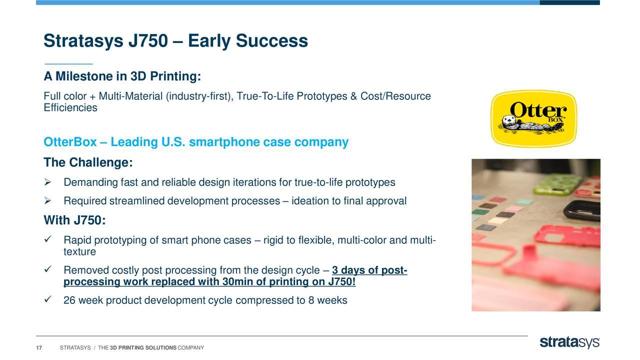 Stratasys earnings presentation
Stratasys owns the industry leading Objet Brand, whose printers excel in rapid prototyping implementations like OtterBox's experience described in the above graphic.
MakerBot: Educational, Individual and Small Business 3-D Printing
MakerBot is another Stratasys asset acquired in the 400 million dollar acquisition of the brand made in 2013.
As 3-D printing advances into everyday households, the MakerBot's large installed user base and community provide Stratasys with a healthy advantage over its competitors. If MakerBot and others like them have their way, we may one day be printing our new knife set, ordered through Amazon.com, right in our home's MakerBot
Or we may learn that our new home's frame is printed out of plastic.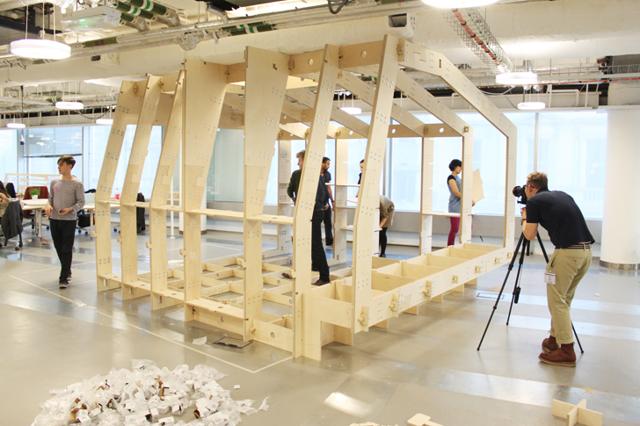 A 3-D Printed Frame for a Room, inhabitat.com
The growing use cases for 3-D printing include home building, prosthetic limbs, automotive manufacturing, and pieces for airplane interiors. Industrial prototyping usually means printing up a new gear or lever for the inside of complex hardware.
Getting 3-D Printing To The Children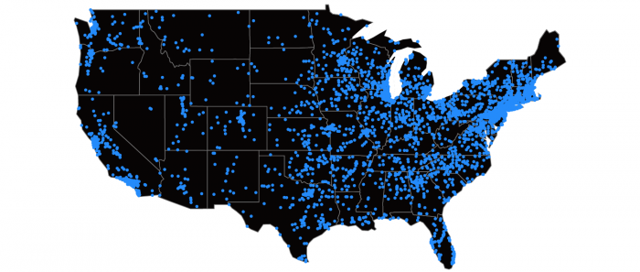 Makerbot.com
Each dot represents a school equipped with MakerBot printers.
MakerBot has been very successful not only because of its reputable technology, but also because it has exploited a unique sales and marketing approach. To do so, company has made itself foremost in developing the educational market and getting 3-D printing technology into schools.
One leg of the operation to take over this market is the aggressive approach to educate the educators on the topic of 3-D printing's benefits to students. Another critical topic it educates on is how to procure funding for a school's 3-D printing investment.
This partly takes place through the MakerBot blog, which is one-of-a-kind among 3-D printing companies. Articles there expound on various implementations and benefits of the MakerBot in classrooms.
This effort is kept up regularly in order to develop and maintain market domination in the educational niche. Pushing into the education market allows Stratasys to tap into taxpayer money, so earnings will be more resilient to any softness in the consumer market.
Industry Projections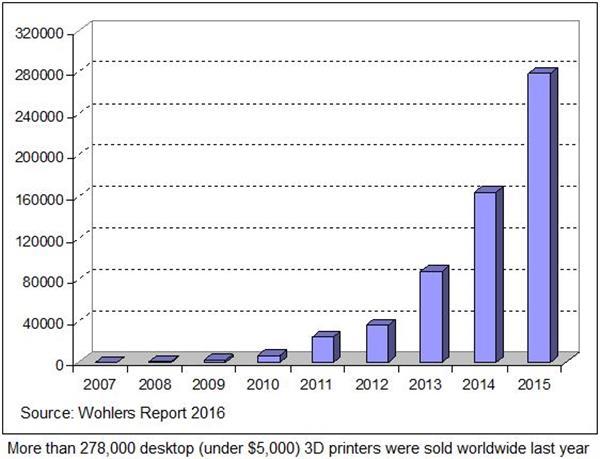 Wohler Research
As more use cases are developed and printer technology rises to achieve new implementations, the marketplace will continue to adopt 3-D printing.
Sales numbers show the tremendous growth in 3-D printing. Total printer sales, estimated to be 90,000 units as of 2012, are now over 250,000 units sold per year, according to 2015's sales results.
Stratasys is the recognized world leader in the industrial prototyping niche and consumer 3-D printing space. This is a significant advantage from which to snowball as the industry grows. Its ecosystem for consumers at www.thingiverse.com is a hard-to-duplicate network of users who share techniques, object models for printing, and troubleshooting advice. Thingiverse's large community is a significant advantage for Stratasys because every new user has access to vast troves of device-specific discussion and solutions.
Growth projections for the industry are truly eye-popping. Research firm Gartner anticipates twice as many 3-D printers will be sold in 2016 as were in 2015, with unit sales exceeding 500,000 for the year. An expected 100% growth rate for the industry.
A Leader in Developing Advanced Use Cases
Many industrial companies have yet to implement 3-D printing in any of their processes. Stratasys is focusing heavily on the nearly completely untapped, and huge, aerospace markets as well as expanding its presence in the growing medical space.
These advanced industries require the highest quality and most advanced 3-D printing technology, an area in which Stratasys is the leader. Positioning itself as the best, and even only choice, for advanced applications will help the firm maintain superior gross margin rates compared to competitors. Stratasys will certainly be the first to enjoy such benefits.
Stratasys is focusing on cabin components that do not have large regulatory hurdles and management expects to have implemented product in the aerospace market by the conclusion of 2017.
Recent Development: Outsourcing Manufacturing
The company is in the midst of outsourcing the manufacture of its MakerBot brand printers. Well-established contract manufacturer Jabil Circuit Inc. (NYSE: JBL) will produce tomorrow's MakerBots. According to statements by Stratasys management, we will see an expansion of gross margin.
Non-GAAP 177% Year-over-Year Profits Growth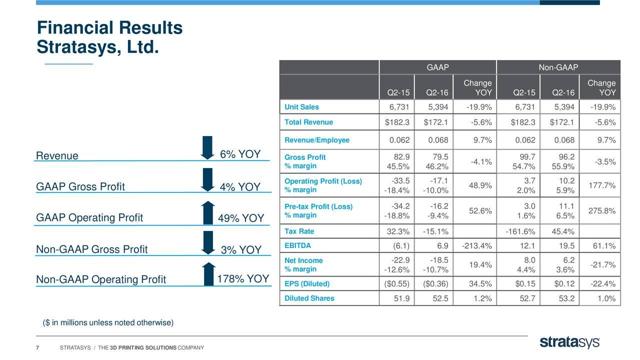 Stratasys Q2 2016 Earnings Presentation
Substantial profit growth has occurred thanks to cost-cutting while maintaining sales and gross profit margins. The next leg-up for profit growth will be through further cost cutting at MakerBot and an improvement in gross margin on products sold as the MakerBot outsourcing plan is completed.
Stratasys' Balance Sheet
The Israeli Stratasys has a great balance sheet. Its current ratio is 3.06, which means it has three times as many current assets as it has current liabilities. There's no threat of liquidity problems here.
Each financial figure I reviewed reinforced the position of the company as financially sound with low debt and predictable payment obligations.
The firm carries very little in the way of liabilities and has zero long-term debt. Stratasys management can focus on growing the business, as they aren't forced to waste time flipping numbers in the capital and credit markets.
Chart: Tangible Book Value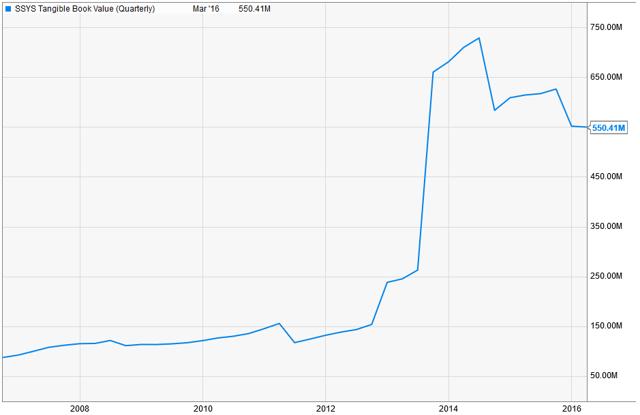 Faloh Investment
SSYS' Tangible Book Value from 2008-2016. Most recent figures reveal a TBV of $550M. $253M of its asset value is in the form of cold, hard cash and its equivalents. With a market cap of $1B, this bolsters the company's trading price.
The Discounted Cash Flows - Owners Earnings
As 3-D printing makes its impact on the globe, Stratasys is the leading company in the marketplace because it possesses the largest installed base of printers. That goes for both consumer and industrial segments.
Now, this is a big industry and there is plenty of innovation going on outside of today's subject company. For example, it does not have much representation in the biologics space where tissue engineering and printing is gaining momentum.
Nonetheless, the firm has sufficient resources to pursue the big opportunities in industrial and consumer markets. In the Q1 conference call, management indicated a new focus on developing the aerospace and medical verticals. Product offerings may be extended to these markets some time during 2017.
Let's see if the company is producing cash.
Chart: Cash from Operations & SG&A Expense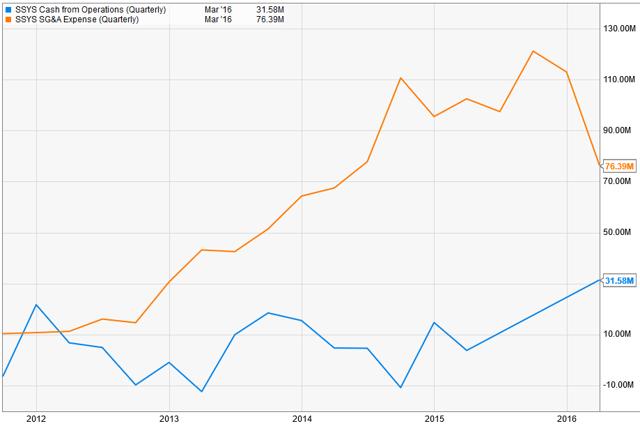 Faloh Investment
The blue line is the quarterly Cash from Operations result. The orange line is the quarterly measurement of Sales, General & Administrative Expenses.
Stratasys is actively cutting Sales, General & Administrative expenses after management recognized the costs were out of control during 2014 and 2015.
Hence, for the most recent period, significant reductions in cost are reflected on the bottom line and we see net cash flow from operations has improved significantly and remains on a good trajectory.
It appears that Stratasys will continue generating owner's earnings.
Valuation Considerations And Forecast of Cash Flows
In the model below, I took cash from operations and subtracted capital expenditures to arrive at free cash flows. Interest expense and other financing costs are minimal or nonexistent for Stratasys and were not included in the free cash flow calculation.
A conservative 10% discount rate is applied to future cash flows because that's what Warren Buffett and Charlie Munger use when using this valuation tool. Quite simply, the 10% rate is included to answer the question, "Is it worth it to put my money here instead of resting my capital risk-free and waiting for a better opportunity?"
Here's the DCF Valuation Model's result: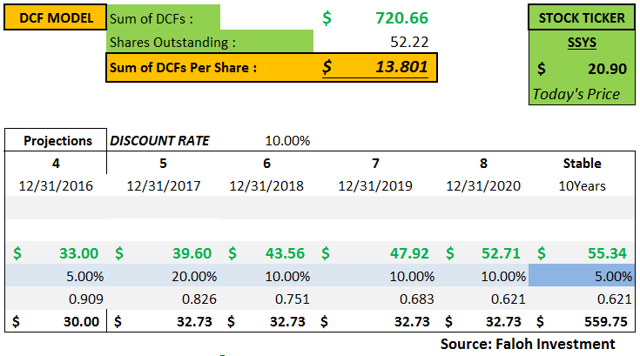 Faloh Investment
The free cash flow forecasts are the figures in green. Numbers in millions.
While the company is on track to earn $33.00M in free cash flow this year, the completion of the soon-to-be outsourced MakerBot manufacturing operation will result in a double whammy of improvement to this figure during 2017.
First, cost of goods sold will decrease by an estimated 5% and the company will earn more cash per sale.
The second boon to owner's earnings is Statasys' reduction in capital expenditures, resulting in direct improvements to the free cash flow figures. The company will be putting less money into factory machinery and overhead because Jabil will handle that aspect of the business. Thus, a further boost to free cash flow will be realized.
In this case - a leading company in a rapidly growing industry - this DCF valuation model reveals that in Stratasys an investor in buying the rights to real future cash flows thrown off by a successful business.
On top of the rights to a more likely than not $13.80 per share in heavily discounted cash flow, the company has $253M cash on its balance sheet, or an additional $4.84 per share. Note that the the large cash balance is not essential to ongoing operations. It's always good for a company to have a treasure pile to keep its options open in the way of opportune investment.
The total cash value for each share of Stratasys today is $13.80 + $4.84 = $18.64.
Today's market price of $20.90 is a $2.26, or 12% premium over the firm's cash value in the moderate-growth scenario used in my model. Given the industry's enormous projected growth rate, the company is trading at an attractive premium given its established positioned in the 3-D printer buying community.
Chart: Stratasys Quarterly Revenue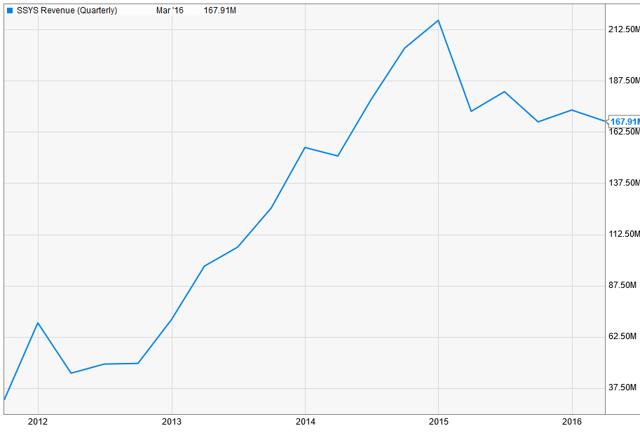 Faloh Investment
One hiccup the company has hit is a decline in revenue.
Basically, a lot of engineers already own 3-D printers, having purchased in 2013 or 2014, and they need to be motivated to upgrade.
To address the issue, Stratasys released the innovative J750 during the first half of this year. Users are now able to print using up to 6 different material types in a single go, and even have colors printed into the design. Previously, 3-D printed products had to be varnished or painted by hand after production. The J750 is the first of its kind in the marketplace.
The company has received a strong response from customers and management states sales of the new model have been at a healthy pace.
Risks To Stratsys' Success
Here are the risks to Stratasys as I see them:
• The company may fail to market aggressively enough and lose its leading position in customers' minds.
However small this counterfactual to said marketing risk is, I believe MakerBot's more than half a dozen original blog posts made during the month of June are an indication of a continuing focus on developing the sales pipeline.
I'd like to see the firm reach out to more consumer publications - ongoing developments and case studies of uses are great fodder for getting more attention to the MakerBot and Objet products.
• As the company outsources MakerBot's manufacturing, quality may fall or supply interruptions may occur.
Now, just the opposite is predicted by Stratasys' management. Any supply interruption is likely to pass by quickly and the firm has resource to its existing facility for the period of time Jabil requires to get production up to speed.
• MakerBot or Objet technology may fall behind competitor's and fail to compare favorably to alternative offerings.
This is a risk to every hi-tech company. So far, Stratasys has a 20-year track record of keeping up with, and often technologically exceeding, its closest peer 3D Systems Corporation (NYSE: DDD). This year SSYS will invest approximately $100M into R&D, compared to DDD's $80M.
Catalysts & Rating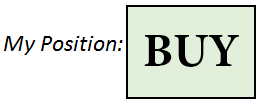 Faloh Investment
The firm's strong financial position, market leadership positions, and focus on advancing into promising new verticals will pan out well for investors.
Stratasys' first catalyst for share price appreciation will be the market's recognition of a steadily improving bottom line as cost cutting as MakerBot staff is downsized. The second major catalyst will occur when earnings for Q2 2017 are reported and the company reports an expected 5% expansion in gross margins as Jabil takes over the manufacture of MakerBot.
Given Stratasys' position in the marketplace, leading technology, and cost-cutting efforts, I re-tuned my DCF Model with a 25% growth rate in free cash flow for the years 2017-2020. Remaining extremely conservative with a 5% long-term growth rate for years 2021-2031 and 10% discount rate, the total per share discounted cash value of Stratasys today is $24.99.
Today, the market's asking price of $20.90 is a 16% discount to Stratasys intrinsic value of $24.99, making the company a buy.
Addt'l Sourcs
SSYS 10-Q for the period ended June 30, 2016, DDD 10-Q, and other similar filings with the SEC
Additional Disclosure: This article represents the opinion of the author as of the date of this article. This article is based upon information reasonably available to the author and obtained from public sources that the author believes are reliable. However, the author does not guarantee the accuracy or completeness of this article. It is merely the author's interpretation of the information contained in the article. The author may close his investment position at any point in time without providing notice. The author encourages all readers to do their own due diligence. This is not a recommendation to buy or sell a security.
Please follow Faloh Investment and receive timely market insights
Disclosure: I/we have no positions in any stocks mentioned, and no plans to initiate any positions within the next 72 hours.
I wrote this article myself, and it expresses my own opinions. I am not receiving compensation for it (other than from Seeking Alpha). I have no business relationship with any company whose stock is mentioned in this article.