Last Friday's jobs report was the catalyst for a 3.8% rally in Bank of America (BAC). Predictably, bullish articles and tweets surfaced once again. "Bank Of America Is Breaking Out" we heard. The NFP number could be a game changer, speculated another.
It usually pays to sell into this type of move and sentiment. I don't know where exactly I heard the following phrase, but it seems apt: "you should be buying when they are crying (Brexit lows) and selling when they are yelling (currently)."
But the frothy sentiment isn't the only reason to take partial profits - and please note I'm not calling a top or suggesting you sell everything - there also are technical reasons. When I wrote that I would buy BAC at $12.5 in my June 16th article, the target was a move above the April high:
I will buy BAC at $12.5 with a stop at $11.88. Risk is 5%. The initial target will be above the April highs at $16 for at least 25%. I do eventually expect BAC to challenge the 2015 highs and take out the medium term shorts above $18, but I will scale out most of my position at the initial target and trail stops.
Now that we are challenging the April/May highs, there is no reason to change my view. In fact, there are several reasons why I should stick to it.
Drivers of the rally
The recent rally came from a combination of strong drivers.
The positioning of investors following the Brexit selloff was bearish. I speculated in my original article that a move below the $12.7 April low would stop out weak longs, and the bearish headlines around Brexit only compounded the negative sentiment. All of this at the end of a 20% decline when sentiment and positioning are so negative it doesn't take much to spark a rally.
The "spark" could be attributed to the stress tests and the announcement that BAC could raise dividends and buybacks. This came in the week after Brexit, just when headlines still focused on the "Black Swan" event that would crash the markets.
The S&P 500 broke to a new high in July. Any possibility that we were in a bear market soon dissipated, and the banks had the wind at their backs.
These drivers have changed as the rally has advanced.
I have already pointed out how sentiment has shifted. The possibility of a market crash seems almost ridiculous. Compare this (and the bullish articles last week) with late June.
Another consideration is the likelihood of an interest rate hike by the Fed. Was the jobs number last week really a game changer? The banks have rallied while hikes have seemed less likely (i.e. following Brexit). A single number in a noisy series like NFP has little relevance.
The CME Group Fedwatch tool gives the probability of a September hike of only 18%.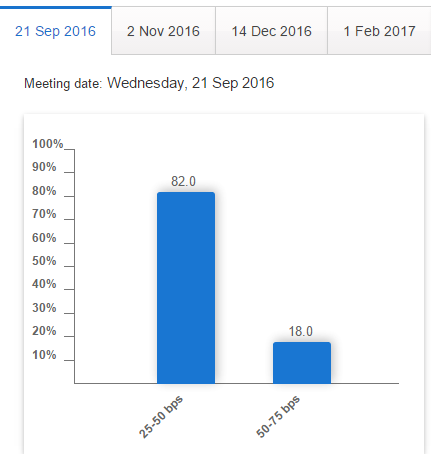 The Fed will likely still raise this year, but the jobs number alone is not enough to drive a stretched rally even higher. When price has rallied 20%, any "spark" needs to be a whole lot more surprising and powerful than a "spark" after a 20% decline.
The technicals
As in the other articles, I'm using Elliot Wave and fractals to define trends, potential reversal points and future expectations. I explained the basic Elliott Wave concepts here, and there are many free resources on the web. Elliott Wave provides a framework to define stages of a trend and guide expectations.
Usually, I use Elliott Wave on daily and higher time frame charts, but it can be used in any time frame. The BAC rally from the Brexit lows is an especially clear trend sequence.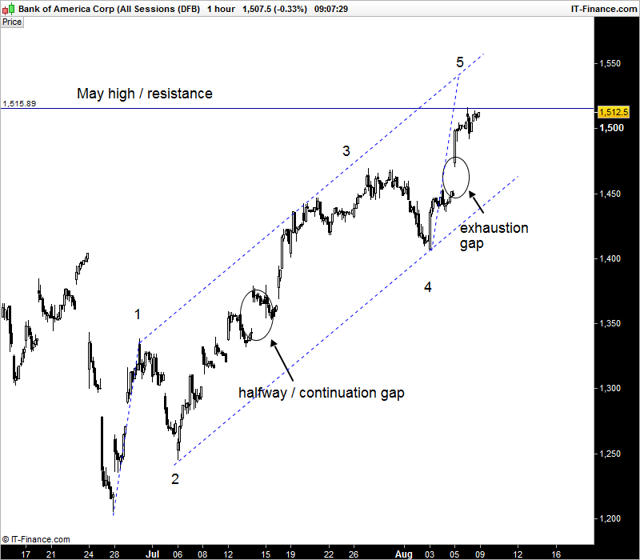 The expectation for any 5 wave rally is for wave 3 to be the longest and strongest, and to equal 161.8% of wave 1. This is exactly what happened.
Wave 5 is expected to be equal to wave 1. This would occur at $15.4, where it would meet the top of the channel. A move here also would take out the April/May highs and most likely stop out early shorts.
$15.4 would also place the "halfway" gap shown at exactly where it should be, halfway! You can use this gap to give you targets as soon as it appears. i.e. $15.4 was the target it gave you on 14th July.
Finally, the presence of the exhaustion gap in wave 5, accompanied by frothy sentiment, is enough warning to expect a pullback soon.
What next?
Once a 5 wave trend sequence completes, it can be either labeled wave 'A' (as part of a correction) or wave '1' (as part of a larger 5 wave trend sequence). In this case, it doesn't matter too much - the expectation in both cases is for a correction and a further rally.
I intend to close half my position in the $15-$15.4 range and add back closer to $14. If a range develops, I will trail my stops below the low of the range once we break to new highs.
Below is an updated chart from my original article. I compared the two large declines and the two circled pullbacks. They weren't identical, but given my expectation for a rally, I speculated that it could be a decent guide.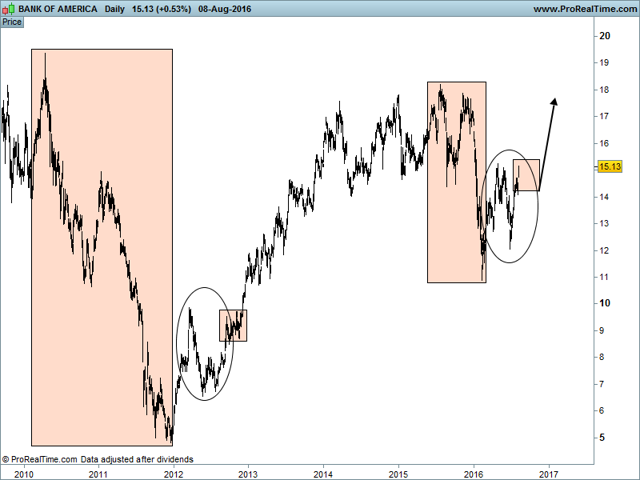 It was. And it supports the idea that there will be a corrective period followed by a further rally.
Conclusion
When a plan is working I stick to it. I'm selling half of my position above $15 for a 21% gain and will try to add back 10% lower.
The current sentiment and technicals suggest a pullback is near. Don't believe the hype.
Disclosure: I am/we are long BAC.
I wrote this article myself, and it expresses my own opinions. I am not receiving compensation for it (other than from Seeking Alpha). I have no business relationship with any company whose stock is mentioned in this article.
Additional disclosure: I am long GS, AMZN and SPY