Even though the price of natural gas rallied last week, it remains around $2.6-$2.8; this current range isn't far off the price range recorded in the summer of 2015, but it's still well below the 5-year average of roughly $3.5. And despite the rare draw from storage back at the end of July - the last extraction during June-August was back in 2006 - the market fundamentals didn't seem to improve much mainly when it comes to the direction of natural gas storage. Let's see what's holding back prices.
Inventories are expected to remain higher than normal
The EIA recently released its monthly report, in which it estimates natural gas storage will reach 4,042 Bcf by the end of the injection season; this is slightly higher than previously expected (in the July report) and lower than initially estimated earlier at the start of the injection season.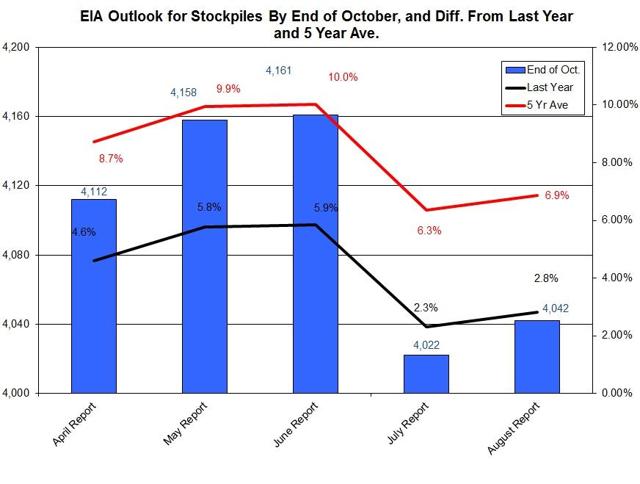 Source: EIA
Despite these lower estimates, the storage is still on course to be nearly 7% higher than the 5-year average. And to start the extraction season with such high inventories doesn't vote well for the direction of natural gas prices. Nonetheless, the natural gas futures market is still on Contango, which indicates the market still expects prices to slowly climb back up in the coming months; the higher Contango could lead to roll decay and adversely impact United States Natural Gas (NYSEARCA:UNG).
This summer is still on course to be hotter than normal; this should lead to higher overall demand for natural gas this time of the year, mostly due to higher consumption in the power sector - according to recent reports, consumption in this sector hit record levels this year. And even though gas rigs continue to fall - Baker Hughes reported 81 rigs last week, which is 5 rigs fewer than in the preceding week - production actually picked up in the past week and is even 0.3% higher than the same time last year.
These developments could bring back up natural gas prices in the near term, as indicated in the futures markets, but overall prices are likely to remain lower than normal; after all, since prices are forward looking, the main issue that will impact prices is the level of inventories by the end of October and the changes in demand-supply during the winter of 2016/2017. Since it's still too early to rely on weather forecasts for this year's winter, the market will keep monitoring the outlook of natural gas storage. And if production also picks up, this isn't likely to help drive up prices.
Bottom line
Natural gas production is slightly higher, demand is on the rise and even inventories recorded a rare extraction during injection season. And even in the futures markets, the Contango suggests higher prices ahead. But since the current outlook suggests inventories will maintain a higher than normal level, prices aren't likely to rise by a big margin in the subsequent months. For more see: Natural Gas is Still Floating… Barely
Disclosure: I/we have no positions in any stocks mentioned, and no plans to initiate any positions within the next 72 hours.
I wrote this article myself, and it expresses my own opinions. I am not receiving compensation for it (other than from Seeking Alpha). I have no business relationship with any company whose stock is mentioned in this article.