Under Armour (NYSE:UA) is going to get some massive headlines over the next few weeks as a major player at the 2016 Summer Olympics in Rio. This comes despite Under Armour not being a major sponsor of the Olympic Games. Thanks to a new rule from the International Olympic Committee and prime sponsorship of high profile athletes, Under Armour is in for some major attention. Add in a deal to stock Under Armour merchandise at Kohl's stores in 2017 and you have a winning stock here that has not moved appropriately to the news. Here's a look at why Under Armour shares are set for a run with these major catalysts.
2016 Summer Olympics a Major UA Event
Unlike official Olympic sponsor and rival Nike (NYSE:NKE), Under Armour is not permitted to use certain words like Olympics, Gold Medal, or Team USA. New rules by the International Olympic Committee to allow more leniency on advertisements from non-game sponsors. This means Under Armour can air commercials with Olympic athletes during the games and use social media to promote their more than 225 athletes sponsored at the Rio Olympic Games. It also means Under Armour didn't shell out the reported $100 to $200 million that sponsors did.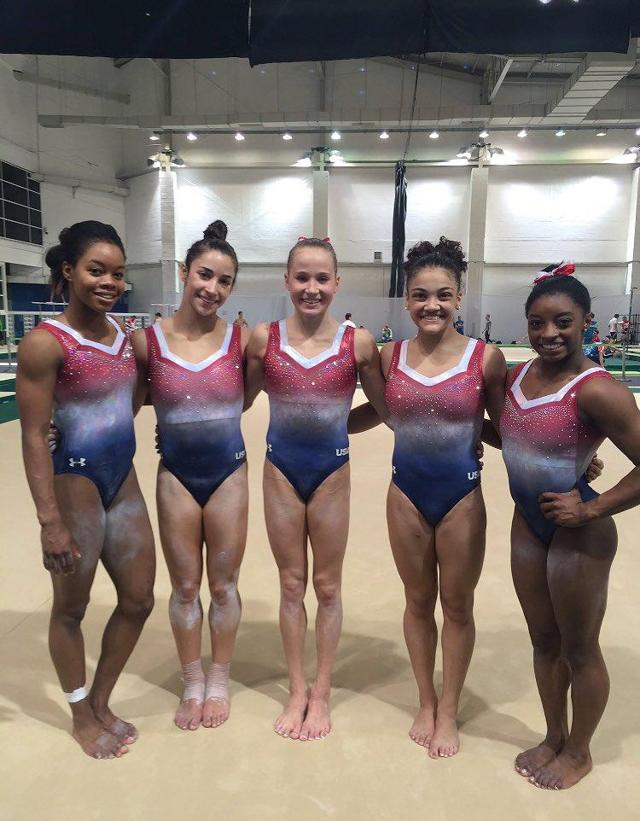 Women's Gymnastics Team Photo with UA logo present (From Simone Bile's Twitter)
As an example, Under Armour began months ago promoting the USA Gymnastics teams, which it designed the uniforms for, with taglines like "Team USA Women's Gymnastics is strong enough to carry the weight of a nation." When Michael Phelps won his 19th career Olympic Gold Medal on Sunday night, Under Armour was able to tweet a generic photo of Phelps swimming captioned, "Rule: Stay One Stroke Ahead" with #RuleYourself, one of its new slogans. Prior to the IOC change, Under Armour would not have been able to tweet anything about Phelps during the games.
Among the hundreds of sponsored Under Armour athletes are Michael Phelps (Swimming), Kelley O'Hara (Soccer), and Andy Murray (Tennis). Under Armour of course slightly missed out by two of its biggest sponsored athletes skipping the Olympics (Stephen Curry, Jordan Spieth). Equally or possibly more important, Under Armour is outfitting several national teams with uniforms made by Under Armour sporting full logos that will be highly visible during the games. This includes:
· USA Gymnastics
· USA Boxing
· Canada Rugby
· Switzerland Beach Volleyball
· Netherlands Beach Volleyball
· New Zealand Kayak/Canoe
· Hungary Kayak/Canoe
Again, these aren't huge sports, but it represents a good opportunity for Under Armour to gain some brand awareness on television and also become more of a player in the team apparel for non-major sports. The USA Gymnastics deal is the big one here worth mentioning and very well could have a positive impact for Under Armour and its continued focus on the women's market.
The Women's Gymanstics team is incredibly active on social media and sharing photos with the UA logo highly visible. Take a look at the following Twitter follower numbers:
· Simone Biles: 110,000
· Aly Raisman: 437,000
· Gabby Douglas: 836,000
· Michael Phelps: 1,670,000
· Under Armour: 717,000
· Nike: 6,350,000
TV ratings were strong for Women's Gymnastics during US Olympic trials, which continues to show how strong the sport is for viewership. In 2012, 29.6 million people in America tuned into the Women's Gymnastics all around finals at the London Olympics. The women's team gymnastics final saw 38.7 million viewers and a 21.8 rating, the best for the sport since the 1996 Summer Olympics in Atlanta. This year, that figure or one similar will tune in and see the Under Armour uniforms the entire time the USA team performs. On the NBC Olympics website, the Gymnasts (and UA's own Michael Phelps) were some of the most clicked athletes.
· 1. Gabby Douglas: 23.4 million clicks
· 2. McKayla Maroney: 14.1 million
· 4. Michael Phelps: 8.0 million
· 6. Jordyn Wieber
· 8. Aly Raisman
You may remember that Under Armour supplied the uniforms for the USA Speed Skating team in the 2014 Winter Olympics. The uniforms even got blamed for some poor performances from the US skaters. Barring a major setback, the USA Women's Gymnastics team is going to win some medals, most likely gold, in the Under Armour uniforms. That means lots of television time for the UA brand and possible future deals from sports to utilize technology UA created for these uniforms.
Phelps continues to be a superhuman athlete and his presence at the Rio Olympics and his dominant ways gets Under Armour some press coverage. The company even made a 3D shoe with the footprint of his son, gaining a lot of attention for Under Armour and its footwear category.
While the major Olympic presence for Under Armour is US Swimmer Michael Phelps and the USA Gymnastics team, consider the Olympic games a huge international opportunity. Remember that millions of people around the world will see athletes wearing uniforms with the UA logo. People will read stories about Michael Phelps and his Under Armour 3D shoes. Residents of some countries will see their own teams have UA uniforms and may gain an important brand awareness and pride for the UA logo. This goes a long way in a highly competitive retail market where Under Armour continues to be behind on an international sales standpoint to rivals like Nike and Adidas.
Under Armour in Kohl's a Large Opportunity
Two of Under Armour's biggest priorities just happened in one move and the stock still hasn't had the run-up I think is ready to happen at any moment. Under Armour has made its women's market and its expansion on the West Coast (specifically California) major priorities. It was recently announced that Under Armour will bring products to Kohl's (NYSE:KSS) stores beginning in 2017.
Under Armour believes it can target the mid-market female shoppers who frequent Kohl's stores. Under Armour CEO and Founder Kevin Plan said, "Kohl's is a great evolution for us. The female consumer is there, she's shopping and she's buying. We think there is a big opportunity." Under Armour is bringing apparel, accessories and footwear to Kohl's stores. The full rollout takes place in March with all 1,160 Kohl's stores getting Under Armour items.
Kohl's has more than 100 stores in California, making this move another great play by UA to grow its brand on the West Coast, where Nike is headquartered and has dominated. Under Armour has put a heavy emphasis on the West Coast with its sponsorship of Stephen Curry (Golden State Warriors) and Buster Posey (San Francisco Giants). The company also has signed major deals to outfit sports teams of UCLA and Cal Berkeley.
Getting into Kohl's should not be underestimated here by investors. Under Armour will likely be addressing a new consumer and therefore not taking away sales from its own stores or partner stores. One of Under Armour's largest customers and accounts continues to be Dick's Sporting Goods (NYSE:DKS). Consider that there are 647 Dick's Sporting Goods stores in the United States (as of April 30th). I bring this up because Kohl's has a much larger store base (nearly double) and reaches a different target demographic (males). Another important item to consider is margins as Under Armour said it does not believe the Kohl's deal will affect the company's margins. This came as a bit of a surprise to me and I think a very good thing about this exciting partnership.
Under Armour has 160 of its own branded stores in North America. Beyond that it has a presence in 11,000 retail point of sales. Compare that to Nike's 24,000 and you see the large opportunity for Under Armour ahead. The deal with Kohl's expands Under Armour's already successful partner list that includes Foot Locker, Dick's Sporting Goods, Macy's, Bon-Ton and Bloomingdale's. In the first quarter, I shared with investors that Under Armour added 275 points of sales in women's department stores.
The women's market continues to be incredibly important for Under Armour. It is a billion-dollar and growing business for the company. New items coming to grow sales even further are additional sportswear clothes targeted to women and additional footwear lines coming in spring of 2017. It looks like 2017 could be the year of women for Under Armour and investors should really be buying shares here.
Financials
Under Armour kept one of its most impressive streaks alive when it reported second quarter earnings recently. The company has now turned in 25 consecutive quarters of revenue growth of 20% or more. Total revenue increased 28% to $1.0 billion in the second quarter. Under Armour is backing full-year revenue guidance of $4.93 billion, representing an increase of 24%.
A strong second quarter report followed up the impressive first quarter, which saw overall revenue increase 30% to $1.05 billion. That gain came from an impressive 64% increase in footwear revenue.
Conclusion
My first Under Armour article on Seeking Alpha goes back to September of 2013. Since that time, shares are up more than 100%. While some reasons have changed from that article's recommendation, the large picture remains in place. Under Armour is a growth stock. Founder Kevin Plank even emphasized this again on the second quarter earnings call saying, "as you've heard me say consistently for 16 years now as a public company, Under Armour is a growth company."
In 2016, shares of Under Armour are now down 1%. Shares have fallen from the Sports Authority bankruptcy news and never recovered. Since May 1st, Under Armour shares are down 9% and that comes as shares saw a slight trend up towards the end of last week, likely from Olympics press coverage.
I believe investors are still focusing too much on the negative impact from the Sports Authority bankruptcy. This is almost over and Under Armour has already accounted for most of the loss. G&A costs rose 32% to $458 million in the second quarter as a result. Investors also always question the higher price to sales and price to earnings multiple than other retail stocks.
Under Armour is a high growth stock and until that streak of quarters with revenue growth of 20% is ended, UA should trade more like a growth stock than a retail stock. My last Under Armour article focused on the company's strong growth in footwear thanks to Stephen Curry. The company continues to add catalysts, like the women's market emphasis, and a possible Olympic bounce. Shares should be bought at these levels.
Disclosure: I/we have no positions in any stocks mentioned, but may initiate a long position in UA over the next 72 hours.
I wrote this article myself, and it expresses my own opinions. I am not receiving compensation for it (other than from Seeking Alpha). I have no business relationship with any company whose stock is mentioned in this article.