Back in April we initiated a position in (NYSEARCA:SVXY) calls expiring in January, 2018 with a strike price of $100. We paid $2.35 on average and the original idea was based on my assumption that markets will continue higher over the course of 2016 ultimately breaking through to all-time highs. I presented our thesis in an article published on June 1st.
Fast forward two months and volatility went through two record breaking events. First there was an unprecedented one-day spike in volatility after Brexit vote, which took SVXY down from $62 in after-hours to $39 and change in a matter of two trading days. This spike was followed by a six-week drop of historical proportions pushing VIX into low 11s.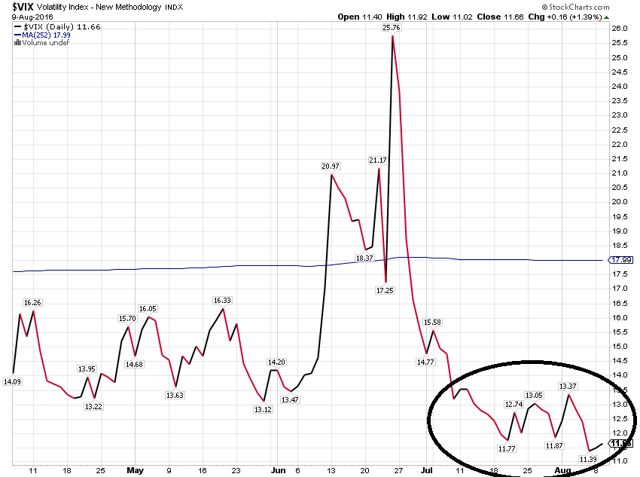 As a matter of fact, there has never been a period in recorded history where (NASDAQ:XIV)/SVXY recorded an 80%+ increase over any six-week period. As these instruments were continually climbing higher since late June many "pundits" and "experts" recommended buying volatility on the premise that VIX index is too low especially as it pierced 14 on the downside during the second week of July.
We on the other hand thought the rally in stocks will break all-time highs, which normally would lead to a significant drop in volatility for a long period of time. That is precisely what the market is witnessing today with VIX being in low 11s. Despite, VIX index being as low as it is, the futures curve remains in steep contango with September moving into 14s for the first time today and October still in high 16s. Such a curve structure combined with low VIX index has a built-in mechanism for outsized gains in XIV and SVXY should low volatility environment persist.
I personally did not expect such a strong drop in volatility, I was more of an opinion that VIX index would vacillate between 13-14 as the market consolidated gains at all time-highs, however, we are pleasantly surprised by the current action and our positions are playing out nicely with the call option up more than five-fold at $12.60.
Obviously many people wonder how long can volatility remain as subdued as it is today and whether there are historical precedents. These are important considerations for us, especially since we are holding not only securities themselves, but also call options on SVXY. So far volatility has been low for only about a month.
Below I present two instances where low volatility environment persisted for several years.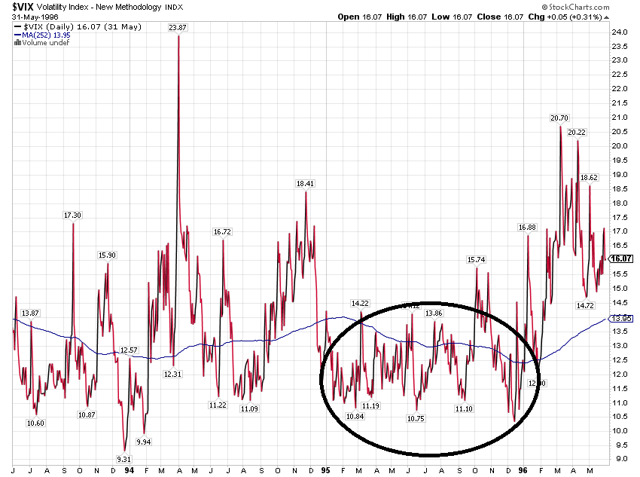 Between June 1st, 1993 and May 31st, 1996 VIX index had a trailing 12 month average price within a range of 12.5-14. That's three years straight of VIX index averaging below 14. Within that period the average VIX index for all of 1993 was 12.57 and 12.48 for all of 1995.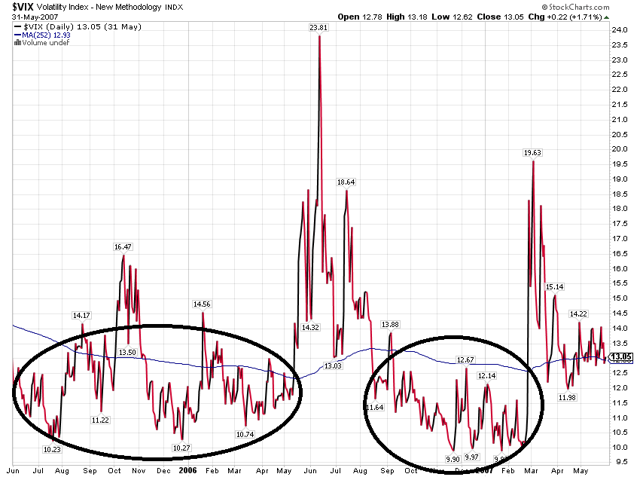 Between June 1st, 2005 and May 31st, 2007 VIX index also traded on average below 14. That's another two years where volatility was very low averaging 12.80 both during 2005 and 2006 calendar years.
There is a model that backtracks XIV/SVXY values from 2004 onwards and a cursory look at the spreadsheet shows the extent of gains when volatility is low for a significant period of time. Moreover, I went through the entire spreadsheet and found that contango back in 2004-2006 was much flatter than it is today. There was not a single instance of VIX index closing with an 11 handle and 2nd month futures closing above 17 as seen on July 20th, 2016.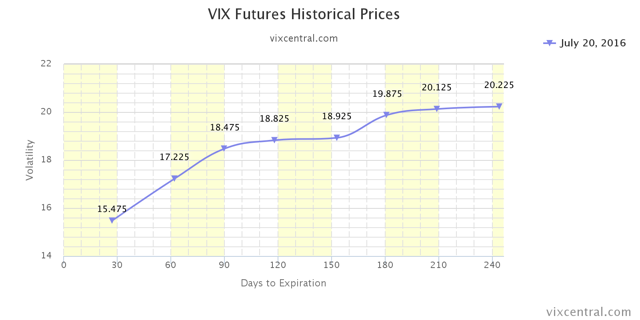 These findings imply that the rate of ascent in XIV/SVXY should be steeper provided low volatility environment stays in place for a significant period of time. So far, the rate of change has been historically unprecedented but I expect a natural slowdown as 3rd-4th months' futures slowly drift lower and trade with a 15 handle instead of 17 where they are now. In such a case, contango will diminish as 1st and 2nd month futures will slowly drift into 13-14 area whereas VIX index will have a predisposition to also oscillate around 13 implying low single-digit monthly gains for XIV/SVXY compared to 80% move since late June.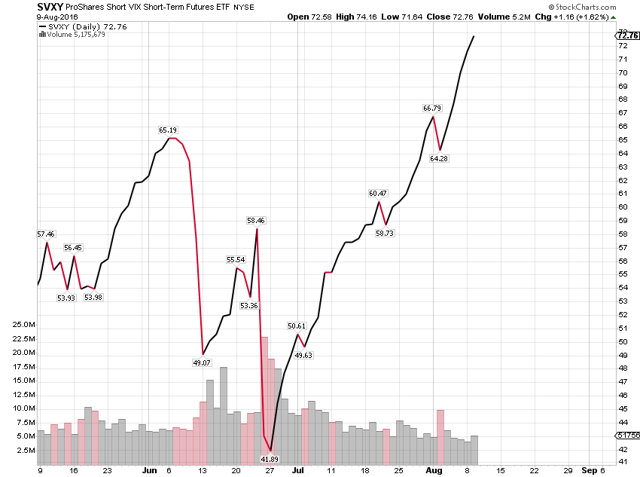 Finally, we are duly noting the extent to which realized volatility in the stock market has dropped since all-time highs were pierced. There is an old Wall Street adage that investors should not be short during dull markets. I think this market is as dull as it's ever been in addition to internals looking very healthy. Taking into account substantial skepticism among many pundits and experts and historically low levels of bullish sentiment we remain constructive in the short-term and will continue holding our positions in inverse VIX products and call options on SVXY.
Related ETFs: (NYSEARCA:VXX), (NYSEARCA:UVXY)
Disclosure: I am/we are long SVXY, XIV, SVXY CALLS.
I wrote this article myself, and it expresses my own opinions. I am not receiving compensation for it (other than from Seeking Alpha). I have no business relationship with any company whose stock is mentioned in this article.