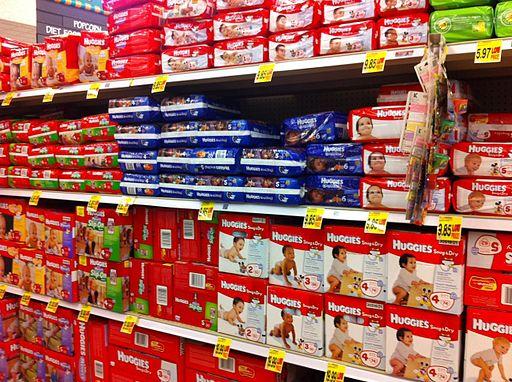 As a new dad going through plenty of diapers I couldn't help but look into the maker of Huggies diapers. We're going through an 88 pack box in about a week's time which means lots of cash leaving my pocket and going to the maker, Kimberly-Clark Corporation (NYSE:KMB).
I love consumer staples as part of the core of my portfolio and Kimberly-Clark is a company that I've always had my eye on, but have yet to add it to my portfolio. You can't get much more staple with your product lineup than diapers, Kleenex and paper towels.
Let's examine Kimberly-Clark a bit closer to see what makes them tick and how they've been able to amass a 44 year dividend growth streak. Of course a quality company doesn't mean it will make a good investment so we'll look at the valuation too.
How about that dividend?
First and foremost for dividend growth investors is the quality of the company. If a company consistently grows the dividend payment year after year there's a high likelihood that the company is high quality.
Kimberly-Clark is no exception with 44 consecutive years of increases. A streak that long is enviable and gives them the title of Dividend Champion.
The following chart shows the quarterly dividend payment from Kimberly-Clark since 1993.
Every year like clockwork the dividend raises have come. However, just because a dividend is increased doesn't necessarily mean the raise is adequate. That's why it's important to look at the percentage increase of the dividend. The following chart shows the 1-year, 3-year, 5-year and 10-year dividend growth rates from 2002 through 2016.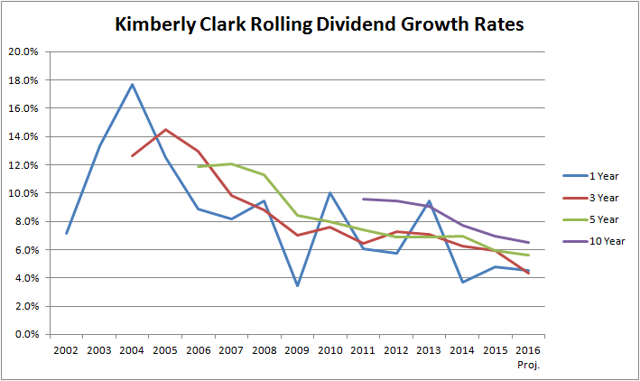 On a year to year basis dividend growth has significant variance with a low of 3.4% in 2009 and a high of 17.6% in 2004. Due to that variance I prefer to look at the dividend growth over longer time periods such as 3-year, 5-year and 10-year periods. That smoothes out the annual fluctuations in dividend growth.
The most striking piece of information from the above chart is the noticeable downward trend in the dividend growth rate for all periods. There's a definite trend evident in the dividend growth rates that Kimberly-Clark has rewarded shareholders with.
While Kimberly-Clark has managed to grow the dividend for 44 years, not all is well currently as the dividend payout ratio has climbed over 100% for both earnings and free cash flow for 2015.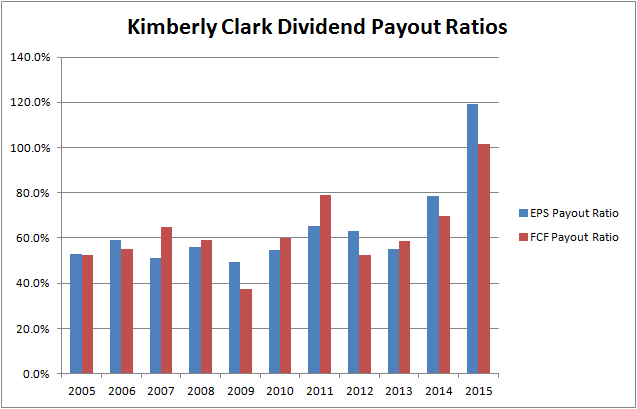 Kimberly-Clark has clearly been a shareholder friendly company that consistently rewards owners with dividend increases. I don't doubt that managements' goal is to increase the dividend; however, the payout ratio levels will keep the dividend growth muted while the company works through its issues.
Historic Metrics
In isolation a growing dividend doesn't tell us much. We have to examine the growth of the underlying company to determine the future path of the company and in turn the dividend.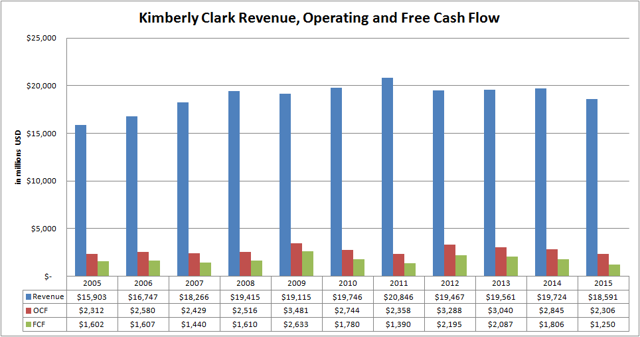 Revenue has barely inched forward over the last 10 years. From 2005 to 2015 revenues only grew by 1.6% per year. There is a bit of promise in that chart and that's that revenues grew 4.6% per year from 2005 to 2011.
Part of the revenue decline over the last few years is due to foreign exchange back to the U.S. dollar. In 2015 organic local currency sales improved by 5%; however, currency exchange was an 11% drag on reported revenues leading to a net 6% decline for the year.
I like to look at the rolling 3-year growth rates for revenue, operating cash flow, capital expenditures and free cash flow since it gives a better representation of the track the company is on.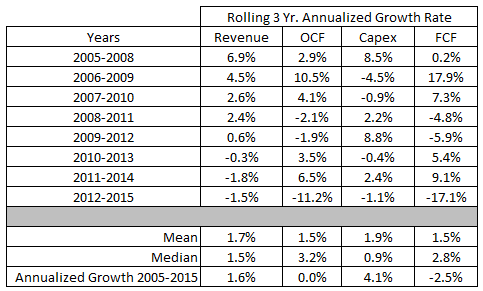 For a consumer staple there has been a lot of variation in there metrics across the 3 year time periods examined. One would expect with revenue showing a small improvement operating cash flow would as well as the company would have become more efficient. However, that hasn't been the case as operating cash flow is essentially flat over the last 10 years.
To make matters a bit worse capital expenses have grown over 4% per year. That's led to a disappointing decline in free cash to the tune of 2.5% per year.

Operating and free cash flow margins have been steady, but have been trending downwards over time. A cash cow company typically generates 5% or higher free cash flow margins and Kimberly-Clark still qualifies as such.
Free cash flow is the life blood of a company without it the company would be hard pressed to find investors of any variety. As such, that's why I like to look at 3 variations of free cash flow to see how much available cash management has at various steps of running the business.
Free Cash Flow, FCF - The traditional calculation of free cash flow of operating cash flow less capital expenditures.
Free Cash Flow after Dividend, FCFaD - FCF less the total amount of cash paid to shareholders.
Free Cash Flow after Dividend and Buybacks, FCFaDB - FCFaD less net cash used for share buybacks.
If a company has a positive value for each metric then the company is doing well and can self fund both dividends and buybacks assuming no significant changes to the capital structure of the company. If a company has positive FCFaDB then the excess can be used to grow their cash stock pile, reduce debt, further increase dividends or share buybacks, or invest in other growth opportunities.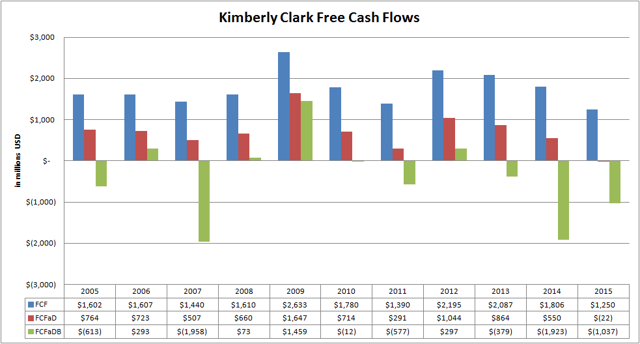 Until 2015 Kimberly-Clark had sufficient FCF to cover the dividend with plenty of excess. That's evidenced by the positive FCFaD (red bars) in the above chart.
Unfortunately the FCFaDB doesn't look too good with Kimberly-Clark running FCFaDB negative 7 of the past 11 years. Over the entire period Kimberly-Clark has spent $4.377 B more cash than the company has provided internally. That's forced the company to draw down their cash balance as well as increase their debt levels.
That's why it should be no surprise to see that long term debt levels have increased by nearly 2.5 over that time. Kimberly-Clark's long term debt balance in 2005 sat at $2.595 B and at the end of 2015 had ballooned to $6.106 B. That's an increase of $3.511 B.
To make matters worse equity levels have plummeted to -$0.174 B from $5.558 B over the same period.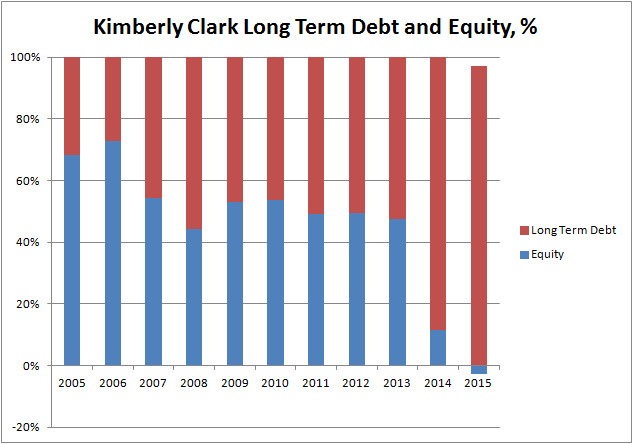 There's been a huge and worrisome shift in the capital structure of Kimberly-Clark over the last decade. Equity, or shareholder value, consistently ranged in the 50-60% of the company, but has since declined to a negative equity level for 2015.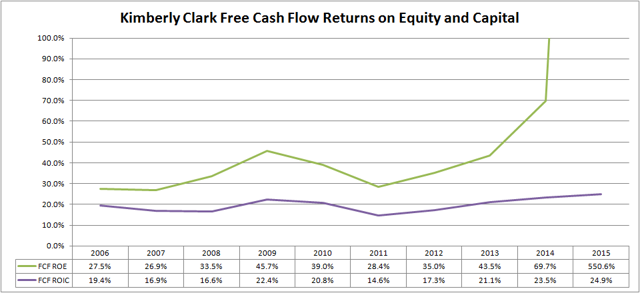 *I've capped the maximum return at 100% in the chart for viewing purposes.
The dramatic change in Kimberly-Clark's capital structure renders the free cash flow return on equity essentially useless.
Return on invested capital is a better measure of cash returns that a company can generate because it's based off both equity and debt. This is especially true for companies that are experiencing a change in the capital structure.
Kimberly-Clark's free cash flow returns on invested capital are a bright spot and have been trending higher over time from already lofty levels. The high returns on capital reinforces that Kimberly-Clark generates plenty of cash flow. However, due to the change in equity position shareholders should pause for concern.
Valuation
Historically Kimberly-Clark has been an excellent company that consistently generates solid cash flow. Even better is the strong cash flow that is generated in relation to the capital invested in the company. Kimberly-Clark also has management that is shareholder friendly which has increased dividend payments for 44 consecutive years.
That just speaks to the quality of the business which is deem as high, but says nothing about whether the shares are an attractive investment at this time. A high quality company is only valuable to an investor if they can buy something worth $1 for something less than $1.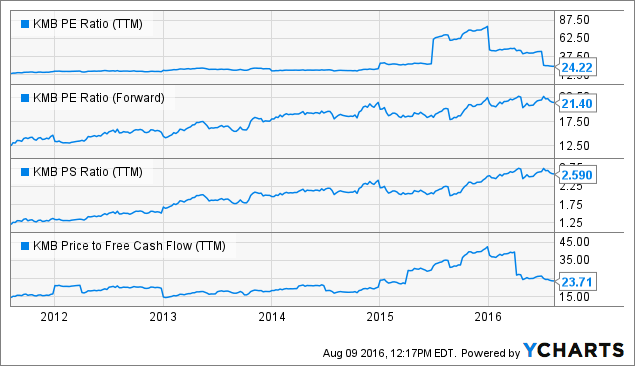 KMB PE Ratio (NYSE:TTM) data by YCharts
The market is currently pricing shares of Kimberly-Clark at lofty levels compared to the average ratios of the last 5 years. Kimberly-Clark's 5-year average P/E ratio is 23.9, 5-year average P/S is 1.8 and 5-year average P/FCF is 14.2.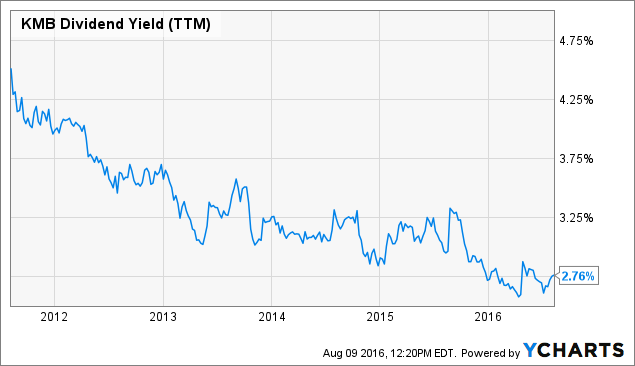 KMB Dividend Yield (TTM) data by YCharts
The current dividend yield is also sitting near the lowest levels it's been at over the last 5 years. The 5-year average dividend yield is significantly higher at 3.2%.

The relative valuation metrics all point to Kimberly-Clark being at best fairly valued and likely overvalued compared to the historic averages of the last 5 years. The relative valuations point to fair value and up to 44% overvaluation.
I've also run through a discounted cash flow analysis assuming 4.0% annual revenue growth and 1.0% annual capital expenditure growth through 2025. The perpetuity growth rate is assumed to be 2.5% per year. Year 1 capital expenditures are assumed to be $1,000 M.
Despite Kimberly-Clark's large variance in operating cash flow margin the trend appears to be settling around 14% with annual fluctuations. Operating cash flow is assumed to be generated at a margin of 14.1%.
Since Kimberly-Clark had an 11% hit to revenues due to currency exchange I've also included a currency neutral discounted cash flow analysis using the currency neutral 2015 revenues as the starting basis.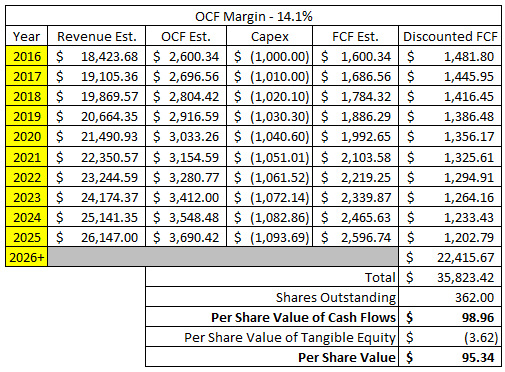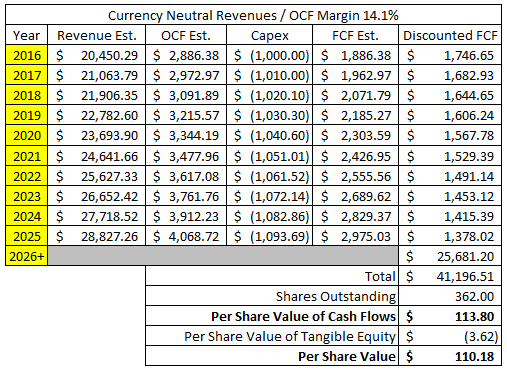 The present value of the future cash flows are calculated using a 8% discount rate/required rate of return. Under these assumptions, the value of Kimberly-Clark's future cash flows range from $98.96 to $113.80, suggesting that shares are overvalued by 31% to 14%.
We also need to account for the per share value of tangible equity that Kimberly-Clark currently has. At the end of 2Q2016, equity levels were $196 M. To calculate the tangible equity we need to back out the $1,507 M of goodwill held as assets on the balance sheet and we arrive at a tangible equity position of -$1,311 M or -$3.62 on a per share basis.
Subtracting the per share tangible equity from the value of the future cash flows gives a fair value of Kimberly-Clark of $95.34 and $110.18 in the two cases from above. Shares are overvalued by 37% and 18%, respectively.
Conclusion
At this time Kimberly-Clark does not represent a good value. Shares of Kimberly Clark are expensive based on the relative valuation metrics of P/E, P/S, P/FCF and dividend yield.
When we examine the company through the lens of a discounted cash flow the market is overvaluing the company by 18% to 37%.
Of course Kimberly-Clark also has some issues to work through which further muddies the water. Due to a combination of foreign exchange issues that are out of their control and the economic/political failures of Venezuela that has forced management to shut down its operations, the company has faced a crunch.
Cash management is going to be crucial going forward. Shareholders should be concerned about the rapid deterioration of their stake in the company. Equity owners would be happy to see dividend growth in the mid single digits; however, I expect the trend of 3-4% annual growth to be the norm due to the high payout ratios.
Due to valuation concerns as well as concerns about the operation and cash flow generation I will not be adding shares of Kimberly-Clark at this time. Investors in Kimberly-Clark would be wise to require a larger margin of safety despite the perceived stability of the company. As such I would not be interested in Kimberly-Clark as a potential purchase until the share price retreats to between $100-$110.
Disclosure: I/we have no positions in any stocks mentioned, but may initiate a long position in KMB over the next 72 hours.
I wrote this article myself, and it expresses my own opinions. I am not receiving compensation for it (other than from Seeking Alpha). I have no business relationship with any company whose stock is mentioned in this article.
Additional disclosure: I am not a financial professional. Please consult an investment advisor and do your own due diligence prior to investing. Investing involves risks. All thoughts/ideas presented in this article are the opinions of the author and should not be taken as investment advice. Information from this article was sourced from Kimberly Clark Corporation's SEC filings. All chart/images presented in this article were created by the author unless otherwise noted.