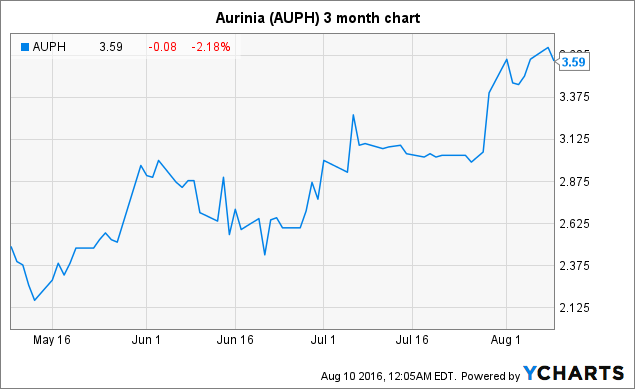 Aurinia Pharmaceuticals Inc. ("Aurinia") (NASDAQ: AUPH; TSX: AUP) is a Canadian clinical stage biopharmaceutical company based in Victoria, British Columbia focused on the development of its lead drug voclosporin for the treatment of Lupus Nephritis ("LN"). The company quotes the Lupus Foundation of America's estimate that approximately 500,000 to 1,500,000 people in the United States, and up to 5 million people worldwide, suffer from System Lupus Erythematosus ("Lupus" or "SLE"). 40% to 60% of patients with SLE develop LN. Approximately 90% of patients suffering from SLE are women of child bearing age. For more information about Aurinia and its clinical trials please see my most recent article which I published on Seeking Alpha on July 5, 2016. LN is an inflammation of the kidney caused by SLE which, if left untreated or inadequately treated, can lead to end stage renal disease, dialysis, renal transplant and death making LN a serious and potentially life-threatening condition. There are no FDA or EMA approved LN therapies.
On August 4, 2016, Aurinia held a 75 minute Investor Breakfast in New York in which the company presented a number of speakers including Dr. Amit Saxena, MD, a Rheumatologist and Associate Professor at NYU Medical Center. As well, there were presentations by Rob Huizinga, VP Clinical at Aurinia, Dr. Doug Paul, PharmD, PhD, a founding partner in Medical Marketing Economics ("MME") and Charlie Rowland, CEO of Aurinia.
The first speaker, Dr. Saxena, regularly treats Lupus and LN patients and is an investigator in the current Phase 2b clinical trial. He spoke about how debilitating the disease truly can be and the current unsatisfactory standard of care for LN which involves prescribing heavy steroid dosing. The heavy steroid dosing creates lots of unpleasant side effects which patients hate. Dr. Saxena emphasized the apparent effectiveness of Aurinia's voclosporin which based upon the small open label AURION trial results appears to be effective even with minimal steroid use. Dr. Saxena emphasized that the minimal steroid use was a major plus for voclosoporin, in addition to the tremendous efficacy demonstrated in the small AURION trial (4/7 LN patients in complete remission after 8 weeks of treatment with voclosporin, and continuing in complete remission at 24 weeks despite tapering of steroid use down to physiologic levels).
Charlie Rowland, CEO, indicated that the Phase 2b 24 week trial data results will be released imminently. The company press release indicates that those results will be released by late August.
In my earlier articles on May 23 and July 5, 2016, I made assumptions about the size of market, the pricing of voclosporin, if approved, and estimated peak sales which I calculated to be about US $1 billion worldwide based upon a selling price of $35,000 US per year.
However, based upon the August 4, 2016 presentation by Aurinia, my assumptions appear to have been too conservative. Dr. Doug Paul of Medical Marketing Economics (MME) made a compelling presentation at the Investor Breakfast on August 4, 2016. Dr. Paul and his company MME have been involved in the pricing and launch strategies of 125 drugs in the US and the EU in the past 3 years. He is an expert is helping pharmaceutical companies determine pricing and capturing the value of their drugs and medical products.
Dr. Paul's research and analysis led him to the conclusion that voclosporin should be priced in the $50,000 US to $100,000 US per range, if approved by the FDA, based upon its efficacy and the value of removing the negatives of steroids. In his research on the proper pricing of voclosporin in the USA, he conducted interviews of 10 physicians who treat LN. The 10 physician gave voclosporin a score of 8.9 out of 10 as to its value as an ideal therapy (10 being the ideal therapy). The only reason the physicians didn't provide an even higher figure was there was some skepticism that voclosporin could be as effective as being indicated in the small open label study.
Dr. Doug Paul also interviewed 5 payors who gave voclosporin a score of 7.5 out of 10 as to its value as an ideal therapy for LN. He also indicated that unaided (ie. with no prompting), 4 of the 5 payors expected voclosporin, once approved, to be priced at $5,000 US per month ($60,000 US per year).
In Charlie Rowland's, CEO, presentation, he indicated that the size of the LN patient market in the U.S. was in the 125,000 to 200,000 patient range (as it still not well diagnosed); and 175,000 to 200,000 patients in the EU. The EU had a better idea of the LN patient population. In following Dr. Paul's recommendations regarding pricing of voclosporin, he agreed that while voclosporin will be priced in the $50,000 to $100,000 US. range, Aurinia had not yet made a decision on the final pricing strategy. He indicated that uptake of the drug would be faster obviously if the pricing was in the $50,000 US range but peak sales would be much higher if the pricing was in the $100,000 range.
In the question and answer period following the formal presentations, Charlie Rowland estimated peak annual sales for voclosporin, of approximately $1.4 billion comprised of about $1 billion in sales in the US, $300 million in the EU and $80 million to $100 million in Japan.
Based upon Aurinia's estimated annual peak sales in the $1.4 billion range (approximately 40% higher than my initial estimated peak annual sales), if and when voclosporin is approved by the FDA, voclosporin could be valued close to $3 billion, based upon 2 times estimated annual peak sales.
Charlie Rowland, CEO, also indicated that if phase 2b trial results were as effective as demonstrated in the small AURION open label trial, there was a possibility that the FDA could approve voclosporin without any additional phase 3 trials. The FDA would only consider approval after the 48 week data from the Phase 2b trial was released and analysed. If so, voclosporin could be approved by the end of 2017. More likely, assuming a successful Phase 2b trial, the FDA will require one or two confirmatory phase 3 trials which would push out the time frame for approval by about 18 months (to late 2018) with a commercial launch in 2019. Charlie Rowland indicated that the company estimated that the most likely Phase 3 trial requirements would involve 300 patients and would cost somewhere in the range of $50,000,000 to $125,000,000.
As the company will be running out of money by the end of 2016, it will need to raise additional capital. The amount of that capital raise will be determined, in part, by the feedback which the FDA will provide Aurinia following release of its Phase 2B trial results.
Near Term Catalysts
In summary, I remain very bullish on Aurinia's near and medium term prospects. The near term catalysts now include:
1. The un-blinding and release of 24 week primary end point data from the Phase 2b AURA clinical trial which are now imminent;
3. The end of Phase 2b FDA meetings in Q4, 2016;
4. The filing of FDA Breakthrough designation in Q3, 2016 pending the release of data from the AURA trial's Phase 2b 24 week results; and
5. The capital raise and/or possible buyout of Aurinia in Q3 or Q4 following successful 24 week Phase 2b AURA clinical results.
In light of the successful 8 week and 24 week AURION open label study results (albeit based on a very small patient group), as well as the history of voclosporin in use treating more than another 2000 patients for treatments other than LN) I have estimated a 70% probability that the AURA Phase 2b clinical trial will meet its primary end points in treating LN after 24 weeks.
The share price has continued to increase over the past couple of months. If the foregoing positive catalysts take place including a successful AURA Phase 2b trial (meeting its primary endpoints), Aurinia's value should increase substantially and Aurinia could well be a buyout target. A $12 to $15 share target price would be reasonable in those circumstances in the next 6 to 12 months.
Of course if the Phase 2b study fails Aurinia's shares will virtually be worthless. There is also the possibility that the primary endpoints are not achieved but some of the other secondary end points or biomarkers are met, that would not be happy news but the company would at least retain some value.
If Aurinia ultimately obtains FDA approval for voclosporin either in late 2017(if the Phase 2B results alone are sufficient) or in 2019, if one or more additional confirmatory Phase 3 trials are required, Aurinia's shares could be worth anywhere from $30.00 to $50.00 based upon a $3 billion valuation (assuming $1.4 billion estimated peak annual sales) and depending on the number of additional shares required to be issued to raise the capital required to take voclosporin to approval and commercial sales. Currently Aurinia's market cap is only $120 million. The shares closed on August 9, 2016 at $3.66 (NASDAQ:AUPH).
Investing in Aurinia at this point is a high risk, high reward proposition and voclosporin could well be a game changer in the treatment of LN. The next few months will be critical for this company. I like the odds.
Disclosure: I am/we are long AUPH.
I wrote this article myself, and it expresses my own opinions. I am not receiving compensation for it (other than from Seeking Alpha). I have no business relationship with any company whose stock is mentioned in this article.