By Jon Jonsson, Senior Portfolio Manager-Investment Grade; Ugo Lancioni, Senior Portfolio Manager, Head of Global Currency
In the immediate aftermath of the Brexit vote, markets embraced risk as event hedges were unwound and rate-hike forecasts were pushed beyond the horizon. But what will happen when the fundamentals of Brexit are priced in?
It has been just over a month since U.K. voters surprised markets by voting to leave the European Union. There has been no shortage of news-within three weeks the U.K. had a new government led by former Home Secretary Theresa May - but the impact on global financial markets has been muted.
It's true that the pound sterling remains 12% lower against the U.S. dollar than on the night of the vote. It's also clear that Brexit gave fresh impetus to falling core government bond yields, which broke several records over the past month.
And yet equity markets quickly regained pre-Brexit highs and, despite the collapse in government bond yields, the shock to credit spreads was much less pronounced than that from the global growth concerns that haunted markets at the beginning of the year. Within a fortnight even that sell-off had decisively reversed, including in U.K. investment-grade credit (figure 1).
Figure 1: Brexit Impact Limited Even in U.K. Credit Market, and Swiftly Reversed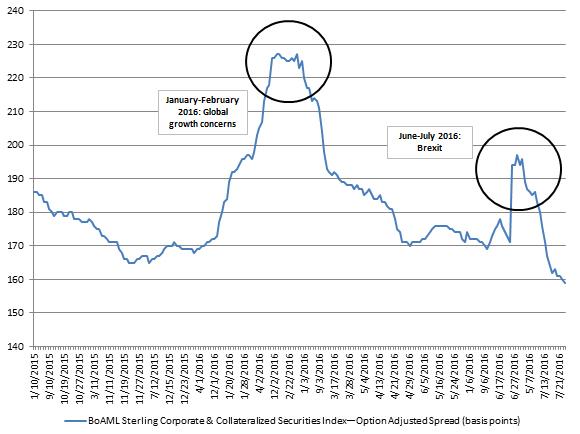 Source: Bloomberg.
It Made Sense to Buy Risk After Brexit
Investors initially demanded a higher premium from riskier assets, but very quickly recognized the potential for interest rate cuts and more quantitative easing - possibly including corporate bond purchases by the Bank of England. The subsequent rally into risk caught hedged investors unprepared and the unwinding of their hedges gave it even more impetus.
If Brexit were to become a globally-significant economic event, it would have been through its contagion effect on financial conditions. The orderly way in which markets have adjusted, and their faith in central bank policy, appears to have removed that risk for now.
Even the risk of further EU break-up appears subdued: on the weekend after Brexit, Spain's electorate moved much closer to the political center than opinion polls had been suggesting, and since then opinion polls in Germany, Austria, the Netherlands and Finland have shown a swing away from euroskeptic sentiment and political parties.
Two Questions For Investors
For the moment, there are two questions for investors in credit and other risk assets. The first is whether spreads can tighten further, particularly should expected central bank stimulus not be forthcoming. Both the Bank of England and the ECB chose to buy time in July. European economic data have been showing signs of improvement lately, and strong U.S. data together with price pressure via wages and commodity prices bottoming-out makes it difficult to see the Fed holding rates for as long as markets currently predict. Moreover, some observers suggest that governments are now set to do more to stimulate the economy, taking pressure off of central banks to act solely through the financial markets.
The second question is about the prospects for the U.K. economy and U.K. assets, specifically. Even in the near term, there is a lot of uncertainty to deal with. Sterling has dropped enough to exert some inflationary pressure, which could limit the Bank of England's scope to act. At the same time, while our assessment is that it is undervalued by perhaps 10-15% on a trade-weighted basis, this is not extreme, particularly versus the euro, and the relatively small proportion of manufacturing in the U.K.'s economy limits the benefits.
The first substantial post-Brexit data for the U.K. were the Purchasing Managers Indices published on 22 July, and they came in much weaker than expected for both services and manufacturing. Quarterly survey results from the Confederation of British Industry a few days later confirmed that business confidence had fallen to its lowest levels since the depths of the financial crisis.
If this stagflationary environment is compounded by air coming out of the U.K.'s real estate bubble, it will be difficult to predict what the central bank may do with its balance sheet - let alone what the government may do with fiscal spending.
Brexit Is a Mammoth Project That's Only Just Begun
What is more, the important Brexit questions will remain unanswered for a long time. We don't even know when negotiations between the U.K. and the EU will start, let alone when they might end.
There are six clear models for the U.K.'s new relationship with the EU. These range from "Most Favored Nation" status under WTO rules, through a Turkey-style customs union, a Canada-style free-trade agreement, a Swiss-style set of bilateral agreements with the EU subject to international law and Norway-style membership of the European Economic Area, to an entirely new form of special status that combines participation in the single market with an opt-out from the EU budget and some flexibility on freedom of movement.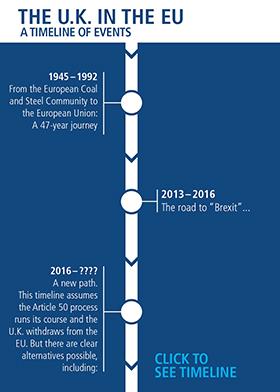 However, under Article 50 of the Treaty of Lisbon the EU can only "negotiate and conclude an agreement with" the U.K., "taking account of the framework for its future relationship," after the U.K. has notified the European Council of its intention to leave. At that point the U.K. has two years until it is excluded from the EU treaties without a new arrangement, unless the European Council agrees to extend negotiations.
The U.K. government is delaying that "Article 50" moment, partly to prevent the two-year clock from ticking before it has defined its objectives, and partly because Theresa May has said that the entirety of the U.K. needs to support those objectives - no mean feat, given that a majority of voters in both Northern Ireland and Scotland voted to remain in the EU. Moreover, even once the new arrangements have been negotiated with the European Council, they still need to be ratified by the European Parliament.
The Global Impact Will Probably be Contained
In short, this will be a long, drawn-out process during which a lot can go wrong. This could weigh heavily on U.K. business confidence, the U.K. economy and U.K. assets for some time. Can it translate into a wider economic and financial-markets crisis? We believe that's unlikely. Brexit was a symptom, rather than a cause, of the anti-trade feeling that threatens global growth at the moment. Should the EU break up over the coming years that would certainly be a global risk event, but we think that Brexit is less likely to trigger that than a new wave of immigration unleashed by the collapse of the EU's recent agreement with Turkey, for example.
It's difficult to see the immediate economic upside of the U.K.'s vote to quit the EU in June, but the orderly response to it by global financial markets is reasonable and justified.
This material is provided for informational purposes only and nothing herein constitutes investment, legal, accounting or tax advice, or a recommendation to buy, sell or hold a security. Information is obtained from sources deemed reliable, but there is no representation or warranty as to its accuracy, completeness or reliability. All information is current as of the date of this material and is subject to change without notice. Any views or opinions expressed may not reflect those of the firm as a whole. Neuberger Berman products and services may not be available in all jurisdictions or to all client types.
This material may include estimates, outlooks, projections and other "forward-looking statements." Due to a variety of factors, actual events may differ significantly from those presented. Investing entails risks, including possible loss of principal. Diversification does not guarantee profit or protect against loss in declining markets. Indexes are unmanaged and are not available for direct investment. Past performance is no guarantee of future results.
This material is being issued on a limited basis through various global subsidiaries and affiliates of Neuberger Berman Group LLC. Please visit www.nb.com/disclosure-global-communications for the specific entities and jurisdictional limitations and restrictions. The "Neuberger Berman" name and logo are registered service marks of Neuberger Berman Group LLC.
© 2009-2016 Neuberger Berman LLC. | All rights reserved