Lending Club (NYSE:LC) reported Q2 earnings on Monday, and it wasn't pretty. As I've mentioned in previous articles, investors should have expected a significant deterioration in profits. Operating income fell from $4.3 million in Q1 to -$85.3 million in Q2. After adjusting for the $35 million impairment expense, losses still amounted to $50 million.
Loan originations, the bread and butter of the business, declined by 29% quarter over quarter from $2.75 billion to $1.96 billion. This was better than expected (guidance was -33%), but negative growth is still negative growth. Transaction revenue, which depended on originations, still shrank from $125 million to $97 million.
On the bright side, the management did make some progress on cost cuts. Cost cutting initiatives were revealed in June when it was reported that the company was pulling back direct mailings by as much as 75%. This was reflected in the drop in marketing expenses, which decreased from $66.6 million to $49.7 million quarter over quarter. Investors should not treat this as the cause of the revenue decline, as this was very much a reactive measure to save costs, not a precautionary move that resulted in lower revenue as collateral damage. If the latter were true, then the problem of declining originations could be solved by simply ramping up marketing. Unfortunately, as I explained in previous articles, the lack of capital was the real limiting factor (read The Scandal's Financial Consequence).
The management did hint at potential improvements in funding, but did not give a clear roadmap. For example, when asked about bank funding, the CEO responded that: "We've got a quite clear working plan with banks, meaning we have their diligence lists. We are making very good progress at ticking through them." The good news is that Lending Club seems to have its managed accounts under control. There was a rumor that the company was mulling about shutting down a fund, which would lower origination volumes even further. Funding from managed accounts still dropped from $811 million in Q1 to $688 million in Q2, but we can see in the graph below that they have been more resilient than other institutional investors.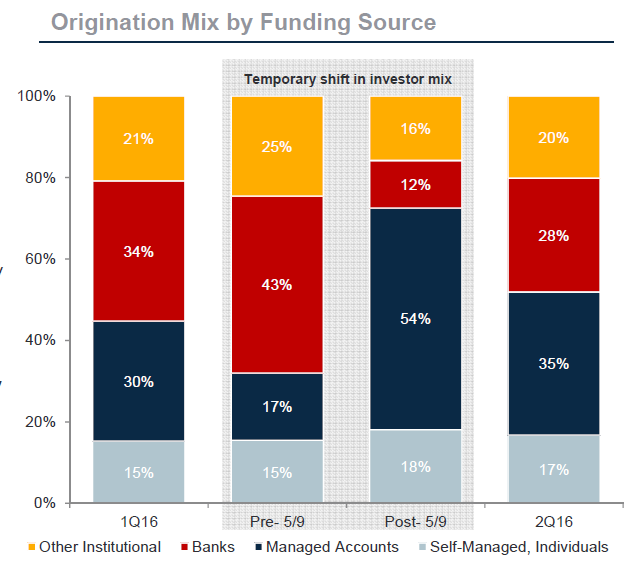 Source: Company Presentation
The fact that the company is keeping a more permanent capital base is good news. Still, if the company wants to ramp up growth as the market expects it to, it is unlikely that managed accounts will be sufficient by themselves, as half of existing funds still come from other institutional investors. While there is no clear plan on how the company will revitalize institutional capital, the new hire Patrick Dunne should be putting up results soon (read Patrick Dunne Can Save Lending Club).
Overall, Q2 confirmed my suspicion that the company will start to post heavy losses. The company could solve the capital issue with the introduction of Patrick Dunne. While I have faith in Patrick Dunne's ability, investing isn't about faith, it's about facts. Given the lack of guidance, it's difficult to like the company from an objective standpoint. Hence I maintain my position that the stock is only suitable for aggressive investors who are not afraid to take a big loss if the capital issue isn't resolved.
Click the "Follow" button beside my name on the top of the page to be updated with my latest insights. To learn more about the V20 Portfolio, whose goal is to compound capital at 20% over the long term, I encourage you to read the introduction to my investment process. Premium subscribers get full access to the V20 Portfolio.
Disclosure: I/we have no positions in any stocks mentioned, and no plans to initiate any positions within the next 72 hours.
I wrote this article myself, and it expresses my own opinions. I am not receiving compensation for it (other than from Seeking Alpha). I have no business relationship with any company whose stock is mentioned in this article.