Asking what it costs to produce a barrel of oil is rather like asking how long is a piece of string? The answer can be anything you want between $1 and $500. But of course the cost of producing oil in an ideal world should be well below the price of oil, leaving room for taxes and profits. The global oil market sets the price and producers need to adjust and adapt their strategies to maintain costs below prevailing prices from time to time. That is the theory at least.
With Brent trading at about $45, a cost analysis presented by Art Berman suggests that all Middle East OPEC and US shale producers are continuing to trade at a loss (see chart below the fold). Why then are there signs that the frackers are going back to work?
In the last Oil Production Vital Statistics post I said this:
The FT has reported that LTO from The Permian Basin can be produced for $35 to $40 / barrel and The Eagle Ford for $50.
Based on the following chart published in the FT.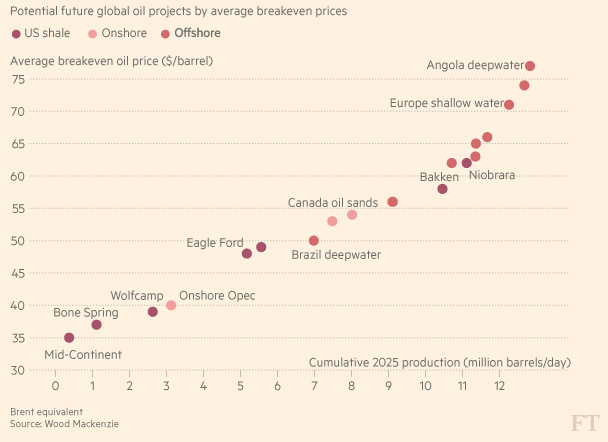 Figure 1 A price view of new oil projects from Wood Mackenzie via the Financial Times.
The source is Wood Mackenzie, one would hope it was reliable. But when I sent it to Arthur Berman for comment he got back saying:
The Woodmac break-even prices are Drilling and Completion plus net OPEX. It is not an NPV number and does not account for royalty payments, G&A, interest expenses or income taxes. As a rough guide, add $15 to Woodmac's numbers and that is what I get using those costs.
And he sent me his analysis based on Rystad Energy and the IMF amongst others. The difference is significant since at $45/bbl, the Wood Mac numbers suggest that frackers can turn a profit in the Permian basin (Mid-continent, Bone Spring and Wolfcamp) that would explain why the drillers and frackers are showing tentative signs of returning to work. While according to Art everyone is still deep in the red. What exactly is going on?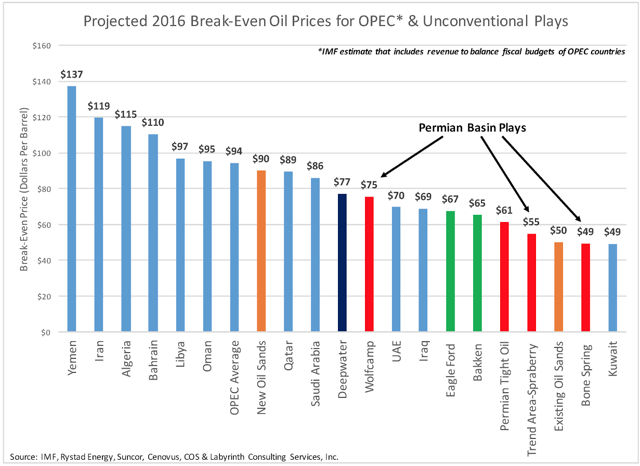 Figure 2 A price view of existing OPEC and unconventional plays from Art Berman based on data from the IMF, Rystad Energy and others.
Before trying to answer that question, it is worthwhile dwelling for a moment on what we really mean by the cost of producing oil. For starters, Art's chart shows two completely different types of cost data. For OPEC and other developing countries, it is the oil price required to balance fiscal budgets derived from the IMF (Table 6):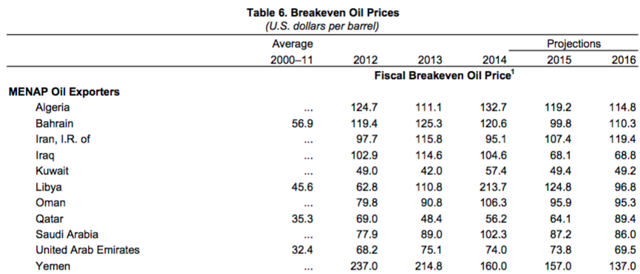 These prices are compared with those required by corporations to show a profit in light tight oil (LTO or shale oil) and Canadian oil sands production. In the former case, national governments need to either borrow or raise taxes to cover the shortfall left by the withered oil price. In the latter case, companies must borrow more, sell assets or go bust as many have already done. I think this is an interesting and valid comparison since the tectonic struggle over the oil market is between OPEC nations and US LTO corporations. Who can afford to lose the most?
Why have some of the OPEC nations allowed their budgets to become dependent upon such a high oil price? The answer to that is simple. Between 2008 and 2014, the oil price spent most of the time over $100/bbl and OPEC governments were obliged to share this windfall with their burgeoning populations and often poor citizens. Welfare programs were expanded to consume burgeoning State profits. But reducing welfare in these countries is fraught with danger and could be the stuff of revolution. The numbers in Table 6 do need to be treated with some caution since countries like Bahrain and Yemen are not exclusively dependent upon oil revenues, and trying to plug a budget deficit assuming they are will result in an exaggeration of the oil price they require. But it is noteworthy that Yemen has already disintegrated and Bahrain is never more than a heartbeat away from revolution.
The main observation to make from Art Berman's compilation is that the cost of producing LTO and oil sands is well below the price required by certain OPEC countries to balance their books. When the oil price gets above $50, as it surely will do, then the LTO drillers and frackers may go back to work in the Permian basin in earnest. It has normally been the case that it is the cost of the marginal barrel that sets the oil price. That is the cost to bring on significant amounts of new supply to maintain market balance. The frackers will want to turn a profit and so it might be that certain Permian LTO plays will set a lid on the oil price at around $60. This will suit Kuwait and will leave the UAE in reasonable shape. But it will not suit countries like Saudi Arabia, Iran or Algeria. It is Algeria I fear for most, with high population, slowly declining production, and mounting debts on Europe's door step.
$60 will not suit large tranches of the international oil industry that will likely struggle to break even at that price as will the Bakken and Eagle Ford. The international oil companies (IOCs) will learn to live with $60 by closing production that is not profitable at that level, innovating, contracting and delaying expensive deepwater projects. This will eventually lead to a future shortfall in supply and perhaps another oil price spike that will suit all producers. But while the oil price struggle is between the LTO producers and OPEC, the IOCs may emerge as the biggest losers.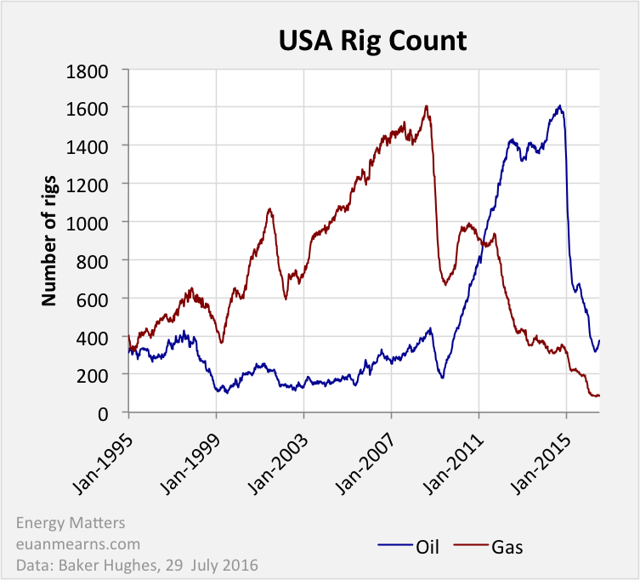 Figure 3 US rig count according to Baker Hughes as of 29 July.
So why then are there signs of the frackers going back to work? Well, of course, they never stopped with 316 oil rigs still working at the low point in drilling. This has now increased by 58 to 374 as of 29 July. But why did drilling not stop all together? One reason may be lease commitments where companies have committed to drill so many wells on their property. And another reason may be to preserve the drilling industry so that it survives into the future. And another reason may be to capitalise on reduced costs during the slump in hope that the price will rise someday soon. This I believe is why drilling has now got out of first gear. But this will be a self-destroying activity since turning LTO production around will inevitably kill the price rally that it depends upon. What will come first? A new price spike or a new price slump? - I don't know!
Shale oil has certainly been a disruptive game changer. Designed to provide cheap home grown energy for the USA, the unintended consequences might be to spread more revolution in the MENA region and OPEC and to mortally wound the IOCs that have been the backbone of the OECD industry for many decades.