Medley Capital Corporation (NYSE:MCC) Q3 earnings release was this morning. Dividend is now $0.22 per quarter, NII for the quarter was $0.20 a share.
I think the intraday chart tells the story pretty well: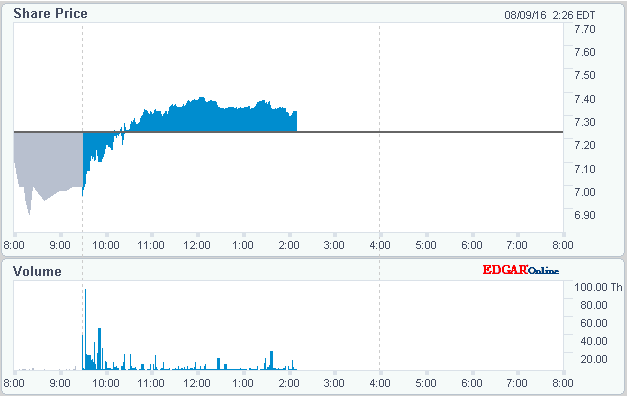 While seemingly bad at first glance, but upon further consideration, we see that MCC is actually in a pretty good spot and moving further in the right direction.
Here are a few key takeaways from this mornings conference call:
NII going forward: NII for the quarter was $0.20, short of the $0.22 declared dividend. However, there were no new originations for the quarter, as was mentioned several times during the call. If we take a look at historical averages for fee income and then factor in a rate slight rate of decline due to decreasing asset base as a result of deleveraging, I think a good estimate going forward would be somewhere in the range of 1.5 to 1.8 MM per quarter in fee income.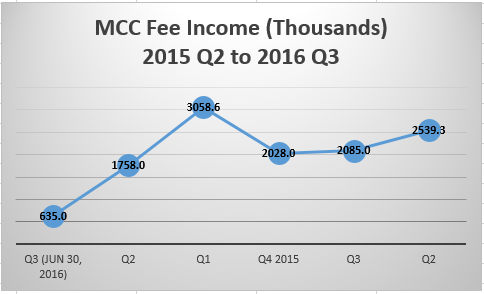 If we apply an estimated value for forward fee income of ~1.65 MM to current interest income and assume all else remains equal, we have a NII of $0.22 a share.
Further, management has reiterated its intention to complete the remainder of the authorized share repurchase program. With 18 million currently remaining and assuming a net cost of acquisition at $7.35 a share, we can expect to see an increase in NII as a result of slightly more than $0.01 per annum.
Taube also mentioned the potential additional benefit of fee waivers and potentials for additional upside from the restructuring of their non-accruals discussed in more detail below.
Overall Portfolio Quality and Risk: Firstly, no new non-accruals - the ship is not sinking. And overall, we are seeing a migration towards lower-risk assets.
This is evidenced by the new fee structure implemented at the start of the year which reduced the incentive fee to 17.5% (from 20%) on pre-incentive fee net investment income over a shortened hurdle of 6% (8%) subject to a three year lookback. The shortened hurdle means that management no longer has to chase high yields and is instead incentivized to provide consistent returns.
Moreover, we are seeing a shift in focus from non-sponsored to sponsored deals, though management claims this has more to do with volume and scale than credit quality.
Judging by several of the questions posed during the conference call, it seems that many analysts and investors are still wary of MCC's underwriting performance and overall portfolio quality. But I believe the aforementioned facts speak for themselves and in time we will see sentiment to match the facts.
Treatment of Existing Non-Accruals: As of the current quarter, non-accruals make up 6.6% of the portfolio at fair value. Though management declined to comment in detail, they did state that they have restructured certain investments and now have equity ownerships and that further, they are "optimistic" that they will "have the opportunity to turn these investments into earning assets with potential equity appreciation". A bigger takeaway from this is that there is currently 6.6% of the portfolio at fair value that is not contributing to the current NII. Even if management is unable to turn these into earning assets, they can be sold and capital redeployed into new earning debt investments.
Continued De-Leverage: In light of tightening spreads, management has reaffirmed their focus on deleveraging maintaining, for the current quarter, leverage at 0.69 times. While decreasing leverage will ultimately decrease returns, it also makes the portfolio less prone to heavy losses in a downturn scenario. Moreover, the current low leverage ratio gives plenty of room for growth (up to a 1.00 times regulatory cap for BDC's) should spreads increase.
Share Purchase by MDLY: The external manager MDLY intends to purchase shares in MCC which, at the very least, should assist in bolstering current share price.
Conclusions:
MCC's current dividend of $0.22 quarterly ($0.88 annually) relative to a share price of $7.35 per share represents a healthy yield of ~12.0%, supported by a stable NII.
Additionally, there is a strong potential for upside pending the outcome of their current non-accruals and additional potential for upside dependent on market conditions.
Objectively speaking, in light of recent quarters' adjustments, I believe MCC now represents a much lower risk investment than in previous years. In fact, much of the recent decline in NII can be directly or indirectly (through illiquidity) be attributed to risk mitigation. Relative to risk, MCC still remains a lucrative investment opportunity.
A Special Thanks to SA Transcripts for providing the transcript of this quarters conference call linked here.
Disclosure: I am/we are long MCC.
I wrote this article myself, and it expresses my own opinions. I am not receiving compensation for it (other than from Seeking Alpha). I have no business relationship with any company whose stock is mentioned in this article.