Introduction
This article is my 29th installment in a segment called "Buy on the Drop?" where I choose a stock that recently experienced a large decrease in price and give a recommendation on whether investors should "Buy on the Drop" or not. The recommendations are Sell, Hold, Speculative Buy, Buy, and Strong Buy. This is a recurring segment, so if you enjoy the article, "Follow" me to see more. You can read about my previous installment discussing Novo Nordisk (NYSE:NVO) here.
SunPower Gets Scorched
(I think I'm getting better at these section title puns. Any critiques or original suggestions of a sun-related pun with negative connotations are welcome in the comments section.)
Don't look now, but shares in SunPower (NASDAQ:SPWR) are cratering after-hours in the wake of a second quarter report which left much to be desired. The stock is down 28% as investors shed positions and perhaps put an end to what has been an exercise in frustration the past couple years. Despite growing revenues and turning a profit here and there, solar stock prices have remained largely depressed. An investor can only watch a position stagnate and falter for so long before hope and resolve fade. The Seeking Alpha comments sections on recent SPWR news releases seem to evidence this disillusionment. After all, why stay invested after this: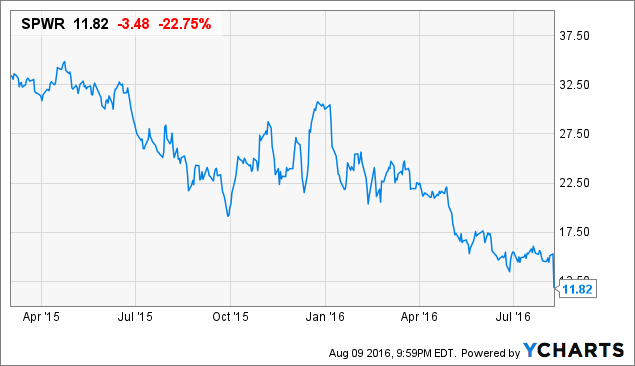 In about a year and a half, aside from a couple fleeting spikes in 2015, SPWR has done nothing but fall. Officially at Wednesday's open, the stock will likely be down nearly 70% in about 18 months. In a recent article focusing on SunPower competitor First Solar (NASDAQ:FSLR), I chronicled the underwhelming performance of the solar sector as a whole. That article can be found here. SunPower has not been an exception and Tuesday's drop is just another entry in the ongoing saga of solar stock disappointment.
I think the underperformance of the solar sector as a whole is vital context for understanding what precipitated SPWR's huge losses. Yes, results were disappointing, but perhaps even more importantly, many investors are simply becoming fed up with the solar sector. While the S&P 500 (NYSEARCA:SPY) soars, solar stock and the Guggenheim Solar ETF (NYSEARCA:TAN) plummets (down 33% over the past 12 months). I seem to be on a slight tangent. Let's bring this discussion from the big picture back to SPWR: is this latest investor exodus an opportunity or should investors stay far away from this stock?
I have already established the negative investor sentiment surrounding SunPower and the solar sector as a whole, but let's take a look at the actual numbers of the company's second quarter report so we can come to a fully informed conclusion about SPWR's investment potential.
SunPower beat consensus estimates on both the top and bottom lines with revenue of $402 million and loss per share of $0.22, indicating solid Q2 execution. Growth appears to be progressing smoothly as quarterly revenue increased 7% year-over-year and loss per share improved 8 cents over Q2 2015's loss per share of $0.30. However, this is about where the good news ends and the bad, and sometimes ugly, news begins.
Gross margin continued to fall off in the second quarter as competitive pricing pressures affecting the entire solar sector weighed on SunPower's revenue. For those arguing that solar energy will be a commoditized resource, this gross margin chart of one of the top solar companies in the industry may seem corroborate that claim: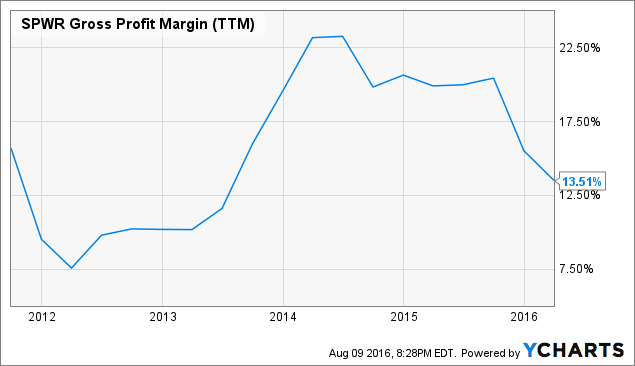 SPWR Gross Profit Margin (NYSE:TTM) data by YCharts
As the graph might indicate, Q2 2016's gross margin of 13.1% (which has not been added to YCharts database yet), is a substantial decrease from Q2 2015's margin. Down 450 bps to be exact. Yet while one might think this margin pressure can be seen across the industry, SunPower appears to, someway somehow, be the only major solar company seeing this level of margin deterioration: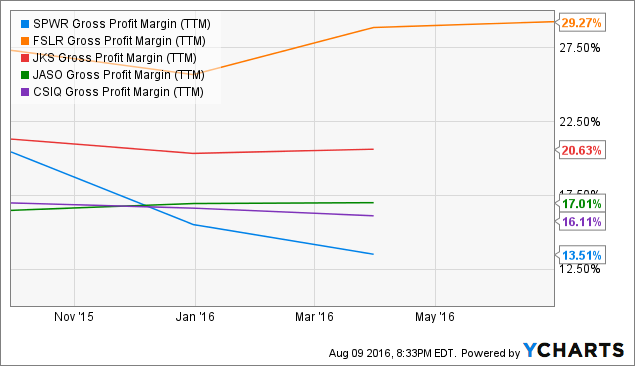 SPWR Gross Profit Margin (TTM) data by YCharts
The gap you see at the end of the chart is because those companies have not reported earnings yet. Well now we have the results from SunPower, which just confirm that the gross margin pressures the company have endured are continuing, while they are also not representative of the sector as a whole. Not a great sign.
There may be some slight hope for the third quarter as gross margin was guided between 16.5% and 18.5%, of which the midpoint of 17.5% represents just a 20 bps decrease from Q3 2015's 17.7% margin. Could this be margin declines perhaps approaching a bottom? As SunPower's updated fiscal 2016 year guidance told us, not in the slightest.
This downward revision of FY2016 guidance is likely what really pushed SPWR off the cliff. For easy visualization and to save repetitive phrasing, here's a table:
| | | | |
| --- | --- | --- | --- |
| Metric | Original Guidance | Updated Guidance | Change |
| Revenue | $3.2B - $3.4B | $3.0B - $3.2B | -6% |
| Gross Margin | 14% - 16% | 10.5% - 12.5% | -350 bps |
| EBITDA | $450M - $500M | $275M - $325M | -37% |
| Installations | 1.6 GW - 1.9 GW | 1.45 GW - 1.65 GW | -11% |
Note: I used the midpoints of the ranges to compute the Change column
Looking at these figures, a 28% decline doesn't seem too strange. It's not just the results themselves that frightened off investors, but what they indicate about the overall health of the company. SunPower's gross margin are hemorrhaging at a rapid pace and it does not seem like management knows how to stop it. Most of the revision you see in the table above stems from the same root cause, and I'll let President and CEO Tom Werner explain it:
Near-term economic returns have deteriorated due to aggressive PPA pricing by new market entrants, including a number of large, global independent power companies. We are also seeing customer project IRRs rising in the near term as buyers have increased their hurdle rates due to industry conditions. Finally, the continued market disruption in the YieldCo environment has impacted our assumptions related to monetizing deferred profits.
I think it is up for debate whether those headwinds will only affect near-term economic returns as opposed to mid to long-term, and the market appears to be taking this uncertainty about the future very seriously. It's even possible that we might see gross margin dip into the single-digits in 2017, which would place SunPower even further behind other top solar companies than it already is.
And the fact that the entire solar sector is in the doldrums, has been for a while, and market conditions don't appear to be improving, have combined to sour investor sentiment both in regards to SPWR and the industry as a whole.
Even at a $1.63 billion market cap, I don't think buying shares in SPWR is a particularly wise decision. There are plenty of other solar companies out there, namely First Solar , that are coping with changing market conditions much more effectively and have better fundamentals. Yet at the same time, SPWR has already lost so much value that I don't see selling the stock as a necessary decision at current price levels either. Obviously, it is up to each SPWR investor to conduct his or her own due diligence, but I think holding onto SPWR is the best decision in a very bad situation.
I rate SunPower a Hold on the drop.
If you want to stay up-to-date on my articles, you can Follow me by going to my author page or by clicking "Follow" at the top of this page.
Thanks for reading!
Disclosure: I/we have no positions in any stocks mentioned, and no plans to initiate any positions within the next 72 hours.
I wrote this article myself, and it expresses my own opinions. I am not receiving compensation for it (other than from Seeking Alpha). I have no business relationship with any company whose stock is mentioned in this article.