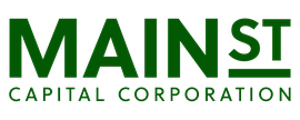 Business development companies are back on investors' shopping lists, loved by income investors for their high dividend payouts and yields, and their most recent performance is nothing short of remarkable. This also isn't that surprising: With the Federal Reserve's reluctance to move up interest rates, yield starved investors almost have no other choice but to chase high-yield income vehicles, which include business development companies.
Main Street Capital Corp. (NYSE:MAIN), an income investor dream that has posted strong capital returns in the last few years is unquestionably one of the best managed business development companies in the sector. As a result, the BDC has attracted its fair share of followers, which are, for the most part, income investors.
Main Street Capital reported 2nd quarter results on Monday, and they expectedly contained no real surprises. Essentially, Main Street Capital is going about its business, and it is doing it well. The BDC's total investment income hit $42.9 million, a 4 percent improvement over the 2nd quarter of last year when Main Street Capital pulled in $41.3 million. Main Street Capital's distributable net investment income was also up 4 percent Y/Y and hit $29.9 million, whereas its distributable net investment income per share remained steady at $0.58/share.
Though I like Main Street Capital as much as the next income investor, it is also time to tread carefully here as total investment income and distributable net investment income growth is slowing: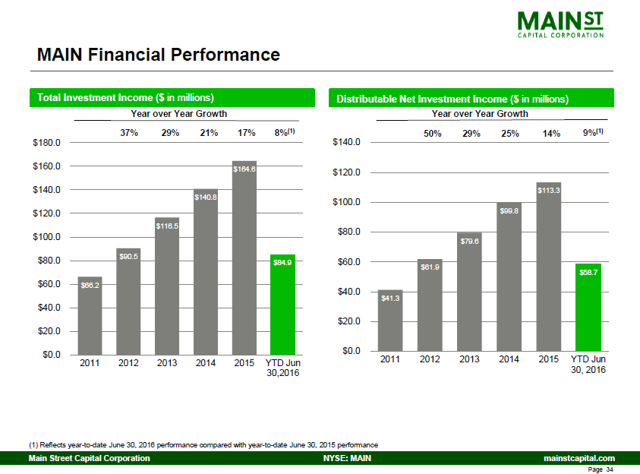 Source: Main Street Capital
Premium, Premium Price
Valuations in the BDC sector have recovered profoundly since falling to new lows at the start of the year. Main Street Capital's shares, for instance, were selling for much lower P/NAV ratios than they used to.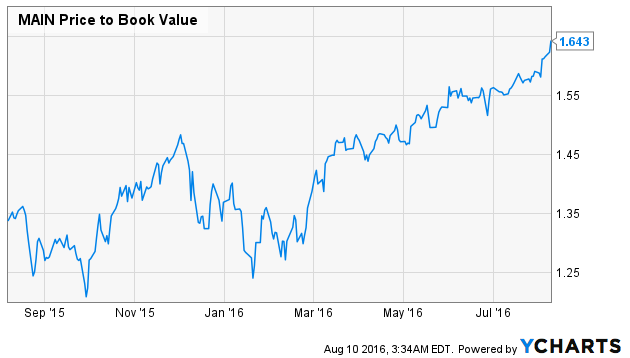 The recovery in BDC valuations has obviously not excluded Main Street Capital, whose shares today are selling for more than 1.6x Net Asset Value...this is a proud price to pay, and it is likely going to limit MAIN's total return potential moving forward. Further, Main Street Capital is way overbought now (RSI flashes a value of 79.92).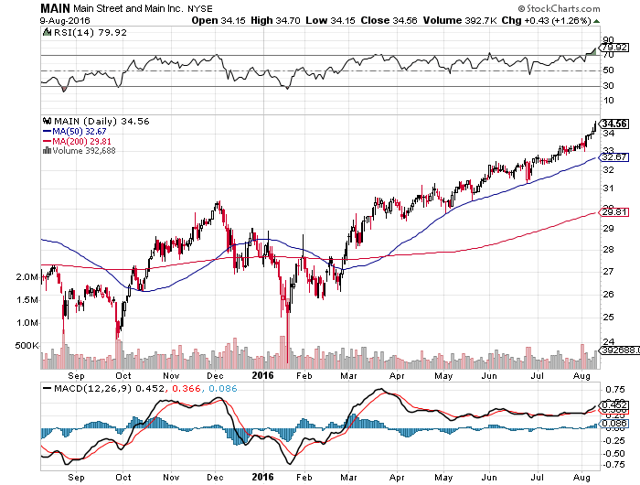 Source: StockCharts.com
Therefore, in my opinion, investors should be very careful buying at today's high market prices.
New Monthly Dividend Distributions
Main Street Capital declared new monthly dividends of $0.185/share for the months of October, November, December at the beginning of August. The new dividends represent an increase of ~3 percent over the current monthly dividend payout of $0.18/share.
Your Takeaway
Main Street Capital's 2nd quarter was unspectacular, yet solid. Though I love Main Street Capital for its dividend, it is also time to be a little more cautious considering the fabulous run high-yield BDCs have had in 2016. This is particularly true considering that Main Street Capital's income growth is slowing down. Yes, the increase in Main Street Capital's monthly dividend was well received by income investors (I surely am not complaining), but MAIN appears to be priced for perfection at a 64 percent premium to Net Asset Value. MAIN is NOT a buy at today's prices.
If you like to read more of my articles, and like to be kept up to date with the companies I cover, I kindly ask you that you scroll to the top of this page and click 'follow'. I am largely investing in dividend paying stocks, but also venture out occasionally and cover special situations that offer appealing reward-to-risk ratios and have potential for significant capital appreciation. Above all, my immediate investment goal is to achieve financial independence.
Disclosure: I am/we are long MAIN.
I wrote this article myself, and it expresses my own opinions. I am not receiving compensation for it (other than from Seeking Alpha). I have no business relationship with any company whose stock is mentioned in this article.