Fossil's (NASDAQ:FOSL) Q2 numbers were better than expected, the guidance was mixed, and the stock is up over 5% after-hours. This bump is more a reflection of the stock's depressed valuation heading into the ER than anything else. Following a dramatic Q1 sell-off, we recommended investors scoop up shares of FOSL as we believed the traditional watch business was being greatly undervalued by the market. Since then, shares are up more than 12%. We now only see 12.5% upside to fair value, so we are doing some profit-taking here but also maintain some of our long position. We will look to add back on any dips.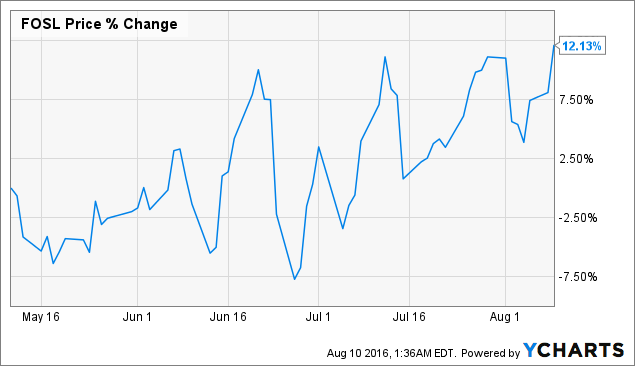 Watches continue to be in a rough patch. Constant-currency losses accelerated from 8% in Q1 to 9% in Q2 even though the comp was actually easier. As expressed in our previous analysis, we believe the traditional watch has staying consumer power in a long-term window and view these few quarters as near-term headwinds driven by a smartwatch influx. We do not see traditional watch sales growing from here, but we think revenues will normalize as the watch market reaches a new equilibrium of some consumers with smartwatches, some with traditional watches, and some with both. FOSL's push into the wearables market is showing some traction, though still in its infancy. The company plans on releasing several more connected devices soon, and we are excited about the growth potential there.
Leathers had a strong quarter, up 6% in constant-currency while lapping 9% constant-currency growth. Handbags seem to be driving growth here, and this is now the second quarter in a row of strong handbag growth. Handbag growth is offsetting watch declines, and if growth here can persist even after watches rebound, sales could get have some runway to the upside. We think Leathers will perform very well into the end of the year as the comp gets easier in the back-half of the year.
Jewelry had a strong bounce back in the quarter, posting 2% constant currency growth relative to an 11% constant-currency decline in Q1. As with Leathers, Q1 and Q2 were the hardest comps this year, so we expect Jewelry sales growth to accelerate in Q3 and Q4.
Overall, we have slightly modified our model to account for lower watch sales but higher jewelry and leathers sales. We have upped our fair value slightly to $36, or 12.5% higher than the after-hours quote. In our DCF, we use a 10.8% WACC discount rate and low-growth 1% perpetuity rate.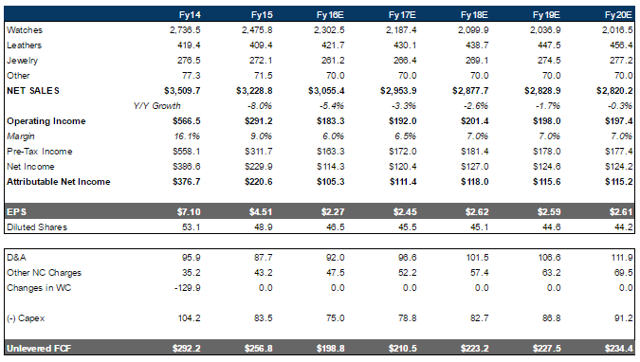 Naturally, we will do some profit-taking here. We will look to add more if this stock pulls back to around 15-20% below fair value, so roughly below $30. Without a pullback, we are still partially long the stock and will look to sell north of $35.
Disclosure: I am/we are long FOSL.
I wrote this article myself, and it expresses my own opinions. I am not receiving compensation for it (other than from Seeking Alpha). I have no business relationship with any company whose stock is mentioned in this article.