Introduction
This article is my 30th installment in a segment called "Buy on the Drop?" where I choose a stock that recently experienced a large decrease in price and give a recommendation on whether investors should "Buy on the Drop" or not. The recommendations are Sell, Hold, Speculative Buy, Buy, and Strong Buy. This is a recurring segment, so if you enjoy the article, "Follow" me to see more. You can read about my previous installment discussing SunPower (NASDAQ:SPWR) here.
Myriad of Troubles
Myriad Genetics (NASDAQ:MYGN) investors are in panic mode as the stock plummets 22% after-hours on the heels of fourth quarter earnings that provided an uncertain view of the company's future. Guidance for Q1 2017 and full-year 2017 were far below consensus estimates and the company appears to have hit a brick wall. It appears the massive short interest might have been justified.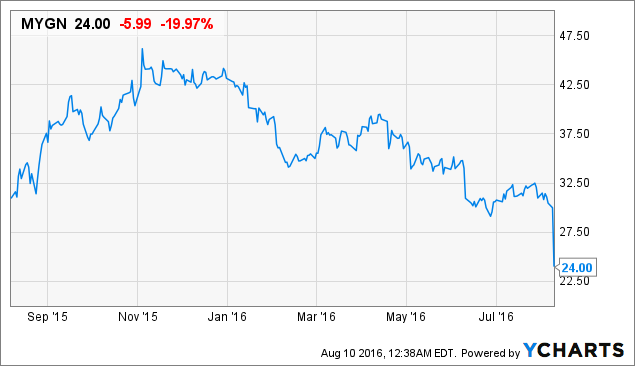 As this price chart shows, MYGN had been suffering for a while before this most recent debacle. Shares are down about 50% from 52 week highs as the company continues to disappoint investors with its earnings reports. Though the word "disappoint" may be an incorrect generalization considering many investors have been shorting MYGN on the way down. Short interest as a percentage of the float is a whopping 42.85%, indicating that a big chunk of people think Myriad is overvalued, though that percentage is likely to drop as short sellers take profits. Well is the stock overvalued after Tuesday's beating? Let's take a look.
We'll begin with a quick recap of the Q4 2016 report and then move on to the major downward catalysts. Myriad missed slightly on both the top and bottom lines as revenue of $186.5 million was down 2% year-over-year ("YoY") and EPS of $0.36 missed by a couple cents. Myriad's core hereditary cancer testing generated 82% of total revenue in the quarter, but was down 7% YoY.
On the Q4 2016 conference call, CFO Bryan Riggsbee stated hereditary cancer testing revenue was below expectations and that the 7% decline was attributed to lower volumes and lower ASPs consistent with long-term negotiated contracts. This might sound like the normal course of business and a headwind restricted to a couple of quarters, but it is not. Hereditary cancer testing is Myriad's main business, and its inability to grow is at the center of the company's guidance woes for 2017.
For just a quick recap of the numbers, Myriad expects Q4 2017 revenue of between $168 million and $170 million, and non-GAAP EPS of between $0.25 and $0.27. In FY2017, the company expects revenue of between $740 million and $760 million, and EPS of between $1.00 and $1.10. Everything I just mentioned was far below consensus estimates going into the report, which explains the huge post-earnings drop.
Even eliminating any expectations from analysts and the market, the numbers are extremely underwhelming. The midpoint of the FY2017 revenue range represents flat revenue growth over FY2016 revenue, which makes it all worse that the midpoint of FY2017 EPS of $1.05 is about 36% lower than FY2016's EPS of $1.63. Same revenue but 35% drop in profits? Can someone say margin pressure? Let's get into the downward catalysts shall we?
Because FY2017 guidance includes Q1 2017, I will be focusing primarily on the former in the following few paragraphs. One word to describe guidance for the 2017 fiscal year would probably be "horrible," because it indicates something is very wrong with the fundamentals of Myriad Genetics. As I stated earlier, hereditary cancer testing is the company's main source of revenue and it declined 7% YoY in Q4. This area is fundamental to Myriad's success, but guidance indicates it is stalling hard.
On the conference call, Bryan Riggsbee said that Myriad's base business, specifically hereditary cancer testing, is expected to see a drop in 2017 similar to what we see in Q4. In other words, Myriad expects a 7% decline in hereditary cancer testing revenue YoY.
As if that wasn't bad enough, Wells Fargo Securities analyst Tim Evans noted that coupled with overall market growth of between 7% and 15% as Myriad previously guided, the YoY decline becomes even worse. After being pushed by Mr. Evans, CEO Mark Capone conceded that 7% to 15% was still the company's growth forecast. If the market for your product is growing at about a 10% clip and that product's revenue is expected to decline at a 7% clip, the future is not bright for that product. Considering Myriad relies on hereditary cancer testing, its projected struggles seem to justify a 22% selloff.
Keep in mind that Myriad's 2017 full-year revenue growth is expected to be flat compared to 2016, yet 2017 revenue is expected to get a $50 million boost from Assurex Health. Therefore, hidden behind that accretive acquisition is significant revenue declines in Myriad's core business.
Uncertainty is the key here, as the decline of hereditary cancer testing puts Myriad's future in jeopardy. This is what Riggsbee had to say about the expected weakness in this segment:
Let me discuss our assumptions underlying our fiscal year 2017 revenue guidance, beginning with hereditary cancer. As you can see on the graph, the hereditary cancer revenue for the past 10 quarters has been relatively flat. However, we saw some incremental share erosion in the oncology segment of the market in the fourth quarter and some incremental price declines associated with our long-term contracts.
He went on to say that the company has taken steps to deal with these problems but will not factor those corrective measures into guidance until they have been successfully implemented. Presumably, that reassurance is meant to provide investors with some hope that the guidance management issued is very conservative and will be easily beaten, but I don't feel very reassured.
I'll believe an improvement when I see it. To this point, I have no reason to think Myriad will be able to turn things around quickly, let alone by the end of 2017. Is MYGN going to zero? No, but shares likely have further to fall.
For the following calculations, I am using MYGN's after hours quote of $22.88. With fiscal year 2016 completed, MYGN currently has a trailing P/E ratio of just 14, but don't get excited yet. Based on the company's 2017 guidance, MYGN is trading at a fairly rich forward P/E of 22, and with no significant growth or saving grace in sight, that premium probably won't last very long. Sure the company has $216 million in cash and still turns a solid profit, but the stock is still too high for the current state of things. Perhaps the stock will deserve a look later down the road if the company can improve on its current situation, but for now I rate Myriad Genetics a Sell on the drop.
If you want to stay up-to-date on my articles, you can Follow me by going to my author page or by clicking "Follow" at the top of this page.
Thanks for reading!
Disclosure: I/we have no positions in any stocks mentioned, and no plans to initiate any positions within the next 72 hours.
I wrote this article myself, and it expresses my own opinions. I am not receiving compensation for it (other than from Seeking Alpha). I have no business relationship with any company whose stock is mentioned in this article.