An investment in drug company Valeant Pharmaceuticals International, Inc. (NYSE:VRX) was clearly not a good choice last year...shares of the embattled company have crashed 89 percent in one year, and 72 percent so far in 2016. There were a lot of reasons why Valeant Pharmaceuticals' shares were kicked to the curb, but I am not going to delve into each one of them here. Most readers are very aware of the diverse factors that contributed to the downfall of this once admired serial acquirer in the drug sector.
The last time I discussed Valeant Pharmaceuticals was at the end July when the company received a Complete Response Letter from the U.S. Food and Drug Administration regarding its latanoprostene bunod ophthalmic solution, an eye drop for patients with open angle glaucoma/ocular hypertension. In a nutshell, I contended that this Complete Response Letter carried little significance for Valeant as it essentially focused on 'deficiencies at Bausch + Lomb's manufacturing facility in Tampa', which the company should generally be able to fix quickly, and that those deficiencies were not as big an issue as they were made out to be.
Fast forward two weeks, and, in fact, nobody is even talking about the Complete Response Letter anymore. What everybody is talking about now, however, is Valeant's earnings release from Tuesday that set off a big relief rally.
Valeant Pharmaceuticals, which previously reduced its revenue guidance twice, confirmed its 2016 revenue target of $9.9-$10.1 billion, and continues to expect its adjusted earnings to clock in somewhere between $6.60-$7.00/share. Whether or not Valeant would reaffirm is revenue guidance was a big factor contributing to uncertainty leading up to the earnings release.
As a result, Valeant's shares went through the roof on Tuesday, surging more than 25 percent on the back of a much-needed shot in the arm of investor sentiment. In fact, the relief was so overwhelming that investors didn't even care that the company missed analysts' consensus adjusted earnings estimate of $1.47/share (Valeant earned $1.40/share).
See for yourself.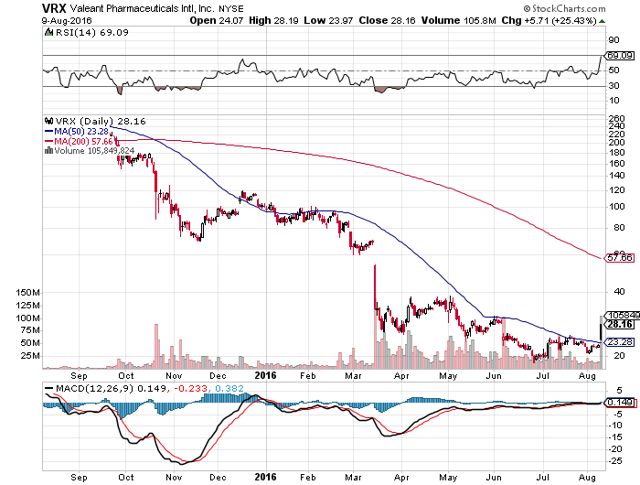 Source: StockCharts.com
The reaffirmed revenue guidance was without a doubt a main takeaway from Valeant Pharmaceuticals' 2nd quarter earnings.
Another one was that the company said that it is "evaluating strategic alternatives" (read: sales) for 'non-core' businesses in order to pay down Valeant's formidable debt load. As a matter of fact, the company put ~$8 billion in 'non-core' asset sales on the table. Further, Valeant said that it expects to use more than $5 billion of cash coming from both asset sales and free cash flow over the next eighteen months to reduce debt, which is great news for investors worried about Valeant's leverage.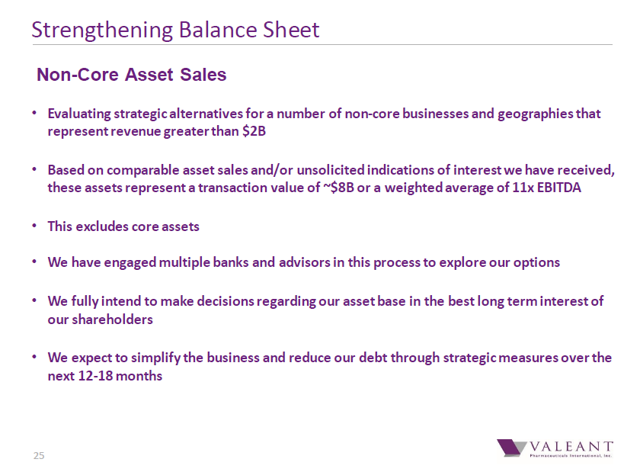 Source: Valeant Pharmaceuticals
Your Takeaway
All considered, Valeant Pharmaceuticals delivered a big blow to the short thesis yesterday as the reaffirmed revenue guidance was a major victory for the drug company, underscoring that it managed to stop the bleeding.
Further, Valeant's sharp focus on its no. 1 priority, getting its debt under control, was very positively received by investors as well. Selling $8 billion worth of 'non-core' assets plus adding in available free cash flow will help Valeant delever its balance sheet faster than many now expect IMO. The share price breakout is very favorable from an investor sentiment point of view. Speculative Buy.
If you like to read more of my articles, and like to be kept up to date with the companies I cover, I kindly ask you that you scroll to the top of this page and click 'follow'. I am largely investing in dividend paying stocks, but also venture out occasionally and cover special situations that offer appealing reward-to-risk ratios and have potential for significant capital appreciation. Above all, my immediate investment goal is to achieve financial independence.
Disclosure: I/we have no positions in any stocks mentioned, but may initiate a long position in VRX over the next 72 hours.
I wrote this article myself, and it expresses my own opinions. I am not receiving compensation for it (other than from Seeking Alpha). I have no business relationship with any company whose stock is mentioned in this article.