Nike (NYSE:NKE) announced that it is exiting the business of selling golf equipment (clubs, balls and bags) after several years of underperformance. Sales at Nike's golf division fell 8.2% year-over-year amidst declining participation rates, and the business was NKE's worst performing segment. News of NKE's decision pushed shares of Callaway Golf (NYSE:ELY), a major competitor in the golf equipment space, up 8.5% and they now sit close to a 52-week high. While we do think NKE's exit will improve the market opportunity for ELY, the golf equipment industry is not attractive on a fundamental level, in our view. Shares of ELY are up 22% YTD, and with the stock trading at a forward P/E of 36.4 we think investors should be careful with Calloway Golf.
Nike competed directly with Callaway in the golf equipment market, generating annual revenues of $100 - $200 million. Seeing as ELY has a leadership position in the space, the company should benefit more than its smaller peers from NKE's exit. In the latest quarter ELY reported "hard goods market share" in the US of 22.4% (up 100 basis points from last year). Assuming NKE would generate $150 million in revenues, and ELY takes 22% of these sales, ELY would add $33 million in incremental revenue each year in its US business, on average. For FY16, ELY would increase revenues by half this amount (because the year is half over), which would bring the company closer to the middle range of its initial FY16 guidance ($855 - $880 million). After the first quarter management stated that it expected revenues to come in at the lower end of this range, but if you factor in the incremental benefit from foreign regions where Nike also competed, ELY may be closer to growing 3 - 4% than the 1.3% that is expected for 2016.
But we don't think this is enough of a reason to get excited about Callaway Golf. The industry is unattractive both in terms of the long-term growth outlook and profit potential. The number of US golfers has declined 24% since its peak in 2012, and we think the industry could be in secular decline. Tiger Woods has faded and so too has the popularity of the sport, particularly among younger demographics who will be responsible for the majority of demand growth long-term. Golf is too boring, too time intensive, and perceived as too "elitist" for millennials. It also very expensive, and has a steep learning curve. Weak demand has caused inventories to pile up in the golf equipment industry in recent years, and while ELY's inventory turnover has actually improved slightly, its receivables turnover has declined markedly (from 9.2 in 2013 to 4.0 TTM) as the firm extended more favorable payment terms to customers in order to stay competitive (this could be the reason for the market share gains).
Even though management expects sales to rebound over recent levels, we just can't get excited about the long-term outlook for ELY. Callaway's sales tend to fluctuate, but they are flat from 10 years ago (a time when golf was more popular) (Figure 1). In addition, golf equipment companies earn razor-thin margins. According to Bloomberg ELY hasn't reported an annual profit since 2008, and while Morningstar comes up with slightly different profit figures, they aren't much better. Between 2009 and 2013 ELY failed to earn a profit, and over the past two years the company averaged a net margin of just 1.75%. Over the past ten years ELY's earnings have trended down (Figure 1), and while ELY's cost cuts and layoffs have helped, they won't be enough to meaningfully expand margins long-term.
Figure 1: Golf Equipment Industry Sales and Profits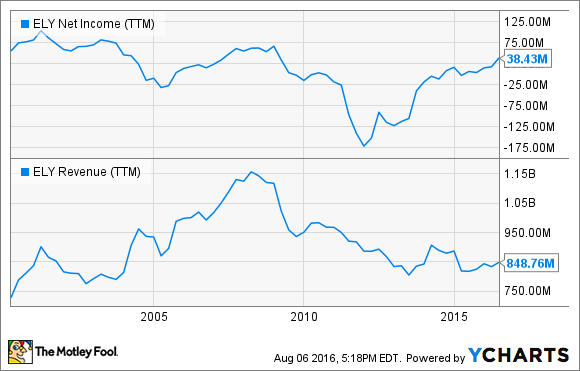 Source: Fool.com
Conclusion:
Nike's exit is good news for Callaway Golf, but it doesn't make the stock a buy. The company faces secular headwinds and low profit potential. Management anticipates a "heavy promotional environment" for the remainder of the year, but we wouldn't be surprised to see this continue beyond 2016 as sluggish demand forces competitors to more aggressively defend market share. We see little-to-no margin of safety with shares trading at 36x forward earnings, and investors should avoid ELY.
Disclosure: I/we have no positions in any stocks mentioned, and no plans to initiate any positions within the next 72 hours.
I wrote this article myself, and it expresses my own opinions. I am not receiving compensation for it (other than from Seeking Alpha). I have no business relationship with any company whose stock is mentioned in this article.