This kind of yield warrants a cautious investigation as it is generally only associated with stocks cursed as investment pariahs. Although there are some fundamental concerns unique to Otelco (NASDAQ:OTEL) (and its industry), there was only one that could explain the sweeping negative sentiment required for such a dramatic undervaluation - a past bankruptcy. Undeniably, that should be a concern for any shrewd investor, but when a third party could buy out the entire company, pay off all the debt, and still realize a stable double-digit return, the punishment does not seem to fit the crime.
Relevant History
What You Need to Know
Otelco went public in 2004. They were considered a cash cow. Since 1998, they had been acquiring rural telecommunications wireline companies. By 2011, they had completed eight acquisitions. They learned that they would lose a massive contract with Time Warner Cable in April 2012. This contract had been a substantial source of revenue for the company. They quickly realized the impossible strain this loss would place on their ability to pay back bondholders.
They created a restructuring package that would work in bondholders' and shareholders' best interests considering the circumstances and immediately informed investors. Otelco proceeded through Chapter 11 bankruptcy with impressive efficiency, emerging in May 2013 with $133.3MM in debt.
Today, just 3 years later, their debt is less than $100MM. In March 2016, they restructured their debt with two new lenders. They were met with higher interest rates but overall were in a much better position than they were in 2013 (i.e. lower interest payments, less debt, greater operating income).
Otelco provides a broad range of telecommunications services to residential and commercial consumers. The company operates in seven states: Alabama, Missouri, Maine, Massachusetts, Vermont, West Virginia, and New Hampshire. A majority of their income is currently derived from the almost 100,000 access lines they provide and service. They are trialing and shifting into other revenue sources such as video and security systems.
Industry
To justify further evaluation of this stock, let's see how undervalued Otelco really is when compared to its peers. From there we can work backward to see if its current discount is justified or overblown.
Comparable Companies
Eight companies fit the following criteria:
United States-based.
Emphasis on wireline networks as substantial revenue source.
Market capitalization under $2B.
Publicly traded on a major exchange.
A snapshot of these comparable companies Alaska Communications Systems Group, Inc. (NASDAQ:ALSK), FairPoint Communications, Inc. (NASDAQ:FRP), Windstream Holdings, Inc. (NASDAQ:WIN), Cincinnati Bell Inc. (NYSE:CBB), ATN International, Inc. (NASDAQ:ATNI), Consolidated Communications Holdings, Inc. (NASDAQ:CNSL) and Shenandoah Telecommunications Co. (NASDAQ:SHEN):

Valuation
The valuation metrics most appropriate for comparing companies in the telecom industry are EV/EBITDA and Price/Cash Flow. I will avoid commonly used metrics such as Price/Earnings and Free Cash Flow, as they do not properly account for several of the nuances important in wireline telecommunications' valuations (their abnormally high financing costs, elevated depreciation expense, and special tax incentives can make earnings and free cash flow volatile year over year).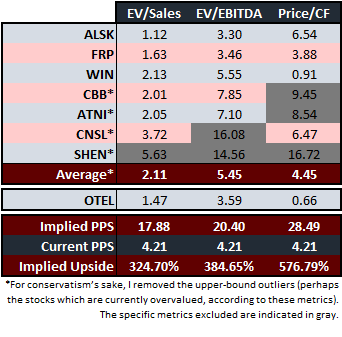 These metrics conservatively (see note) imply a discount to its peers of 76%-85%. It seems the market has moved beyond discounting Otelco and is instead altogether disregarding it as investable. Consider the following: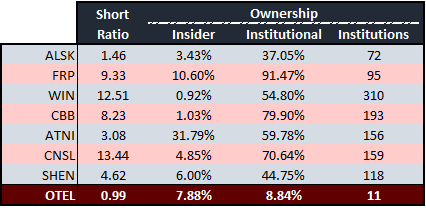 A Short Short Ratio
Otelco's Days-to-Cover or Short Ratio is negligible compared to any one of its peers. With less than 5,000 shares sold short, it is clear not many investors are expecting a further decline. A vast majority must have either deemed this stock to be at fair value or overlooked this stock as investable.
It is this latter sentiment which creates value and opportunity for us. For the research-oriented, deep-value investor, although the bankruptcy may give this stock's past a mask of complexity, the future actually seems surprisingly simple.
Insiders
The insiders' holdings are not as high as I prefer for companies in which I chose to invest. They are, however, higher than most of their peers, with several share purchases and no share sales within the last quarter.
Institutions
The number and percentage of institutional ownership leave room for mass accumulation. For a stock with so few shares (3.2MM), a rise in institutional interest would result in disproportionately substantial price appreciation. Last quarter, Goldman Sachs (according to an SEC filing) initiated a position with 76K shares ($321K) becoming the second largest institutional shareholder. Slowly but surely, institutions are beginning to take notice.
Conclusion
When faced with the choice of research on a severely out-of-favor stock or moving on to find a commonly accepted stock (surely easier to explain to clients), the predominant decision up until this point is clear. The judicious investor, however, would be wise to not shy away. There is clearly enough evidence to warrant additional scrutiny.
Financials
Otelco's business model is not exciting. It is not on the cutting edge of technology, disrupting industries, or even paying a fat dividend like it used to. It is predominantly a rural telecommunications wireline company. Furthermore, as a result of debt covenants, management is very restricted with regards to most major financial decisions. Though at times cumbersome, for the investor these restrictions have the luring side effect of increased cash flow and rapid debt reduction.
This can be advantageous. The investor does not have to worry about management going on a heedless acquisition bender, which happens at times in this industry. Otelco is forced to be more discerning and strategic, which allows them more time to dedicate to the tedious responsibility of expense reduction (in which they have been successful).
Financial Statements Analysis
Financial information from 2013 through today will be most relevant for helping an investor understand Otelco's current business model. Before 2011, their modus operandi was entirely different than it has been post-2013. Their focus shifted from aggressive revenue growth through acquisitions to survival through meticulous expense and debt reduction.

Revenue
Otelco's accumulation binge in the first decade of the 2000s resulted in rapidly increasing revenues. After the turn of the decade, however, new regulations from the FCC gradually eroded their revenue generating potential, while the loss of the Time Warner contract had a devastating effect. These combined pressures on their top line earnings ultimately led to their bankruptcy and restructuring.
Since emerging in 2013, they have seen their revenue reduction taper, realizing a 3.7% decline from 2014 to 2015 versus a 6.5% decline over the prior year.
Expenses
Management's control of operating expenses has been impressive, with a 9.1% reduction from 2014 to 2015 versus a 5.5% reduction from 2013 to 2014. It would appear that despite the industry, regulatory, and settlement challenges with which Otelco is faced, management is moving forward. These reductions in expenses have been integral in creating increased profitability amidst the corresponding revenue declines.
Debt & Interest
The company has also been successful at rapidly reducing their interest expense through dramatic long-term debt reduction:


There is a clear trend for aggressively reducing their settlement liabilities. Their long-term debt has decreased by $35MM (2.5x OTEL current market cap), or almost 30%, in just 3 years! This should be one of the most important considerations for an investor in a post-bankruptcy company. Its looming debt questions are the primary reasons the market is treating Otelco as persona non grata within the telecom industry. In addition, each reduction will, of course, also result in an interest expense decrease. This, in turn, increases operating income, which provides even more cash for future ever larger debt reductions - a virtuous cycle for a prospective acquirer or investor.
Yield
Otelco appears stable. This financial track record, in isolation, looks promising - as though the probability of steadily increasing income considerably outweighs the likelihood of a substantial long-term decline in the company's value - a textbook asymmetrical opportunity, skewed to the upside.
Now consider the company's current earnings yield. Last year, they earned $2.26 per share. Their price at the time of this writing was $4.21 per share… 53.7%!
But then again:
Why Such Deep Value?
Bankruptcy…
Others' concern, hesitancy, or simple lack of understanding around bankruptcies, is our opportunity.
Joel Greenblatt, in his wonderful (albeit poorly-named) book, "You Can Be a Stock Market Genius," wrote about special situations like this. Most people do not understand (or dare to try to understand) these unique valuation conditions. They would rather just sell out of their positions (or never enter) and move on to something that might be considered less taboo.
Greenblatt mentions four reasons a restructured yet solid company might see depressed valuations:
Indiscriminate Selling from banks, bondholders, and previous creditors. "…There is ample reason to believe that the new holders of the common stock are not interested in being long-term shareholders. Due to an unfortunate set of circumstances, these former creditors got stuck with an unwanted investment. Consequently, it makes sense that they would be anxious and willing sellers." Specifically, in this case, six banks were left holding roughly 230,000 shares (~7% of shares outstanding). They were finally allowed to sell their shares in February 2016, when their loans came due. In anticipation, in the weeks leading up to their refinancing, the price for a share of OTEL dropped almost 40%, where it stands today.
Vulture Investors will occasionally invest in a bankrupt company. They are looking for a surge in share price after the restructuring is complete. They got what they were looking for with Otelco. Its share price surged from sub-$1 to $12 upon emergence. Over the next couple of years, the satisfied vultures moved on to their next prey. This, of course, would have a depressing effect on the share price.
Wall Street does not get paid to sell post-bankruptcy stocks like they do with IPOs. "Between the ephemeral shareholder base and the lack of Wall Street attention, it may take quite a while for the price of a stock issued through the bankruptcy process to accurately reflect a company's prospects."
A Low Market Value stock may take time to attract the attention of big market players, as they likely could not take a big enough position to justify the research time and expense. He reiterates, "These situations are truly orphaned and may trade cheaply for some time before they are discovered."
Risks
Otelco is subject to the same risks as any other rural telecom wireline company:
Increased competition
Increased regulation
Network and infrastructure disruptions
Dependence upon rural economic conditions
Limited local, skilled personnel
Availability of wireless service
From the company's most recent 10-K, Otelco's most concerning risks involve future regulatory decisions and their restrictive debt covenants.
Regulation
The FCC has imposed several regulations on the telecom industry that have adversely affected many smaller companies. With substantially less (to no) lobbying power, this is not surprising. (Not to mention the current FCC chairman, Tom Wheeler, used to be the CEO of the largest wireless communications lobbying group, whose board members represent all the biggest telecom players and coincidentally Otelco competitors: Verizon (NYSE:VZ), AT&T (NYSE:T), T-Mobile (NASDAQ:TMUS), Sprint (NYSE:S), U.S. Cellular, etc.)
To be fair, there have been some assuaging side effects as well. Some money is being directed to these smaller companies to help ease these new regulatory burdens, though it would not be impossible (or even unheard of) for the FCC to retract some or all of these consolations. This is no trivial risk for any small telecom company. Here are the main concerns, as described in their 10-K:
"If we were to lose our protected status under interconnection rules, we would incur additional administrative and regulatory expenses and face more competition."
"A further reduction in Universal Service Fund High-Cost Loop support would adversely affect our business, revenue, and cash flow." These support payments comprised approximately 2.9% of last year's revenue.
"Governmental authorities could decrease network access charges or rates for local services, which would adversely affect our revenue." About 17.4% of last year's revenue was derived from interstate network access charges.
The FCC and Otelco management (as far as they can tell) believe the government initiatives currently in the works will have a neutral effect on small rural wireline companies. At present, they both do not foresee any initiatives with substantial negative side effects. Only time will tell.
Debt Covenants
The capital expenditure limitations elevate the already present concern that: "We may not be able to integrate new technologies and provide new services in a cost-efficient manner."
There is also an annual variable excess cash sweep for the senior creditor. This has the appealing result of forcing management to pay down their debt even faster than they may have ordinarily elected. However, it could have disastrous consequences should they find themselves without enough cash on hand to properly navigate an unusual emergency need. In this case, their creditors have extended a $5MM revolver.
Conclusion
Otelco has been successfully navigating these risks since their emergence from bankruptcy. Though unlikely, these risks could combine in the near future (while Otelco is still in its highly-leveraged, delicate state) to create an undesirable bear-case scenario.
Expectations
Base Case
Barring any significant fundamental shift (negative or positive, new burdensome regulations or rumors of acquisition), I see no reason to believe the current trajectory of Otelco will change. In fact, I'll argue their debt restrictions force management to have a narrow focus for the next few years - offset revenue declines, strategically curb expenditures, and reduce that fat bank note. That leaves us with the following equation:
Status quo = continued taper of revenue declines + optimized processes and reduced expenses + slashed debt
OTEL already boasts astounding yield metrics. If the stock price does not appreciate, consider the impact:
Earnings Yield
Currently over 50%. As net income goes up, often a result of revenues declining by less than expenses, the earnings yield must also go up. (Admittedly, due to the aforementioned higher 2016 interest rates, EPS could temporarily decline, only to resume its growth over the next five years with steady rates.)
EBITDA Yield
The EBITDA/EV is 28% at present. That status quo equation means a smaller denominator, through debt reduction, and a larger numerator, through increased earnings. Both factors, of course, contribute to an even greater yield.
Forecast
To get an idea of what Otelco will look like after following the status quo equation for 5 years, I ran simplified projections with the following assumptions:
Annual 3.7% revenue drop (2015)
Annual 7% expense drop (less than 2014 and 2015 average)
Debt reduction totaling 72% of previous year's operating income (2015)

Otelco will seek to refinance in 2021. I don't think they will have too much trouble finding a willing lender of $25MM to a company generating $23MM of operating income…
Base Conclusion
From a financial perspective, Otelco already looks better than some of its peers (even while considering its debt). Every quarter its fundamentals look more stable, its yield looks more outrageous, and it moves further from bankruptcy. Investors will notice, and small and mid-sized institutions will move in (some large ones too, i.e. Goldman).
The base case would see the EV/EBITDA multiple of OTEL rise to only a slight discount below its average peer. Even a conservative 15% bankruptcy-yet-stable-outlook discount to that multiple results in a fair value today of $13.26 - a 215% upside or 68% margin of safety.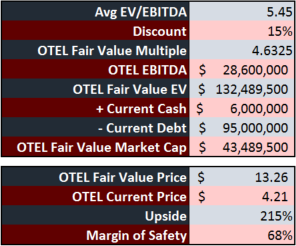 It is worth noting again (as in the EBITDA yield notes), that assuming their current trend, each year their EBITDA should increase while their EV should decrease. Thus, even at a 15% discounted (which would fade over time anyway) EV/EBITDA multiple, (all else equal), its share price should outpace its peers each year.
Bear Case
A highly-leveraged company, under solid management, in normal conditions, can actually create an amazing opportunity for disproportionate upside potential (where a 15% increase in the assets of a company will result in a more than 100% increase in the share price - as mathematically should be the current case with Otelco). The opposite of this is unfortunately also true. Therein lies the risk. When dealing with high leverage, if things go wrong, they can go wrong quickly.
A gradual reduction in revenues is expected. A slightly greater reduction in expenses is also expected. In the status quo, these changes are subtle every quarter. A substantial shift in regulation or technology could speed up the revenue decline or run up expenses dramatically. These fundamental changes could alter the entire outlook for Otelco's future.
Every decrease in revenue reduces the speed at which Otelco will be able to pay off their loan. This could delay the base or bull case. A swift and substantial drop could, of course, result in bankruptcy once again.
Potential Red Herring
The incisive investor will at this point prudently recall the aforementioned six banks carrying just over 230,000 shares of post-bankruptcy OTEL. A further substantial move downward indicates either an underlying fundamental concern (potentially worrisome) or it could be the exodus of these banks (even greater opportunity).
They were allowed to sell their shares beginning on February 17th, 2016. There have not been any dramatic volume surges since that date. There does, however, seem to be resistance each time the stock attempts to move up on good news. I suspect the banks are to blame.
It is likely those banks still have substantial positions. Over the last 5.5 months (since Feb 17), just over 550,000 shares have changed hands. Compare that to the over 990,000 shares exchanged during the prior 5.5 months. There has not been enough volume to safely offload such substantial positions, thus I expect overhead resistance for a while.
If the banks all randomly decide at the same time to quickly dump the remainder of their shares (unlikely in normal circumstances, but definitely possible in any panic situation), the share price would likely suffer severely. This would be temporarily devastating to any current shareholder, but the indiscriminate selling would also create a rare opportunity to the astute follower.
Bear Conclusion
A significant fundamental change could absolutely devastate this company. This is not a 'set it and forget it' kind of stock. The shrewd investor will keep a pulse on the company, the industry, the FCC, and the stock's chart. Since this stock is relatively thinly traded, you should not be surprised if there is a substantial price gap down before you can accurately determine it wise to close your position.
If nothing of substance changes fundamentally, this stock is extremely attractive, even at further depressed levels. Barring any such change, it seems clear the odds are stacked in favor of a positive outcome.
Bull Case
The best outcome for an investor in this stock would be an acquisition. This would drive substantial share appreciation overnight.
This is extremely plausible. In most scenarios, it is more cost effective for an existing telecom company to purchase a competitor than to build out the infrastructure necessary to adequately compete. That would explain the industry's more than 2,000 M&A transactions since the start of 2011. Fortunately, with all Otelco's debt covenants, there appear to be none restricting a takeover.
Otelco currently reports about $95MM in outstanding debt. They have $6MM in excess cash. With a current market value of approximately $14MM, their Enterprise Value = $14MM + $95MM - $6MM = $103MM. So the market is currently claiming a company should be able to purchase Otelco in its entirety and pay off 100% of its net debt for a mere $103MM.
Add to that a 2015 EBIT of over $20MM, and you have an undeniably tempting prospect. That would give an acquirer a 20% return for their money (EBIT yield = 19.77%)! Obviously, in a takeover scenario a premium to its current price would be in order.
Of course, an acquirer would not have to pay down all that debt and could simply refinance it for substantially better terms. This would create an earnings yield even greater than the aforementioned 50%!
Whipped Cream and a Cherry on Top
A high-yielding, consistent income stream is not all an acquirer would obtain from Otelco. The balance sheet reveals other treasures. Apart from the aforementioned cash and equivalents, they listed the following property and equipment data in their 2015 10-K (in thousands):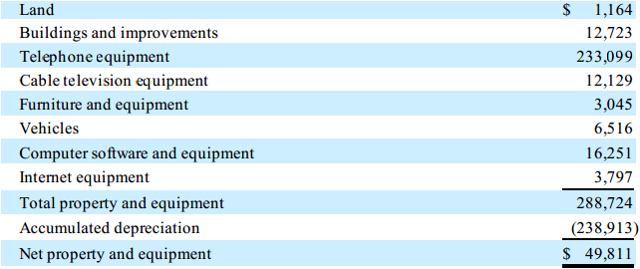 Of particular import, "We own substantially all our real property in Alabama, Missouri, Vermont and West Virginia, including our corporate office." That is an additional $13,887,000 (slightly more than the current market cap…) worth of land and buildings that would come with the acquisition! Also notice that almost 80% of the book value of this property and equipment has been depreciated already, leaving only $50MM of reported value. For an existing telecommunications company, which might find a use for much of this equipment across their system, the deal becomes even sweeter.
Bull Conclusion
I must admit, I would not expect this to result in a dramatically higher absolute dollar value than the base case. However, if an acquisition did take place, it would cause the intrinsic value to be realized significantly faster (generating a substantially higher annualized rate of return). The longer a suitor waits, the prettier OTEL looks.
Conclusion
It seems inevitable that individual investors, institutions, and other telecommunications companies will begin to notice Otelco's intrinsic value. Barring any future fundamental change that materially affects their ability to increase operating income, the stock's current price per share critically understates the company's long-term outlook. There is an obvious, deeply-discounted value in OTEL.
Disclosure: I am/we are long OTEL.
I wrote this article myself, and it expresses my own opinions. I am not receiving compensation for it (other than from Seeking Alpha). I have no business relationship with any company whose stock is mentioned in this article.
Editor's Note: This article covers one or more stocks trading at less than $1 per share and/or with less than a $100 million market cap. Please be aware of the risks associated with these stocks.