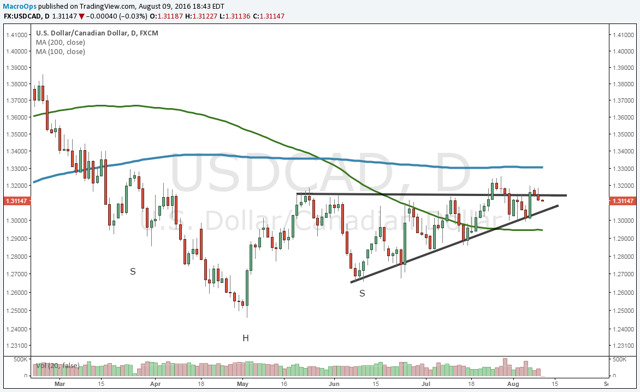 We've been bears on the loonie USDCAD (NYSEARCA:FXC) since late 2015. The trade paid us well in the beginning of the year, but we had to trail stop out as CAD violently retraced in tandem with the "rip your face off" rally in crude oil. Despite the short term fluctuations in this market, the fundamental thesis remains the same and sets the stage for further loonie weakness. A head and shoulders bottom provides us with a low risk entry point into a hard retest of prior highs in the chart above.
The primary driver behind CAD weakness is the divergence between economic realities of the United States and Canada. Both countries have been hit by the destruction in the oil patch, but Canada was hit much harder. GDP growth in Canada is flirting with recession territory while the US is improving.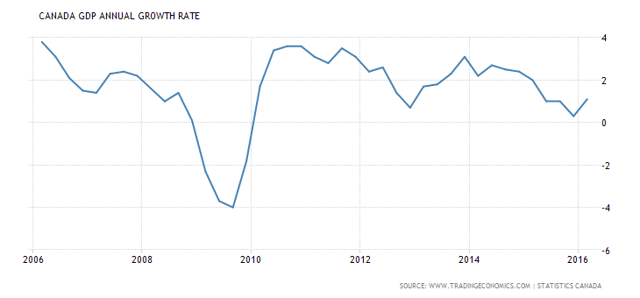 This disparity sets the stage for more stimulative policy out of the BOC in relation to the Fed. This is especially true as economic data in the US continues to come in positive. From great housing starts in June, to a stellar recent jobs report, rate hikes are back on the table for the Fed. A hike in September and subsequent tightening will cause funds to flow back into the dollar as investors jump into long bonds (NYSEARCA:TLT). You can already see some of this already being priced in by the market in the dollar index (NYSEARCA:UUP).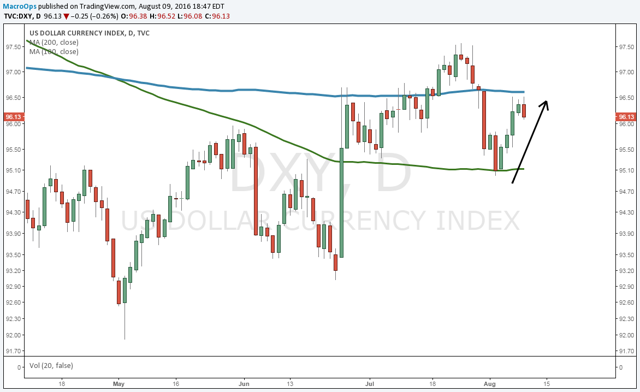 And apart from general economic slowdown, the increasingly expensive housing sector in Canada is causing a rapid rise in the debt-to-disposable income ratio for households. People need to borrow more to afford their living arrangements.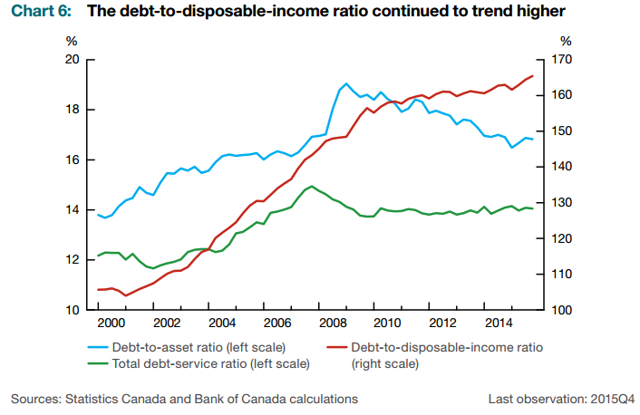 The opposite is true for US households who have only delevered since the 2008.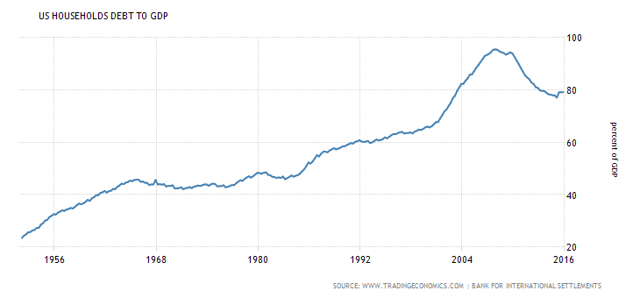 Positioning against the loonie will hedge our long equity exposure in the market due to its risk-on, risk-off nature. It will be much easier to hold compared to any short equity position.
Disclosure: I/we have no positions in any stocks mentioned, and no plans to initiate any positions within the next 72 hours.
I wrote this article myself, and it expresses my own opinions. I am not receiving compensation for it (other than from Seeking Alpha). I have no business relationship with any company whose stock is mentioned in this article.