UBS (NYSE:UBS) reported better-than-expected results. Its 2Q16 adjusted PBT was 18% ahead of consensus, driven by stronger revenues and lower costs. Divisionally, the results were better than expected across the board with the Investment Banking (IB) and Personal & Corporate Banking (P&CB) businesses impressing the most due to healthy revenues.
IB's primary revenues (ECM & DCM) decreased 19% y/y and UBS suffered a worse IB revenues performance than its key U.S. peers in 2Q (-12% y/y). Within this, ECM was -42% y/y, DCM +32% y/y. Equities trading revenues missed consensus by 5%, driven by greater exposure to Asian equity derivatives, causing a strong 1H15 level and weaker 1H16 relative to the global equity revenue pool. The FICC has lagged U.S. banks' results, but this came as no surprise, given UBS exposure to the segment.
The key story for UBS's IB division, though, is excellent cost control. This was the second successive quarter of positive operating leverage in the IB. Staff costs have inched up, but were matched by an offsetting reduction in non-comp, leaving total expenses flat, with non-interest expenses 5% lower than consensus numbers. On the back of an up quarter in revenues, this led to q/q expansion in operating profit. To summarize, the key IB trends were not as strong as the US banks, but they were not as weak as other European investment banks.
Wealth Management was the main disappointment due to soft revenues and weak margins, which have been on a declining trend over the past 5 quarters. However, management is confident that a trough has been reached in WM and believe that gross margin will recover from here. Asia is still hurting near-term revenue metrics, but the region remains an important driver of net new money flows and we believe it is a strategic advantage for the bank's growth profile on a medium to long-term time horizon.
The bank's CET1 ratio increased by 20bps q/q to 14.2%. UBS is already above its 13% target, and looks set to remain comfortably above it despite guidance of RWA inflation, thanks to a strong organic capital build-up.
The CET1 leverage ratio improved 10bps q/q to 3.4%. The group is currently below its 3.5% leverage target, but looks set to meet it around the end of 2017. More importantly, the following table shows that these capital forecasts all assume that cash dividends are paid in full per the current consensus expectations.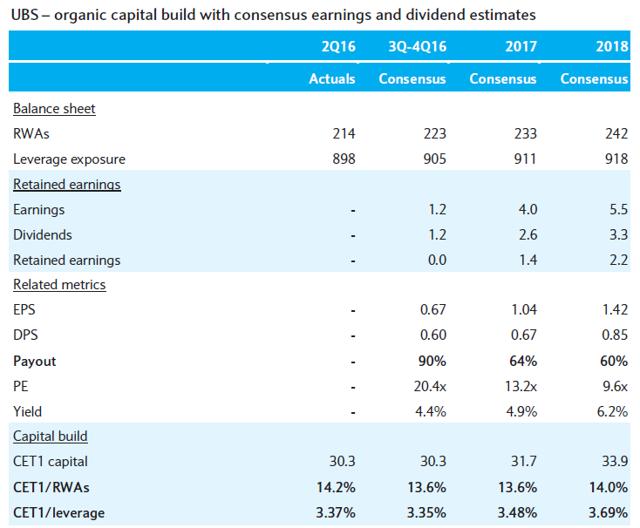 Source: Company data, Bloomberg, Barclays Investment Research
Valuation: Premium multiples are justified
The stock is trading above the sector's regression line. However, we think the premium multiples are justified, given superior capital ratios, a safe dividend yield and a double-digit "structural" 2018 return on equity.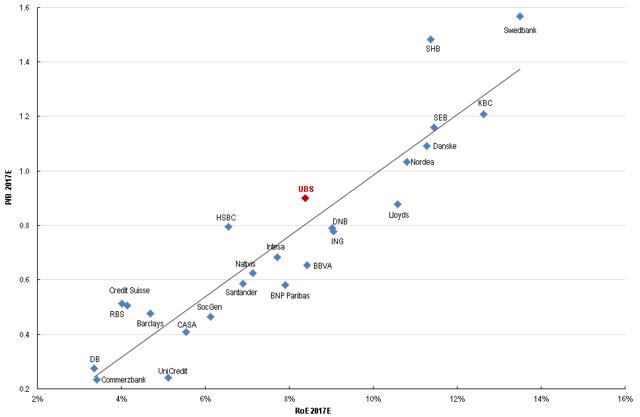 Source: Bloomberg, Renaissance Research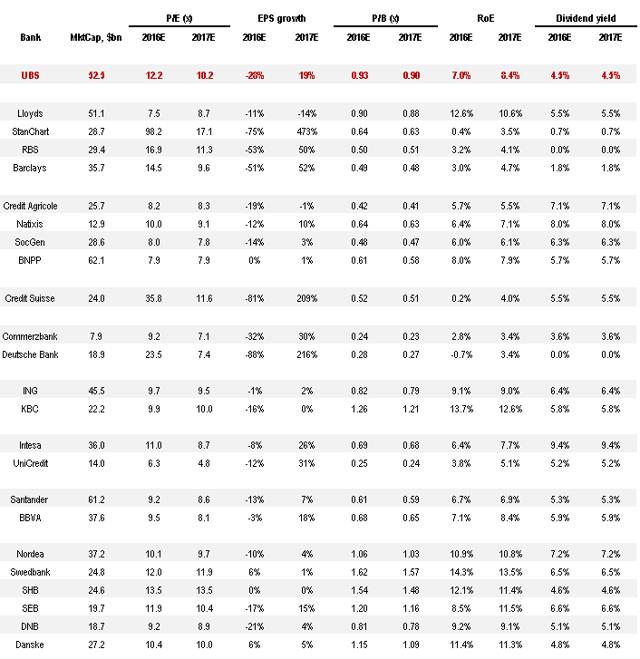 Source: Bloomberg, Renaissance Research
Bottom line: By contrast to other European investment banks, UBS actually makes profits in this tough environment. Superior capital ratios, high profitability levels, attractive growth profile and a safe 5% dividend yield make UBS the best pick among a four-stock basket of European investment banks: Barclays (NYSE:BCS), Deutsche Bank (NYSE:DB) and Credit Suisse (NYSE:CS).
If you are interested in equity research on U.S., European, LatAm and CEEMEA banks/financial companies, including fundamental analysis, DCF/multiples valuation, commentaries on price-sensitive events and actionable trading ideas, click the "Follow" button beside my name on the top of the page.
Disclosure: I/we have no positions in any stocks mentioned, and no plans to initiate any positions within the next 72 hours.
I wrote this article myself, and it expresses my own opinions. I am not receiving compensation for it (other than from Seeking Alpha). I have no business relationship with any company whose stock is mentioned in this article.