Panera Bread (NASDAQ: PNRA) runs retail bakery cafes, has over 47,200 employees, and is competing with bigger chains for similar customers. With $2.68 billion in revenue generated in fiscal year 2015 and its positioning in major cities, it is starting to compete with Starbucks (NASDAQ: SBUX) for similar business: a casual place to lounge, eat, and use WiFi.
Fast Casual Restaurant Trends
With consumers increasingly choosing places that offer the opportunity to mingle, relax, and eat, the fact that Panera Bread is branding its stores this way is reason why its restaurant has been able to enjoy steady growth in terms of sales.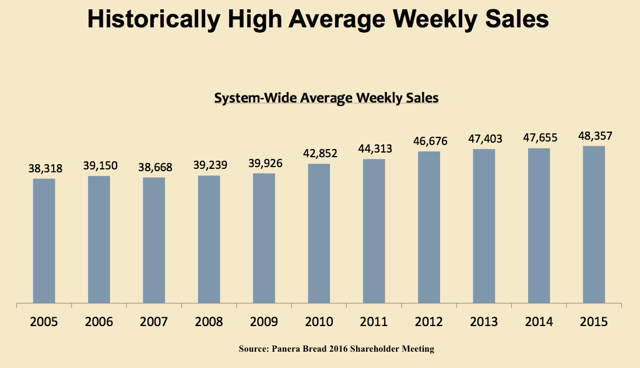 With stores that look like living rooms and WiFi at the tips of people's fingers, it's easy to understand why consumers choose to spend at Panera Bread and fast casual restaurants alike as opposed to traditional fast food. This is highlighted by stores like Chipotle (NYSE: CMG), Shake Shack (NYSE:SHAK) and Starbucks. Starbucks is perhaps Panera Bread's biggest competitor, especially in the morning breakfast scene, but the reasons why Panera Bread will see growth is highlighted below.
"Clean Food"
One of Panera Bread's main marketing points is its "clean food", which seeks to express its overwhelming use of natural, simple, and unprocessed ingredients. Though Starbucks is seen as just a "coffeehouse", it has been playing catch up, and in one case, made a move to remove artificial coloring shortly after Panera Bread's announcement that its pumpkin spice latte will be free of additives.
Expanding E-Commerce
Like most industries, technology is creating new opportunities for growth, especially in the restaurant business. With the goal of converting a total of 200 Panera Bread stores into "Panera 2.0" stores, customers will have an easier time purchasing meals, critical during peak breakfast hours. Panera Bread has forecast sales of up to $1 billion in 2017 made just through its e-commerce segment that consists of its app: over 125,000 orders are fulfilled daily. Beyond that, delivery and catering, largely done online and via the Panera Bread app, will provide a future stream of revenue growth. Going long now means being able to see this growth in the future, since Q1 of 2016 only had 70 stores offer delivery, this will without a doubt grow by the end of fiscal year 2016.
Key Valuations To Consider
The trailing twelve months price to earnings ratio for Panera Bread is at about 36, compared to Starbucks, which is at about 30. You might argue that Panera Bread is overvalued, but I see no reason why it will stop growing any time soon - its stock is at about $218 a share and Panera Bread presents a lot of growth opportunities. Starbucks on the other hand is more established and would view its stock more neutral rather than a buy or sell opportunity.
Action To Take
Panera Bread has a medium price target of $240 a share in the next twelve months, a roughly 9% increase in share price. I think riding out the growth for a year and then selling is a smart way to capitalize on this forecast growth. But if the fiscal end-of-year 2016 report shows strong sales, there might be just enough reason for you to keep the stock in your portfolio for more than a year. Panera Bread is moving beyond just breakfast and is giving consumers what they want: healthful food, easy-to-use technology, and a comfortable place to dine.
Disclosure: I/we have no positions in any stocks mentioned, and no plans to initiate any positions within the next 72 hours.
I wrote this article myself, and it expresses my own opinions. I am not receiving compensation for it (other than from Seeking Alpha). I have no business relationship with any company whose stock is mentioned in this article.