By Parke Shall
The normal course of thought for a lot of investors is that once a stock runs 25% in one day, it may be time to step back and possibly relinquish your position. While we are in full agreement with the idea of taking profits in a situation like this, we think the recent move in Valeant (NYSE:VRX) forecasts a much larger re-pricing of the equity and that shares will continue higher.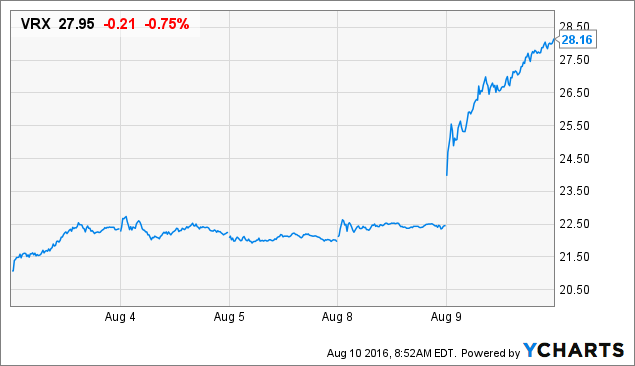 VRX Price data by YCharts
We owned Valeant coming into earnings from yesterday, and as we stated in our article yesterday added some pre-market around the low $24 level after earnings were announced and guidance was reaffirmed.

What was different about yesterday that made Valeant stock run?
We have already seen several conference calls and slideshows from the company talking about how they plan on restructuring the business and what the new CEO's plans are. William Ackman has made several appearances on national television talking about the company strategy going forward; asset sales, rebalancing of the business, trying to address the balance sheet and debt, focusing on the parts of the business that are generating cash. What was so different about yesterday's report that it finally got the stock to make a decisive move higher?
There were a couple of things.
First, this was the first time that Valeant issued an earnings report and didn't have to adjust its guidance downwards. A lot of people give Valeant flack for using Non-GAAP earnings numbers and probably deservedly so. However, Valeant has been moving this guidance lower every chance they have gotten to make a public disclosure. We had previously guessed that CEO Papa was going to be issuing conservative guidance upon his taking of the throne at VRX, so that he could do specifically what he did yesterday and reaffirm full year guidance.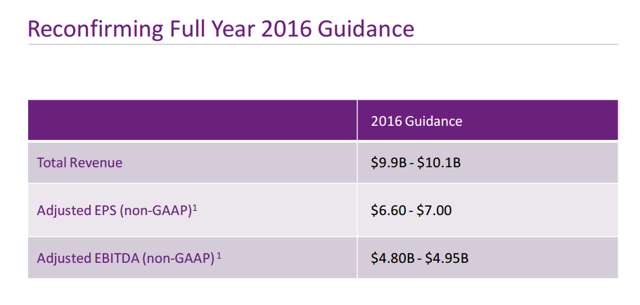 When the guidance estimates stop coming down, people start to look at what they are paying on a Non-GAAP price to earnings basis. Now that analysts know that estimates have stopped coming down, they can start to focus on adjusting the multiple, versus simply lowering price targets based on the underlying EPS estimates moving lower.
Either the Non-GAAP reconciliation make sense for investors or doesn't. If it does make sense to investors, then it is safe to base our assumptions off them. Basing our earnings assumptions off of the $6.60 to $7 guidance, at $28, Valeant still only trades at a price to earnings of about 4X.
Given that Endo Pharmaceuticals (NASDAQ:ENDP) also had a good quarter and that stock was higher, the market may be considering multiple expansion for these companies, even on their non-GAAP numbers. Still, a PE of 10X could be the top for this sector, but that still gives VRX room to double from here. We think Valeant has room to run well over $40 and potentially toward $50.
Further, the company went into detail about how it arrived at its guidance, adding a nice layer of transparency,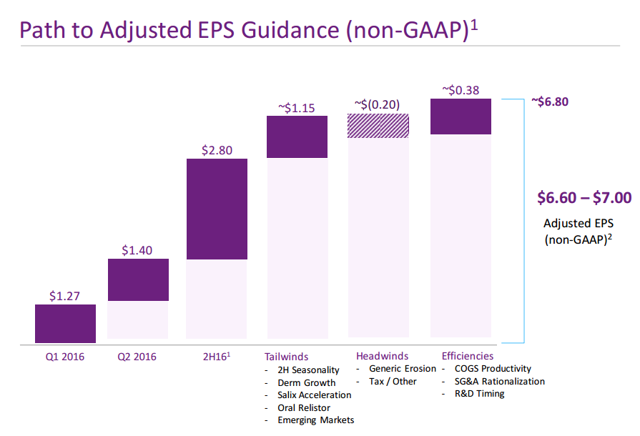 Second, the company made a business segmentation change that simply makes sense. Parse out Bausch & Lomb, a durable growth portion of the business and report it separately. This will make the market more inclined to assign a higher multiple just to the segment. Analysts will now start to perform models on what the potential gains of breaking out Bausch and Lomb on its own can be. They can also handicap for risk the other two segments of the company's business as it deems fit. We think that these new models allowing analysts to segment out the business will result in raised price targets.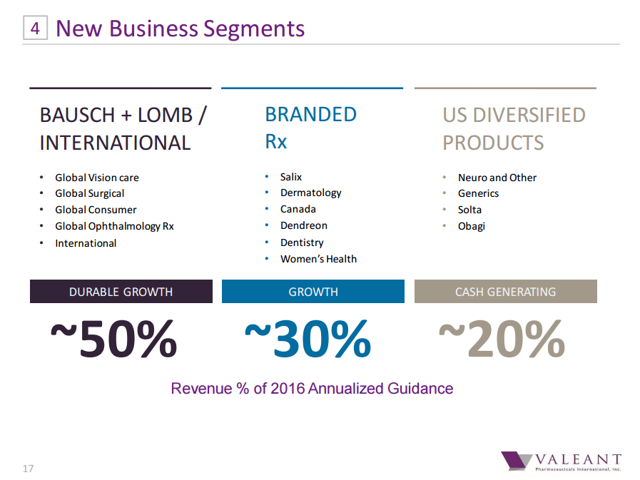 This also lends credence to our idea of potentially spinning off Bausch & Lomb from VRX altogether. We think it could be one of the most efficient ways for the company to generate a significant amount of capital, and it gives them a space to store some of their debt. The one caveat to this plan that the company might be working on right now is making sure that they remain in compliance with their debt covenants in a situation where they tried to do a spin-off.
As our readers may recall, we said in our June 4th article on Valeant that an interesting idea would be to turn the company into a traditional drugmaker, and have half of the company used as a speculative biotech operation that helps bring drugs up through a conventional pipeline, like normal companies do. The other half could be a B&L spin off, perhaps with some additional cash generating assets.
This would give VRX an opportunity to shift some of the remaining debt any way they'd like, in accordance with what portions of the business are generating the cash capable to service it.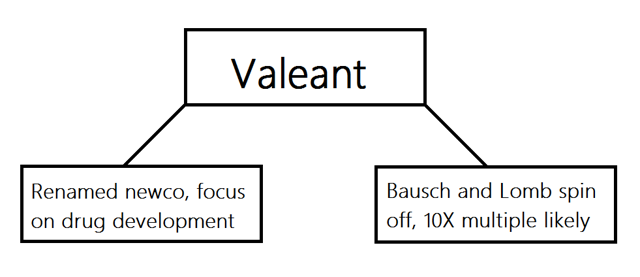 Our crude diagram looks close to what the company presented yesterday in terms of content.
Finally, the company concisely and clearly delivered the message on how they want to transform the company. They sum this up in the slide above, showing the stabilization of the company, working on a turnaround for two years, and a transformation that will likely be in full effect at the end of 2018. As you may recall, this time line runs consistent with William Ackman's new structured position in the Company in early dated 2019 calls.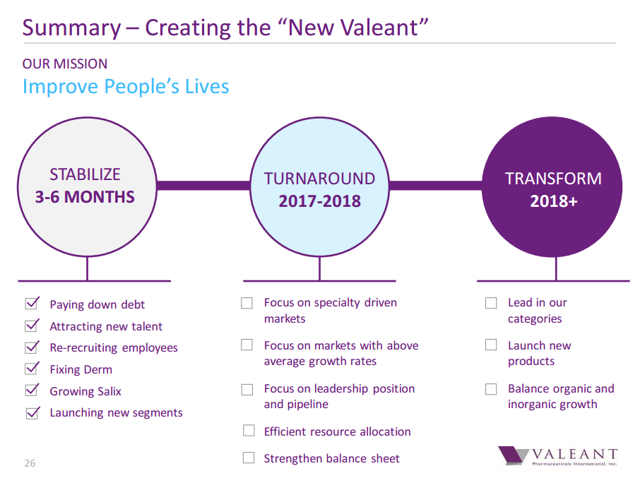 The message was delivered confidently and concisely without any extra unnecessary information. CEO Papa was direct on the call and the company did not avoid or run from any questions. So much of Valeant's potential upside comes simply from multiple expansion. The multiple will not expand until the market has a clear and concise view on the state of the company. It will also not expand into the company grows credibility with the market.
Risks continue to lie in the company's debt load. While manageable thus far, the company admitted yesterday it will seek additional waivers from lenders. We think the company can responsibly manage its debt going forward. We think asset sales and more importantly, cash from a spin off an ensuing secondary could help pay down a good portion of the debt. We believe the company is likely considering these options.
Valiant took two big steps with those items yesterday, and the market rewarded them to the tune of 25%. We believe going forward, sentiment may have changed and that the market may continue to reward Valeant and help its multiple expand going forward. We remain long.
(all slides sourced from ir.valeant.com)
Disclosure: I am/we are long VRX.
I wrote this article myself, and it expresses my own opinions. I am not receiving compensation for it (other than from Seeking Alpha). I have no business relationship with any company whose stock is mentioned in this article.