General Electric (GE) has made steady progress since the washout of August 2015. If you timed your buy perfectly you are sitting on a capital gain of up to 66%. That may be a bit of a fantasy trade, but it illustrates a point; GE is not simply a buy and hold dividend stock. Timing matters.
This is further shown by the long term. GE may have outperformed the S&P500 (SPY) over the last year, but since 2000 it has fallen much further than the market in times of trouble, and recovered less when the market rallies. Hardly what you'd expect from a so called defensive stock. A purchase made in December 1998 is now only at break-even.
You could argue that very long term investors don't care about the stock price and are happy to collect the dividend. That may be the case, and if so perhaps this article isn't for you. However, I do think GE has little potential upside, and the downside risks are wrong to ignore.
Drivers
Before I look through financial statements, I always ask, what is actually driving price? Why is GE drastically outperforming the S&P500 since 2015?
At first glance it may seem like the recent strength is down to GE's decision to focus on its industrial businesses. This decision was certainly popular and led to an immediate 10% gap up in April 2015 when it was announced. However, prices sold off consistently afterwards and were actually 30% down from the announcement highs when GE made a low of $23.79 in August 2015.
Revenues have been increasing since the shift in focus, but is this the key driver? I would argue there are other forces at work, and this all down to yield and perceived safety.
The move away from banking and finance has turned GE into more of a traditional defensive stock. If you look at the sell offs in the period of 2000-2009, it tracked financials much more than other defensive stocks, which held up relatively well. The current market is obsessed by safety and yield, and GE now provides both.
While bonds are considered by many to be in a bubble, buying a AA+ rated stock with a 2.9% dividend yield like GE is currently the lesser of two evils.
Here's what Citi analyst Robert Buckland had to say,
Buckland said defensive stocks look expensive compared to other stocks, but still compare favorably to other defensive asset classes, including bonds.

"We recommend that multi-asset investors should keep buying defensive equities, perhaps with a hedge against any sharp increase in rates," Buckland advised.

For equity-only investors, he cautions that going underweight defensive stocks in such a low rate environment can be dangerous.

Instead, Buckland advised stock-pickers look to Citi's "Bond Refugee" screen for ideas.

Citi's "Bond Refugee" screen of large cap stocks with high dividend yields and no share issuance in the past three years includes the following Buy-rated U.S. stocks:
'Bond refugee' says it all really. Negative yields are spreading across the globe and money is being forced into GE in the chase for yield.
Downside catalysts
If the rally is primarily driven by the hunt for yield, it should be fairly obvious that there is a lot of interest rate risk. If treasuries rise, GE's 2.9% dividend may not seem so appealing in comparison.
It also means that the rise may not be fundamentally justified. Yield hunters have had so little choice. When money is bidding up a stock because there is simply nowhere else to go, it creates instability.
Higher rates will also put pressure on GE's debt re-payments. With current debt/market cap of 50%, the added interest payments could eventually put pressure on expected dividend growth.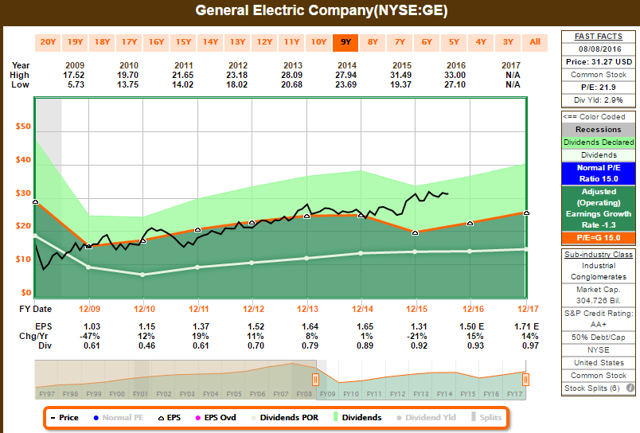 source: FAST graphs
Timing and technicals
A long term weekly chart of GE shows a well defined trading channel. If you think GE is not affected by technicals, how do you explain its presence and the reactions from each side?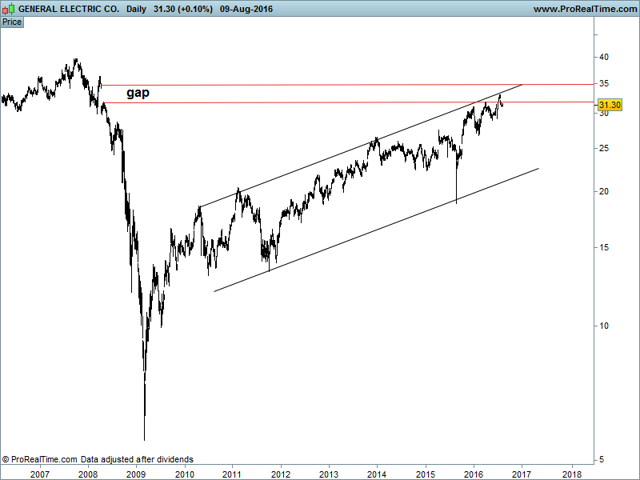 It should be noted that just because price is at the top of the channel, it doesn't mean it can't go higher. The last two touches led to a small pullback, but price has carried on up as the channel has moved higher.
It seems the target is the gap created in the 2008 sell off, which closes at $34.7. Gap fills can be quite powerful, especially combined with other technicals such as the channel shown, and drivers (i.e. rate rise).
I'll spare readers my Elliott Wave analysis today, but I did spot an interesting fractal/repeated price action when looking at GE charts. The trading channel shown above came after the rapid recovery in price following the 2008-2009 crash. GE is in fact doing the same thing since the 2015 crash; a rapid recovery followed by a slow, steady trend channel.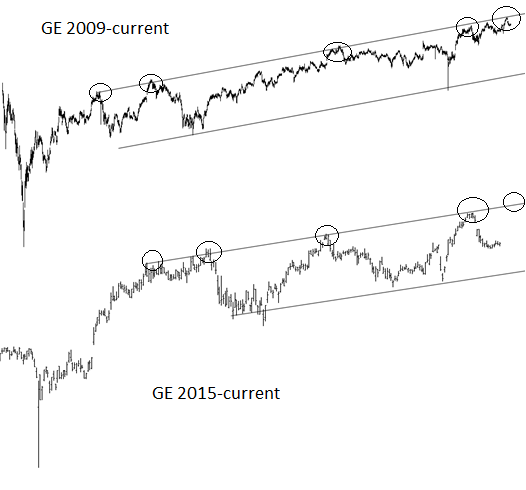 Even the touches at the top of the channel seem to correspond. This again suggests higher for another touch, and this will likely happen around the $34.7 target.
Once this price target is hit I would be on the lookout for a reversal. A move to the shorter term channel at $30 is a reasonable first target. The longer term channel is in the low $20s.
Conclusions
GE's focus on its industrial businesses have made it even more appealing to 'bond refugees' looking for yield and safety. However, GE has rallied to a technical selling point, with potential downside catalysts. For those that attempt to time the market, pay attention to price action around $34-$35. I would seriously advise against buying above $34. Timing does matter.
Disclosure: I/we have no positions in any stocks mentioned, and no plans to initiate any positions within the next 72 hours.
I wrote this article myself, and it expresses my own opinions. I am not receiving compensation for it (other than from Seeking Alpha). I have no business relationship with any company whose stock is mentioned in this article.