Insulet Corporation (NASDAQ:PODD) is a medium sized company capitalizing on the growing diabetes market. Their principal product is the Omnipod, which provides wearable insulin delivery in a manner that provides users the utmost convenience. As seen below, the Omnipod reduces the number of injections patients need on a daily basis, in addition to providing a multitude of health benefits including reduced risk of cardiovascular disease and lower A1c counts.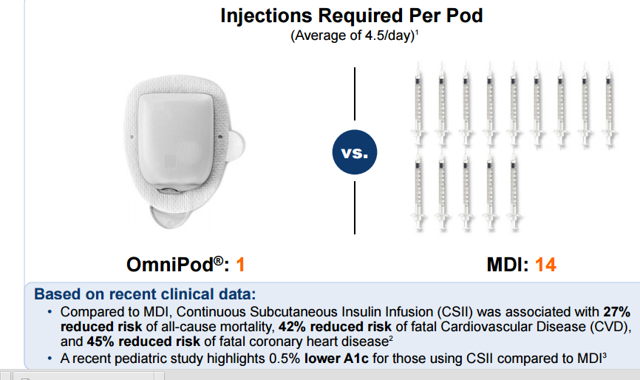 Source: Company Presentation
The company sports a 2.5 billion dollar market cap and is trading at 6.5x sales, with 111 million of cash on hand. The stock has been on a tear the past couple months, now at 52 week highs.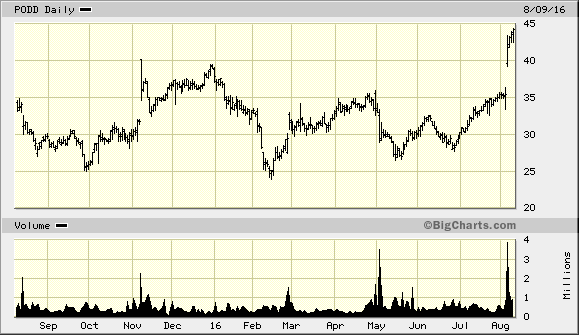 With 5 million shares short and 56 million outstanding, it seems the company is on Mr. Market's good side for now, with notable institutional fund holders such as Primecap Management, Slate Path Capital, David Gallo's Valinor Management, Clearbridge investments, FMR, Vanguard and others.
Quarterly Results
About a week ago second quarter results were very positive, with revenue of $87.3 million exceeding prior guidance of $81-84 million, representing 44% year over year growth. US Omnipod revenue grew by 24% to $56 million and international Omnipod revenue grew 117% to $16.6 million.
The company also utilizes its unique technology for drug delivery applications and partners with other pharmaceutical companies, this quarter raking in $14.4 million from these endeavors, an increase of 92%. A large part of drug delivery sales came from their collaboration with Amgen on the Neulasta OnPro kit, in which 40% of potential patients have been converted to the new drug delivery system. Neulasta is administered to chemotherapy patients the day after treatment to boost production of white blood cells to fight infection, and the Neulasta OnPro kit delivers the full dose of medication automatically a day after chemo, thus allowing patients to stay at home and avoid an extra doctor visit.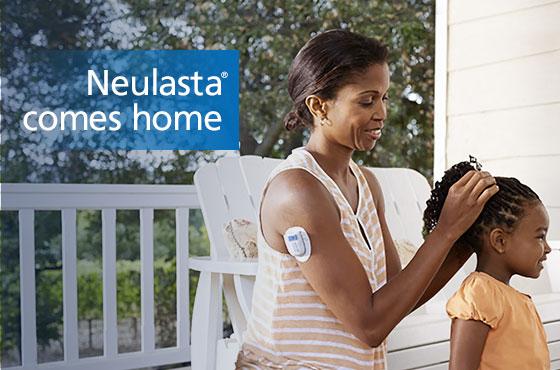 How convenient! Courtesy NeulastaHCP.com
Adoption of the product has been "dramatic" and "above expectations", according to company EVP Dan Levangie. Additionally, the FDA's decision to decline to approve Novartis' biosimilar copy of Neulasta bodes well for future penetration and continued upside surprises.
A big highlight was gross margins working their way up to 57.8%, up over 700 basis points. The company believes they can continue to improve this number with a longer term target of 65%, due in part to improvements in supply chain, logistics, and manufacturing. Having increased production capacity over 50%, by the end of August this year Insulet will have produced more Omnipods than all of last year combined!
On top of that, Insulet raised full year guidance for revenue from $330 to $350 million to $345 million to $355 million, which would result in 33% year over year growth at the midpoint.
Net loss was $4.4 million or 8 cents per share, compared to net loss of $17.3 million and a loss of 30 cents per share.
The company is also working with Eli Lilly (NYSE:LLY) to get their concentrated insulin, Humalog U500 and U200.
Market Potential and Competition
Currently Insulet has 4% market share of people in the US living with type 1 diabetes, 1-2% of the international market, and 10% of Omnipod users are type 2.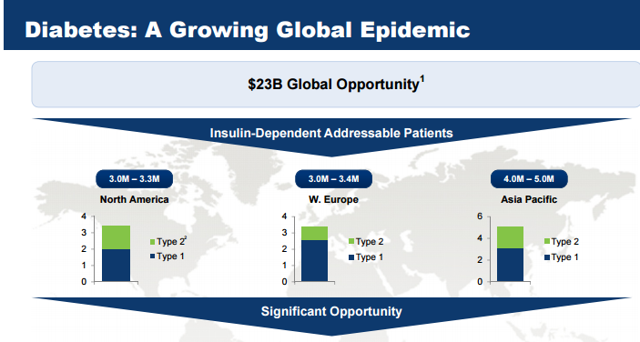 As you can see, the growing diabetes market offers plenty of growth potential to a smaller company like Insulet, with opportunities for significant penetration in the next decade.
Medtronic is the big leader in the insulin pump market, having recently won a major battle by becoming United Healthcare's preferred network supplier of insulin pumps. Medtronic has close to three quarters market share, while the rest is split between Johnson & Johnson (NYSE:JNJ), Roche, Insulet, and other smaller players.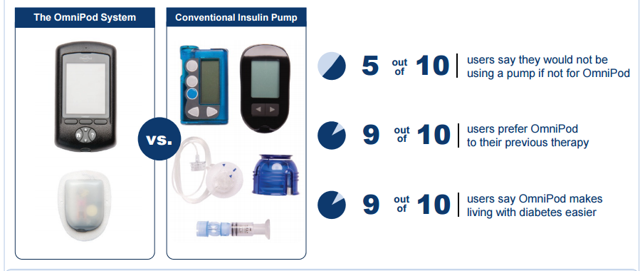 However, Insulet's growth is accelerating as users prefer its convenience, design, and ease of use. While it appears Medtronic won a big decision with United Healthcare's recent move, eliminating patients' ability to choose other insulin pumps, there is a chance the decision will be reversed as patients complain. Exclusive agreements are the norm in drug treatments, but patients with diabetes benefit from multiple options that could potentially fit their needs.
Leerink Partners recently upgraded the stock to Outperform and a $50 price target, noting:
Another strong quarter of outperformance supports our recent view that PODD is shaping up to be - if it isn't already - one of the cleanest execution stories within our SMID-cap coverage universe. With CEO Sullivan now having "righted" the foundation of the company since taking the helm in September 2014, PODD, in our view, is now well positioned to sustain if not accelerate recent momentum across all businesses. But even more meaningful than the revenue beat in the quarter, gross margin came in over 700 bps ahead of us, placing PODD on an even clearer path to profitability now likely in mid-2017 vs. our prior late 2017 projection."
Also, there's always the chance a larger player decides to bite the bullet and buy the competition- while I'm not counting on it to happen, it's always a realistic possibility.
Thesis
Based on current improved guidance, a large potential market and continued execution by company management, I believe that Insulet has more upside even at 52 week highs. For investors with sufficient risk tolerance and looking to establish a position, a prudent decision might be an initial small pilot buy, patiently waiting for dips to add to the position.
Risks include a highly competitive market where bigger players are looking to take share and continued cash burn. Any signs of a slowdown or other competitors taking share will result in a very negative backlash, as Wall Street isn't typically kind to high growth companies that lose their mojo.
Disclosure: I/we have no positions in any stocks mentioned, but may initiate a long position in PODD over the next 72 hours.
I wrote this article myself, and it expresses my own opinions. I am not receiving compensation for it (other than from Seeking Alpha). I have no business relationship with any company whose stock is mentioned in this article.