AvalonBay (NYSE:AVB) is one of the largest and best run apartment real estate investment trusts, or REITs, in the United States. With a broadly diversified portfolio of high-end properties, its results provide a high-level look at what's going on around the country. Overall things are still good, but there are clouds appearing on the horizon that you need to watch. And it isn't just AvalonBay that's seeing spots of weakness.
Good, mostly
On the surface, AvalonBay's second quarter results were solid. For example, core funds from operations, or FFO, increased roughly 8.5% year over year in the quarter. The company's core FFO number takes out one-time items. Same store rents were up 5%, too. So, on the whole, AvalonBay's business appears to be on solid ground.
Equity Residential (NYSE:EQR), another large and diversified apartment owner, saw same store rents rise about 4%. Its FFO figures were impacted by asset sales, however, so the lower number on that measure isn't really a good indication of how the business is performing. But Equity Residential's results back up the big-picture story at AvalonBay.
A third large apartment landlord, UDR (NYSE:UDR), also put up solid numbers. Its adjusted FFO was up nearly 8% year over year. Same store revenue growth was around 5.7% for the REIT, too. So, on the whole, things look solid in apartment land.
Cloudy future?
Only, there's still a number of negatives you'll want to watch if you own one of these three... or any other apartment REIT.
For example, occupancy levels were down a touch for AvalonBay and UDR in the quarter and through the first half of the year. Although Equity Residential was able to increase its occupancy slightly in the quarter, occupancy was flat over the trailing six-month period. With occupancy levels in the mid 90% range at all three REITs, there's probably more downside risk to this number than upside potential.
Which is why it's worth noting AvalonBay CEO Timothy Naughton's comment that, "...we performed in line with expectations for the first half of the year, although in Q2, we did not experience the seasonal strength and effective rent growth that we're accustomed to seeing." He suggested the shortfall was demand driven, based on economic and job growth concerns. Further, the company continues to see weaker than expected results in New England and Northern California.
AvalonBay also is providing larger concessions in New York and San Francisco. Essentially the company is giving some period of "free" rent, or something similar, to lure renters to its empty apartments. This isn't necessarily a bad thing if the need for concessions is short lived. However, it could indicate that rents are too high.
And that might be an issue to watch as new apartments come into the market. AvalonBay notes that it believes rental markets are generally balanced, but that new apartment construction hit a peak in 2015. That will lead to a lot of new apartments coming on this year and next. Which, as you would expect, is increasing competition between landlords.
Assuming demographic trends continue to increase the number of renters, absorbing the new apartment supply shouldn't be a big deal. But you have to juxtapose the supply issue against the seasonal bump that didn't take place - which the CEO of AvalonBay attributed to economic issues. If there's any underlying economic weakness, the future for AvalonBay, Equity Residential and UDR, among many others, could be worse than it looks based on the decent results they're putting up today.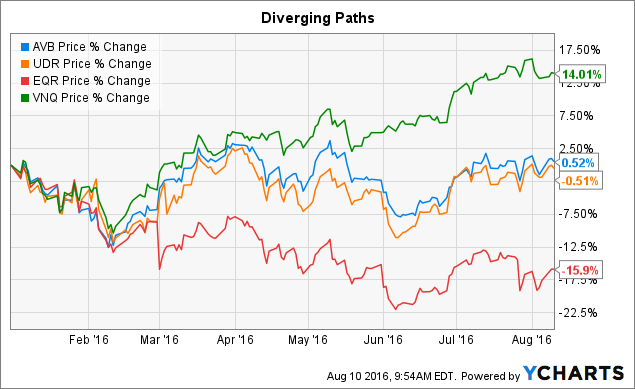 AVB data by YCharts
No cliffs here
To be sure, I wouldn't expect the businesses at any one of this trio to fall off a cliff, even if results don't live up to expectations and investors start selling the shares. In fact, Equity Residential already lowered its forecasts more than once this year, helping to explain why it's down nearly 16% year to date while Vanguard REIT Index ETF (NYSEARCA:VNQ) is up around 14%. That's a pretty large performance discrepancy for a company that's still doing reasonably well, overall. For reference, AvalonBay and UDR are basically break even on the year.
So investors are clearly less excited about the apartment sector than they are about REITs in general. And if the clouds this trio have been talking about turn into something bigger, they'll likely see more downside. If you own an apartment REIT you'll want to keep a close eye on the fundamentals underlying the landlords you own. It could get rough for the stocks if results start to soften since investors seem to have very high expectations for REITs.
But as an investor, this also could be a buying opportunity. AvalonBay, for example, is one of the best run apartment REITs around, proving adept at shifting its approach through the cycle. That doesn't mean downturns don't hurt, but that it easily survives rough spells and often gets better during the troughs. If investors sell off apartment REITs in a more notable way, you might want to consider stepping in. It's too early for that call just yet, but if a real storm is approaching you'll want to be ready.
Disclosure: I/we have no positions in any stocks mentioned, and no plans to initiate any positions within the next 72 hours.
I wrote this article myself, and it expresses my own opinions. I am not receiving compensation for it (other than from Seeking Alpha). I have no business relationship with any company whose stock is mentioned in this article.