The Walt Disney Company (NYSE:DIS) recently reported Q3 2016 earnings results, and operationally, it is hard not to like what the company was able to do during the most recent quarter. Yes, there are still many uncertainties related to what Disney will be able to do with ESPN, but, in my opinion, betting against Disney (and Mr. Robert Iger, President & CEO) is not a smart move.
The current concerns with Disney as a long-term investment are almost entirely related to the ESPN subscriber numbers and lack of clarity for how the changing pay-TV landscape will impact the company's bottom-line, but I think that it is too early to be worried about Disney not being able to distribute its content while also keeping its future growth prospects intact.
The current year has not been kind to Disney shareholders, as the company's stock is down ~4% YTD while the S&P 500 is up ~8%.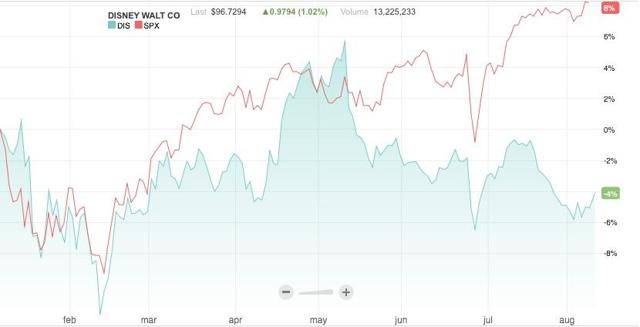 (Source: Nasdaq)
However, after taking the time to review the most recent quarterly results I believe that long-term investors have been given an opportunity to start a position in a great company at a good price. The Q3 2016 results not only show that the company is currently firing on all cylinders, but that Disney has more going for it than just the Media segment.
The Operating Results, A Focus On The Media and Studio Segments
The table below speaks volumes for what Disney was able to accomplish during Q3 2016.

(Source: Q3 2016 Press Release --linked above)
For Q3 2016, Disney increased its top-line by 9% while also reporting a 10% increase in diluted EPS. From a cash flow perspective, the company blew away the results from the same period in the prior year.
Disney has reported impressive operating results for the past few quarters, and this quarter was more of the same. Disney's Consumer Products & Interactive Media division was the only segment that did not have YoY increases in both revenue and profit.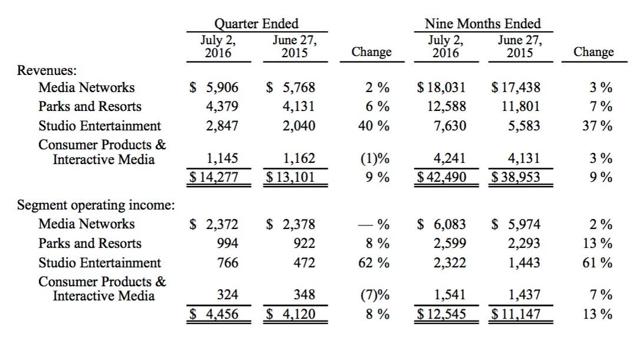 (Source: Q3 2016 Press Release --linked above)
Let's first take note of the very impressive operating results for the Studio segment --revenue up 40% and income up 62%. There were several movies [Captain America: Civil War, The Jungle Book, Finding Dory, etc.] that contributed to the current quarter results, but what is important is that the upcoming lineup for the Studio segment looks just as bright (if not brighter) as the most recent quarter --see this article for more on this topic.

(Source)
As I described in the article linked above, the Studio segment has the potential to more than make-up for the revenue/income that investors are anticipating for the Media segment to lose from the unbundling trend.
Over the first nine months of the fiscal year, the Media segment had low-single digit increases in both revenue and income. For Q3 2016, ESPN had a slight uptick in revenue due to growth in advertising revenue, which was partially offset by subscriber losses, but the segment's operating income was impacted by higher programming costs. Going forward, the concerns over what Disney is able to do with ESPN (i.e. distribute the content and maintain margins) are legitimate, but, in my opinion, for the time being the concerns are overblown. On this topic, Disney's long-term plans are already starting to become a little clearer.
There Are Many Paths To Prosperity
Disney announced an encouraging $1b investment in BAMtech (for a 33% stake), but management also took the time during the Q3 2016 conference call to describe the company's plans to distribute its content in a variety of different ways/formats:
And we must create or take advantage of these new opportunities in ways that are complementary to the multichannel offering.

With that in mind, earlier today, we announced a significant investment that provides us the technology infrastructure to quickly scale and monetize our streaming capabilities at ESPN and across our entire company. We're acquiring a 33% stake in BAM Tech, the industry leader in video streaming, data analytics and commerce management. We have the option to acquire majority ownership in the future, and through this investment, we plan to launch a new direct-to-consumer ESPN-branded, multi-sports subscription streaming service.....Our goal is to ensure that our brands, notably ESPN, remain strong, vital and relevant in a totally changed media landscape. BAM Tech is a critical component of this strategy, and the specifics of our investment are provided in our press release about the deal.

We continue to work with a wide range of distributors to make our content accessible to consumers in more ways than ever. And I'm pleased to announce that AT&T DirecTV, the largest distributor in the country, will feature ESPN, ESPN2, ABC, Freeform, Disney Channel, Disney XD and Disney Junior in all subscription packages offered in its upcoming DirecTV Now OTT service.

-Mr. Rober Iger
Based on these comments, I believe that the ESPN concerns are a bit premature. Content is king in today's environment, so, in my opinion, Disney is in the best position to take its time to figure out the most beneficial format to distribute its valuable properties. Let's not forget that the management team is not sitting on their hands, but instead, they are plotting out the best path to prosperity.
Valuation
Disney is trading at a premium when compared to peers --Twenty-First Century Fox (NASDAQ:FOXA) and Time Warner (NYSE:TWX)--but I believe that the premium is more than warranted.
| | | | | |
| --- | --- | --- | --- | --- |
| | Current Price | Estimated Earnings | Forward P/E | Dividend Yield |
| DIS | $96.70 | $6.15 | 15.72 | 1.48% |
| FOXA | $25.53 | $2.22 | 11.50 | 1.42% |
| TWX | $79.11 | $6.01 | 13.16 | 2.04% |
| | | | | |
| | | Avg | 13.46 | 1.65% |
| | | Avg (excluding DIS) | 12.33 | 1.73% |
(Source: Yahoo! Finance for Dis, Fox, and Time Warner)
Disney not only has the most valuable content, but the company also has many other levers that management can pull to create shareholder value in the years ahead. For example, Shanghai Disney has already had over a million guests since the grand opening in mid-June 2016 and management anticipates for this park to greatly contribute to the company's future operating results.
Bottom Line
It is almost impossible to downplay the impressive Q3 2016 operating results that Disney was able to report, but some analysts are stuck on trying to predict the future instead of attempting to understand what the company has in place now. I, however, believe that long-term investors should be excited about the optionality that Disney has with its content because this will allow for the company to dictate terms once management determines the best path to take this great company.
Disney is a core holding in the R.I.P. portfolio, and it is actually a position that I would like to add to if the opportunity presents itself. The uncertainty related to the Media segment's future prospects has caused many investors/analysts to shy away from holding/recommending DIS shares, but I believe these concerns are overblown. As I mentioned in this article, "content is king and Disney is the king of content", and this still holds true today. Therefore, any significant pullback in Disney's share price, especially if the pullback is a result of ESPN concerns, should be considered a buying opportunity.
If you found this article to be informative and would like to hear more about this company, or any other company that I analyze, please consider hitting the "Follow" button above.
Disclaimer: This article is not a recommendation to buy or sell any stock mentioned. These are only my personal opinions. Every investor must do his/her own due diligence before making any investment decision.
Disclosure: I am/we are long DIS.
I wrote this article myself, and it expresses my own opinions. I am not receiving compensation for it (other than from Seeking Alpha). I have no business relationship with any company whose stock is mentioned in this article.