A few weeks ago I was writing a weekly piece called the 'Micro-Cap Weekly". If you are curious, you can read my articles here and here. I was planning on writing a weekly post on micro-caps but life got the best of me. Its summertime, I had other projects that needed attention and some weeks I am just not that creative as a writer. So instead of writing a weekly article on micro-caps, I plan on writing periodically about micro-caps, value investing, the economy and other relevant or non-relevant 'stuff' that comes to mind. I mean why put a structure around my writing when we all know time is relative…
"When you are courting a nice girl an hour seems like a second. When you sit on a red-hot cinder, a second seems like an hour. That's relativity". - Albert Einstein
Value Investing in the World Around You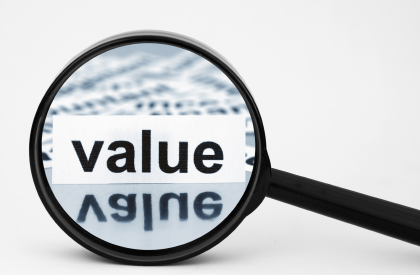 Value investing, the methodology of buying cheap companies and later selling them for a premium to the price purchased. I have adopted this methodology for not only my research but for my personal assets. It just makes a ton of sense-statistics have shown us that value investing outperforms the boarder market. Furthermore, I am not that smart, so I'd rather have a historically proven method on my side.
But is value investing just limited to the markets? Is there value investing in other subsectors in the world around us? I believe there is…at your local Goodwill.
When I was in college one of my favorite ways to make a few bucks was at Goodwill. I would go to my local Goodwill with $100 dollars or so, buy a bunch of junk and list it on eBay when I got home. Remarkably, I made more money doing this than at my day job.
It's an easy way to make money. You buy an almost brand new pair of Nike's at Goodwill for $5 bucks and sell them on eBay for $50. After tax and shipping you pocket $25-30 dollars. Not bad if you ask me. If that is not value investing in the real world, then I don't know what is.
On that note, do you like risk-free money? Open an account with motif and you will receive $100 in cash. I just did this today for myself and will do it for my wife as well. You just got to love that risk-free money. Not sure who wouldn't do it. Unless you were Bill Gates, then you would just be wasting your time.
There is always something to do
"There is always something to do. You just need to look harder, be creative and a little flexible". - Peter Cundill
I was recently recommended a book called "There's Always Something To Do: The Peter Cundill Investment Approach". It was an excellent read and was about Peter Cundill the famed Canadian value investor. One of the main 'things' that I took from the book-ironically-is that there is always something to do.
US valuations are high. I have been having trouble finding good value plays that are worth my time. The only place that seems to have consistent value is small community banks, really off the wall pink sheeters, and commodity related companies-which the latter I have mostly avoided.
What I have noticed is that there is a significant amount of deep value companies overseas-particularly in Japan, Singapore and Hong Kong. In fact, all three of these former demographics have an overflowing handful of net-net stocks.
The issue with investing overseas is two-fold: there is a language barrier and GAAP accounting does not apply. However, cheap is cheap and I like cheap. In my opinion, the way to overcome the language barrier and lack of GAAP accounting is to buy a basket of these companies.
I have yet to buy any foreign companies, besides the here and there Canadian issue. However, I am about to pull the plug and buy a basket of these companies. But for research purposes, I may create my own little index of foreign net-net companies and track their performance.
Based on statistics, the index should outperform. In fact, it should outperform by a wide margin. My thoughts are to create an index of 15-20 foreign net-net stocks, track the performance on a weekly basis, and give a periodic overview of the companies within the index. Finally, the plan would be to publish all results within my Seeking Alpha profile. If there is an interest from my readers on this idea, let me know, if not, forever hold your peace.
Overall, US valuations are high and cheap companies are hard to find on a domestic basis. Furthermore, limiting myself to just US companies seems counterintuitive-foreign counties should have less efficient markets for the value investor to exploit. In order to offset risk with foreign companies, one should buy a basket of companies and limit the exposure they have to an arbitrary percentage in their portfolio; say 10%. In the long-run, a basket of foreign net-nets should do well.
A Bank worth owning
A company that I have recently taken decent sized position in is Ottawa Savings Bancorp (NASDAQ:OTTW). I initially wrote them up on CompleteBankData. You can find the write-up here.
The thesis is quite simple to understand. The bank is a mutual savings corporation and has recently announced a second-step conversion. A second-step conversion will allow the company to raise dilutive free money between $16-22 million.
After the conversion the company will have a TBV of 0.66-0.75x. It is almost impossible to find a bank trading at that valuation that is profitable, has a solid loan book and is overcapitalized. Furthermore, management has stated in the recently filed S-1 that they plan on using 50% of the proceeds from the second-step to repurchase shares.
Historically, mutual conversions have outperformed the market. Based upon the valuation of the company post-conversion, there is little downside and a tremendous amount of upside. I'm willing to bet three years from now the company will be at least a double.
A company to keep your eyes on
A year ago, I wrote a compelling buy thesis on ENGlobal (NASDAQ:ENG). You can find my original write-up here. The thesis was based upon management turning the company around, energy firms eventually ramping up capex, an absolute undervaluation and long-term energy infrastructure demand.
The company has performed quite well since my thesis-peaking at 32% and currently up 25% in one year. Despite the run-up in the share price, I believe the thesis is still intact and opportunity could be had. Furthermore, the weak Q2 results have punished the stock, putting it back on my value radar.
In the first six months of 2016 revenues have decreased 60% YOY and the company has reported a net loss of $2.4 million compared to a net gain of $1.6 million YOY. Despite the revenue decrease and loss on a EPS standpoint there is a lot to like about the company from a value standpoint.
First, the company authorized a $2.0 million repurchase program in April of 2015. Since then, they have repurchased 499,344 shares of common stock for $500,000. Thus they can still repurchase $1.5 million more.
Secondly, backlog has increased from last year and their forward looking pipeline is full. Moreover, the company continues to produce positive cash flow and their cash position has increased from $7.8 million last year to $14.7 million today.
Finally, the company is debt free and trading with a book value of 0.93x and an EV/EBITDA of -23.69x. Based upon the market cap of $34 million, 41% of the market cap is cash. I think the company is attractive at the current price, but I want to get some bang for my buck. Anything under or at $1.15/share I am buying.
Conclusion
For value investors, there is always something to do. Be it exploring new markets, buying cheap goods to sell on eBay or finding niche subsectors such as mutual conversions. I am not sure when US valuations will come back to earth, but I do know that the market will eventually price all businesses at their true intrinsic value. In the meantime, I will continue to find more cheap businesses and more unique ways to make money in this market. To end, comment your best idea for the next three years and let's start a valuable dialogue.
Other Readings for the Week
Entertainment Gaming Asia - What Is Next For This Cash Net-Net
Vector Group - A Sum Of The Parts Analysis Of An Unusual Mini-Conglomerate
Mutual Conversions - The Low-Risk, Proven And Steadfast Way To Earn Double-Digit IRRs, With Three Examples
What 2 New Warren Buffett Books Taught Me About Deep Value Investing
Disclosure: I am/we are long OTTW.
I wrote this article myself, and it expresses my own opinions. I am not receiving compensation for it (other than from Seeking Alpha). I have no business relationship with any company whose stock is mentioned in this article.
Editor's Note: This article covers one or more microcap stocks. Please be aware of the risks associated with these stocks.