Overview
For months, the Zika Virus has spread across Latin America and the Caribbean, finally arriving in Miami. Zika spreads through mosquitoes, allowing it to quickly cover those parts of the western hemisphere that regularly support mosquito populations of the right type. Currently, Zika outbreaks have been reported in many countries in South and Central America, and in the US in Puerto Rico and Florida. Outbreaks can occur where there are sufficient concentrations of mosquitoes and infected persons.
Travel companies, including airports, hotels and tour groups are now concerned about the implications for discretionary travelers. With Zika reaching the U.S., domestic air travel may take a hit, but not for the reasons you might think. It is not a fear of domestic travel that is going to affect internal U.S. flights, it is the international. Let's take a look at two of the factors that will affect U.S. travel - domestic connections, and transferred capacity.
Cannot Get There From Here
We have all heard that before, and it is true - not all routing is direct. The fact is that many passengers bound for an international destination must fly to a hub first, then connect to their final destination. In some cases, there may be a domestic flight on the other side too. (After once flying from Melbourne, Australia to New York City, I can personally attest to the three-flight world marathon.)
The domestic seats used to reach the hub (before an international flight) are often cheap or free to the passenger because they are buying an expensive international ticket. No airline wants to lose a $1500 fare to Buenos Aires because they tried to hit the passenger with a $200 connecting flight. Therefore, the airline offers a lower price for that flight segment.
Here is the problem. If international flights see reduced loads due to concerns over the Zika Virus, so will domestic flights. If a passenger decides not to travel abroad, they will not need to get to the hub. For that particular carrier it is not all bad. After all, the ticket may have been substantially discounted. The carrier can now sell the seat as a regular domestic seat, for at least some amount of money. The domestic ticket might actually generate more revenue in that case.
Now you say, how is that bad? One word: overcapacity. While that one airline might be okay with the domestic ticket sale, it is now offering one more domestic seat than it did before. This could steal business from another carrier, and if everyone does this - total capacity will increase. An increase in total capacity is great for customers but could hurt airlines as they compete to fill those newly found seats.
Even a primarily domestic air carrier (such as Southwest (NYSE:LUV)) may find itself competing against those extra domestic seats.
Shifting Capacity
The second problem for domestic carriers is shifting capacity. Several U.S. airlines have recently expanded their Latin America and Caribbean markets, including JetBlue Airways (NASDAQ:JBLU), Spirit Airlines (NASDAQ:SAVE), and Southwest. These markets are largely discretionary for U.S. travelers, who may also opt to remain stateside or travel to other parts of the world, when conditions change.
JetBlue and Spirit in particular have made big strides in the sale of vacation trips to tropical destinations. This means they are taking the most flexible passengers to the places most likely to have a Zika outbreak. Due to public health reporting and modern communications, clusters of Zika cases will be announced to the media and thereby known to the public, which may change travel plans unexpectedly.
If passenger traffic to tropical destinations declines, airlines could reduce flights and redeploy some of their planes to less affected markets, including domestic U.S. This will increase capacity in the U.S. system, affecting all the other U.S. domestic carriers.
Delta Air Lines (NYSE:DAL), United Airlines (NYSE:UAL), and Southwest Airlines have some older planes they can park with little cost to control capacity. However, JetBlue and Spirit have very new fleets and may not be able to park or sell extra aircraft. This leaves them with little choice but to operate the aircraft, even if they are flying some routes at an overall loss (variable + proportioned fixed costs). See our article on the economic effects of airline fleet age.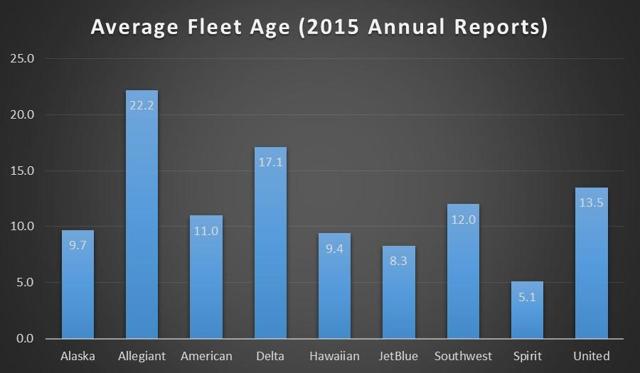 Source: Three Point Aviation Services LLC
Which Airlines are at Risk and Why?
Low-cost carriers are likely to take the largest hit for several reasons. First, the seats freed up by reduced international connections will likely be sold for less than the existing domestic tickets. This places the legacy carriers (such as American Airlines Group (NASDAQ:AAL)) into the low-cost market. Second, JetBlue and Spirit Airlines have large exposures to areas already affected by Zika, or at risk of being affected. As that capacity returns stateside, it will rival existing low-cost seats in the U.S.
Finally, the legacy carriers tend to carry a disproportionate percentage of the business travelers and other high-revenue passengers on international routes. American, Delta and United will likely be able to maintain many of their routes as a result of high-yield (revenue) passengers, even as discretionary travel wanes.
On the flipside, this may be a golden opportunity for Hawaiian Airlines (NASDAQ:HA) to pick up some vacationers who would prefer to remain out of the infected areas. Allegiant Travel Co. (NASDAQ:ALGT) will likely have a mixed bag. It will have to compete in the domestic market against any new capacity created by the crisis. However, Allegiant offers a good selection of cheap seats to stateside vacation spots such as Hawaii and Las Vegas. Plus Allegiant has some older aircraft it can park, if needed, to avoid overcapacity.
Why This Time is Different?
In 2014, an outbreak of the Ebola Virus in parts of Africa temporarily reduced international flight bookings and worried travel companies. That situation was short lived. While Ebola continues to be an ongoing issue in parts of Africa, it has been somewhat contained. Moreover, Ebola is transmitted mainly by direct contact (person-to-person). It is not airborne or communicable by insects, as far as the Centers for Disease Control knows.
Zika, however, is transmittable person-to-person and by mosquito, allowing it to move quickly. With symptoms that are hard (or impossible) to detect, a person with a Zika infection may not be identified until well after the disease has been re-transmitted.
The fact that Zika can spread quickly and quietly has created a more volatile situation, which may frighten some travelers. Also, Zika is present in countries with many regular flights from the United States. Airlines flying to those tropical destinations are likely to see lower loads, at least until the virus is better understood. Moreover, aircraft used for flights to Latin America are more easily re-allocated than long-haul aircraft, used to fly to Africa. Therefore, Zika will have a larger effect on U.S. airlines than Ebola did.
Conclusion
Many U.S. airlines show good investment potential despite Zika, and avoiding airlines altogether could be a missed opportunity for investors. However, there are two things for an aviation investor to keep in mind. First, do not overinvest in airlines. This will be an ongoing problem for a while and you should never have all of your eggs in one basket anyway. Second, do not invest in a U.S. domestic carrier and simply assume that it is free from virus-related risk. All U.S. airlines may be affected to at least some extent.
There are certainly opportunities in the aviation market, but like a gate at the Chicago airport, it may take time to find.
Disclosure: I/we have no positions in any stocks mentioned, and no plans to initiate any positions within the next 72 hours.
I wrote this article myself, and it expresses my own opinions. I am not receiving compensation for it (other than from Seeking Alpha). I have no business relationship with any company whose stock is mentioned in this article.