You would think the Tesla Motors (NASDAQ:TSLA) buyout of SolarCity (SCTY) had already been completed, given what happened on Tuesday's conference call after SolarCity's Q2 earnings. Not only did Elon Musk show up to make a few comments, but he owned nearly half of the call once the Q&A session started. Just look at an estimated word count in the chart below among SolarCity executives.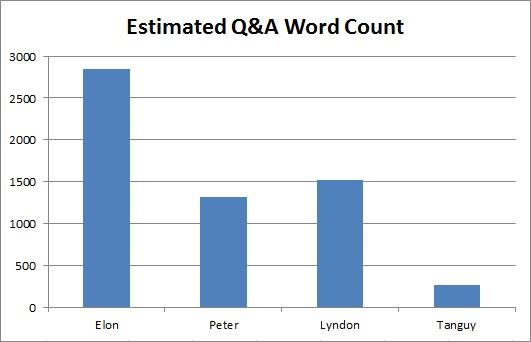 I understand that Elon is the Chairman of SolarCity, but we haven't seen him on any recent calls. A few statements here and there would have been one thing, but jumping on almost every statement made by SolarCity's leaders seemed a bit odd. It was even funnier when Lyndon Rive tried to end the call and Elon jumped in for a roughly 300-word closing. Given how bad SolarCity's results are, I'm sure that a lot of people would have liked to hear from the company's CFO a bit, and for the amount of time Tanguy had on the call, it probably wasn't even worth for him showing up.
I know that Elon has a lot of influence over the running of SolarCity, especially given his large stake in the company, but to jump in and basically run the conference call like the deal has already been completed just gives a bad optic. If Tesla shareholders don't approve the purchase, will Elon show up on the next call after that happens? Probably not, unless he shows up to go on a rant about how he thinks investors made a mistake.
Tesla investors should be concerned. SolarCity reported a more than $250 million GAAP loss on just $186 million of revenues for Q2. In the first half of 2016, SolarCity has lost over $533 million, nearly matching the $575 million loss from Tesla, despite producing just about 13% of the GAAP revenues that Tesla has. Imagine how bad the results would look when these companies are combined. Even on a non-GAAP basis, SolarCity is expected to lose more than $10 per share this year! Management has also reduced its yearly solar installation target twice this year, and by a significant amount each time.
I recently discussed how Tesla investors are facing a tremendous amount of dilution, and that number will grow even more if the deal goes through. Worse yet, Tesla will assume more than $3.2 billion of SolarCity's debt, seen below, and a few hundred million of that comes due in the next six months. With Tesla already burning through cash, either these debts will need to be refinanced (likely at higher rates), or Tesla will need another capital raise to pay them off.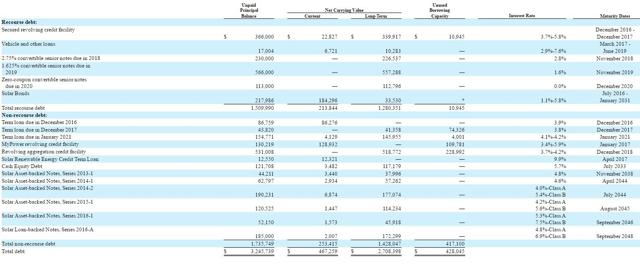 (Source: SolarCity 10-Q filing)
The recent news from SolarCity should be a wakeup call for Tesla investors. If you like more huge losses, cash burn, and a tremendous amount of dilution, then go ahead and vote for the deal to go through. However, if you are worried by Elon's hijacking of the call and actual results, you should do the responsible thing and let SolarCity face its own problems and not pay for its mistakes.
Disclosure: I/we have no positions in any stocks mentioned, and no plans to initiate any positions within the next 72 hours.
I wrote this article myself, and it expresses my own opinions. I am not receiving compensation for it (other than from Seeking Alpha). I have no business relationship with any company whose stock is mentioned in this article.
Additional disclosure: Investors are always reminded that before making any investment, you should do your own proper due diligence on any name directly or indirectly mentioned in this article. Investors should also consider seeking advice from a broker or financial adviser before making any investment decisions. Any material in this article should be considered general information, and not relied on as a formal investment recommendation.