Conclusions From My First Seeking Alpha Article
I recently wrote my first article for Seeking Alpha. It was about helping my grandson Sam make his first stock picks, and how we chose them.
This article is the first of maybe several that describes how I became a (mostly) dividend investor. It's an overview and it's evolutionary -- I'm constantly learning and trying to incorporate lessons learned into my existing and future investments. It's a journey, I don't have all the answers, and comments are welcome.
Previous Attempts at Investing
In the late 90s, I tried my hand at investing with a small IRA from a previous employer. I had no idea what I was doing, so I just took the recommendation of others. Professionals, I might add. Analysts whose job it was to do research and come up with solid recommendations to less sophisticated investors such as myself.
At first it was great. I made awesome returns on stocks like Global Crossing, Qualcomm, Intel, Cisco, Oracle, drugstore.com, you name it.

Source: wikipedia
What a disaster. I put far too much into one sector, and when the tech sector blew up, I stood by and watched my holdings evaporate. I thought "buy and hold' was the right way to invest, so I bought and held to the absolute bottom. I was a textbook example of the guy who sold at the point of maximum opportunity.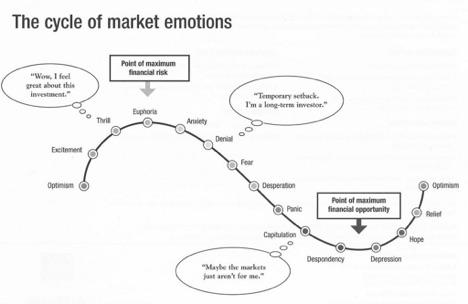 Source: yahoo.com
That was enough. I gave up on individual investing and just went back to contributing to my 401(k).
How I Came to Love Dividends
In August 2011 my wife and I relocated to take new jobs. We took early retirement for the retiree medical benefits. After deducting the medical insurance premiums, our combined total monthly payout was just under $500.
We didn't really need the money, so we decided to save it by putting in a savings account. I know we tried, but I'm not sure we really succeeded. It seemed to me that if I was saving money, I ought to be able to see the results.
Towards the end of 2013, I decided I wanted to do something with this free money that was separate, measurable, and would help pay the bills for the retirement I planned for 2020. I looked at the investment landscape and saw:
Cash
Real Estate
Bonds
Stocks
Cash - One look at the yields from CDs and the like and I quickly averted my eyes. I have enough cash in my 401(k), so I didn't need more.
Real Estate - I know people who have done well at managing residential and/or commercial real estate, but I just didn't see myself as one of them. I wasn't too interested in working long hours at a challenging job, then coming home to deal with tenants, billing, repairs and the rest of what comes with real estate. I moved on.
Bonds - I was always told that the closer one got to retirement, the more funds one ought to allocate to bonds. Bonds are steady, dependable, and while they might not make your rich, they would be safe for a retirement portfolio.
So I contemplated bonds, and eliminated them from consideration for this portfolio. Right or wrong, here's why:
I already have bond funds in a 401(k). So I guess I already have some safety in my retirement portfolio. I guess.
Stocks had the potential for capital gains. Bonds in a rising rate environment didn't.
I believed then, and still believe, that debt isn't nearly as safe as advertised. Advertised, I might add, largely by governments who benefit from borrowing.
So I looked at my options and decided I'd rather take my chances with this new portfolio in the stock market and hoped I could learn a few lessons from the past.
But first I had to decide what I wanted from the market. Since retirement was not that far away, I decided I wanted what these guys did in 1963:
Money don't get everything it's true.

What it don't get I can't use.

So gimme money that's what I want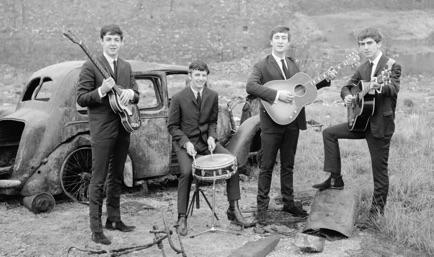 Source: moddb.com
I wanted a retirement income stream, and to me that meant dividends. I thought If I could pick good companies that could maintain their dividend throughout the business cycle, the cash flow I'd receive would mitigate any potential short term (I hoped) capital losses I might experience along the way.
I started with my $500 per month, then discovered ways to increase that amount. Flexible spending reimbursements, tax refunds, raises, craigslist sales. When you're motivated, it can be easier than you think to find money to put away. In July I put over $2,500 into this account.
A Fresh Start In The Investing Arena with a Different Set of Investing Criteria
I knew I was no investing expert, so I decided to:
Keep it simple
Learn more
Evaluate results
Incorporate the results into future decisions.
If dividend income was to be the strategic goal of this portfolio, I decided I needed some new investing tactics. Here is my "new and improved" set of investing criteria. While I do use (admittedly simple) analytical tools to apply these criteria, I'm describing them from an overview perspective. I can describe my analytical techniques further in a future article.
Purchase Criteria
Story: Every stock I buy has a story behind it. I have to be able to describe what I'm buying to someone else in pretty simple terms.
It could be the stock has a valuable, recognizable brand Coca Cola (NYSE:KO). It could be a turnaround story (General Electric (NYSE:GE), Dow Chemical (NYSE:DOW), AIG (NYSE:AIG)). It could be emerging trends, like the continued acceleration towards cashless payments (Mastercard (NYSE:MA)), increased worldwide militarization (Raytheon (NYSE:RTN)) or medical approaches to treat an aging population (Medtronic (NYSE:MDT)). Or it could be a company I expect to provide small boring capital gains and regular dividend increases (Exxon Mobil (NYSE:XOM)).
If the story is overly complicated, I put it in the "too hard" category and move on. There are plenty of companies around that get the job done without too much drama. I can always come back to them later.
So here's my portfolio right now on a cost basis: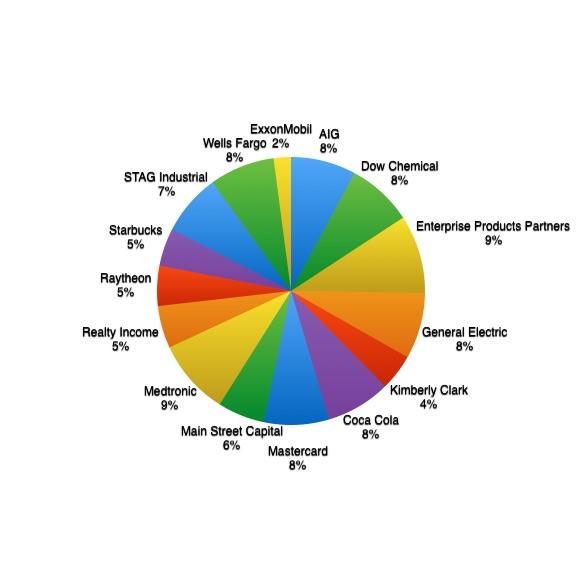 Source: Author
Size: My dividend portfolio doesn't have a market cap limitation per se. However, in general I look for large caps (>$5 billion). STAG Industrial (NYSE:STAG) and Main Street Capital (NYSE:MAIN) have the smallest market caps at around $1.5 billion. As my portfolio gets larger, I intend to search for smaller caps that offer the dividends I want with future growth potential.
Business Fundamentals/Metrics: Like I said earlier, this is an overview and I can cover that in a future article.
Sector Leadership: I try to buy companies I see occupying a leadership position in their sector. For example, Kimberly Clark (NYSE:KMB) in the Consumer Staples sector, Enterprise Products Partners (NYSE:EPD) in the mid-stream sector, and Wells Fargo (NYSE:WFC) in banking. As I see it, leadership doesn't just mean bigger.
Dividends: Yes. I want them. Some people don't, but I do.
Yes, paying a dividend removes cash from the business that can be used for reinvestment. Like overpriced share repurchases designed to cover the dilution from executive stock options. Or ego-driven M&A activity that fails miserably.
I believe dividends help instill corporate discipline. They provide me with money I can spend to pay the bills. And they act as a hedge against share price declines and bad management decisions.
I want a portfolio that yields 3% or more on cost. I look for stocks with 3%+ yields, not expecting future dividend growth to be robust. I also buy lower yielding stocks when I expect their dividends to rapidly grow.
Last summer MDT raised their dividend by 25%. I remember thinking, "Dang, I just got a 25% pay raise and I didn't have to do anything". They raised their dividend another 13% on June 24th and their payout ratio is still 40%. My job doesn't provide 13% pay raises on any regular basis, let alone 25%.
Diversity: I try to keep positions roughly equal across multiple sectors, which has proven harder as valuations keep rising. Here's what that looks like right now, again at cost: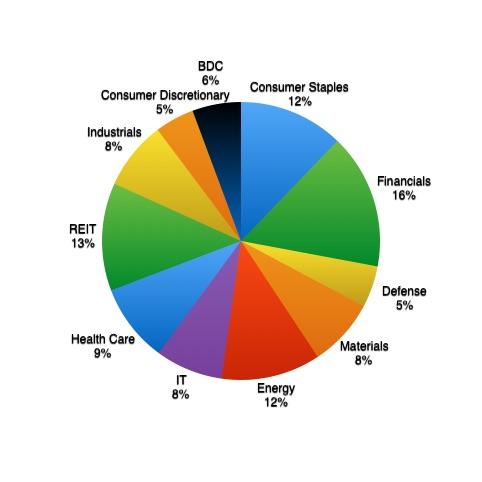 Source: Author
I feel like I'm overweight Financials. I don't have any tech or utilities, yet, and am looking to increase the Defense, Industrials and Health Care areas. What you don't see in this portfolio are ConocoPhillips (NYSE:COP) and American Realty Capital Partners (OTCPK:ARPC), losers that I sold at a small loss (ARCP) and a large loss .
Risk: As time progressed and the portfolio has grown, I have introduced more risk into this portfolio than some may find appropriate (ARCP, AIG). But I try to make sure I'm taking a risk, not a flyer. Dividends help reduce overall risk, as does diversification.
Entry Price: Since I have a 401(k) with a healthy cash position, that gives me the chance to step in and buy should markets experience a significant decline. I generally buy in this portfolio when I get money, around once a week. Valuations seem stretched to me, so reasonable values feel harder to come by. But then again, I have no idea where the top or bottom is, so I just buy and dollar cost average.
Sales Criteria
I'd rather not sell, but I don't always get it right. I sell when:
a) The reason I bought in the first place is no longer valid, like a dividend cut. Or a change in the underlying business fundamentals. Or the failure of management to live up to their clearly stated goals. Or an overall loss of faith in the ability of management period (ARCP and COP).
b) When it looks like there's something questionable going on, I sell first and ask questions later. I figure there's better options out there. ARCP is my poster child here. When I found out there were questions about their financial statements I couldn't sell fast enough. I took a small loss and haven't looked back. I only wish I'd done that with COP.
Conclusion
It's your money, so it's in your best interest to know more than you do now, even if you don't want to invest it yourself. I took another shot at portfolio management, and I'm happy with the results. I'm seeing increasing dividends, capital gains, and what I believe is more portfolio stability.
Earlier I mentioned how my previous investing attempt devastated my portfolio and resulted in real losses. When a downturn came, I was unprepared, my stocks had no staying power, I didn't know why I owned them, and I had no dividends to reinvest at lower levels.
I never enjoy seeing the value of my portfolio decrease, even though that's part of the natural business cycle and it offers a chance to reinvest my dividends at lower cost. However, when the next downturn comes, I think I'm better prepared to financially and emotionally weather the storm.
Disclosure: the author owns all stocks mentioned in this article with the exception of COP and ARCP. ARCP has been rebranded as VEREIT (NYSE:VER).
Disclosure: I am/we are long AIG, DOW, EPD, GE, KMB, KO, MA, MAIN, MDT, O, RTN, SBUX, STAG, WFD, XOM.
I wrote this article myself, and it expresses my own opinions. I am not receiving compensation for it (other than from Seeking Alpha). I have no business relationship with any company whose stock is mentioned in this article.
Editor's Note: This article discusses one or more securities that do not trade on a major U.S. exchange. Please be aware of the risks associated with these stocks.