Disney (NYSE:DIS) has reported third quarter results on Tuesday evening, beating estimates for the top line as well as for the bottom line. Shares sold off 2% after hours nevertheless, based on ESPN results that were worse than the market expected. I believe the ESPN issues are overblown, as Disney's other divisions are performing very well.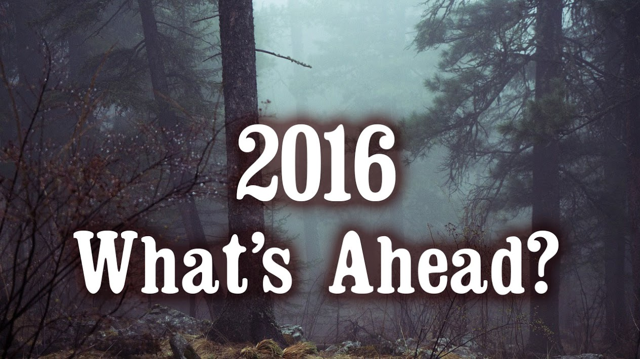 Disney grossed revenues of $14.3 billion in the third quarter, 9% more than in the previous year's quarter. Those revenues were made up by:
- Media Networks: $5.9 billion (41% of revenues), higher by 2% yoy
- Parks and Resorts: $4.4 billion (31% of revenues), higher by 6% yoy
- Studio Entertainment: $2.8 billion (20% of revenues), higher by 40% yoy
- Consumer Products: $1.1 billion (8% of revenues), lower by 1% yoy
We see that Disney's Media Networks are still the biggest top line contributor, but the division's importance is shrinking: Media Networks was responsible for 41% of revenues, whereas Media Networks was responsible for 44% of revenues in last year's third quarter. With the high growth rates of Parks and Resorts and especially Studio Entertainment, Disney becomes less dependent on its Media Networks division over the years. This is, I believe, a positive, as diversification lowers risk and as this means the declining subscriber count of ESPN becomes a smaller issue, since Disney's other operations are gaining influence.
Nevertheless we can see that Disney's Media Networks business is still able to grow revenues, despite ESPN's difficulties, which shows that the worries about ESPN might be overblown -- the division is not a huge growth contributor, but it does not look like Media Networks will drag Disney down in the near future.
Parks & Resorts saw a 6% revenue increase despite the fact that Disney's huge Shanghai park was only open for two weeks in the third quarter, the impact will be much bigger in the current (fourth) as well as in future quarters. The Shanghai park looks like a very successful venture for Disney, the park has been visited by more than one million guests already, and management stated that the hotel occupancy rate is 95%, also guests are staying far longer at the park than Disney had expected before the park was opened. This bodes very well for Disney's Parks and Resorts revenues in the future -- even with a minimal impact from the Shanghai park and the headwind of the Easter weekend being in an earlier quarter this year (in March versus in April last year) Disney's P&R revenues grew by 6% yoy and operating income grew by 8% yoy. I expect revenues as well as operating income to grow by double digits for Disney's P&R operations in the next quarters.
Disney's Studio Entertainment operations did very well, too, with revenues growing 40% and operating income growing 62% yoy. The pipeline of upcoming movies for the remainder of the year and next year is very good as well, among others Disney will release two new Star Wars movies (Rogue One and Episode VIII), several new Marvel movies (Doctor Strange, Guardians of the Galaxy II, Spiderman: Homecoming and Thor: Ragnarok) as well as Cars 3 by Pixar over the next 18 months. With blockbusters like these I believe Disney's Studio Entertainment business will continue to do very well over the next quarters, and likely beyond (e.g. Marvel has announced new movies up to 2020). Disney's Studio Entertainment will also continue to strengthen its franchises (e.g. Star Wars and the Marvel Universe), which will lead to higher demand for branded Consumer Products and new attractions at the company's parks, thus allowing for growth in Disney's other businesses as well.
Among the financial highlights of the most recent quarter is the company's cash flow generation: Disney produced operating cash flows of $3.6 billion (up 29% yoy), whilst capital expenditures remained flat yoy around $1.15 billion. The result was that free cash flows grew by more than 50% to $2.5 billion during the third quarter, which equals an annualized run rate of $10.0 billion and a free cash flow yield of a little more than 6%. Since the Shanghai park (which cost roughly $6.0 billion) is now opened and won't require significant capital expenditures going forward, I do believe that free cash flows can grew even further in the next quarters -- higher operating cash flows (due to the contribution of the Shanghai park) and lower capex will lead to high amounts of cash available for shareholder returns.
Disney's shareholder returns are pretty significant already, made up by share repurchases primarily. The company's bi-annual dividend payments yield about 1.5% right now, which is a below average dividend yield, thus Disney is not very attractive for those needing the income right now. Disney's dividend has grown at a fast pace though, and since earnings will likely continue to grow at a substantial pace and due to the company's very low dividend payout ratio (25%), I believe Disney will continue to hike its dividend by double digits going forward.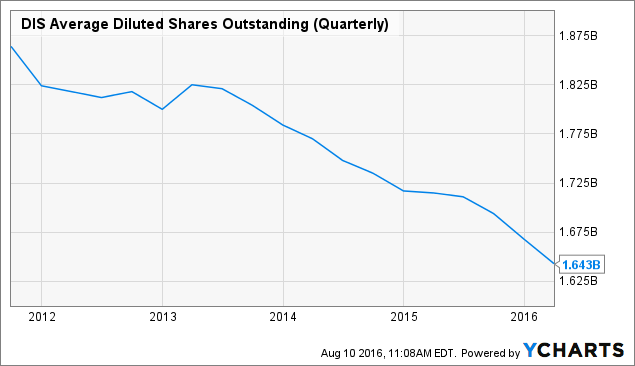 Disney has reduced the number of shares by 12% over the last five years, and has accelerated its repurchase pace recently: Over the last twelve months Disney has reduced its share count (diluted) by 75 million shares, or 4.4%. The current buyback pace will lead to earnings per share growth of 5% annually even if net income does not grow at all, which shows that the company's share repurchases have a significant impact on each share's worth and thus are very beneficial for long term shareholders. With Disney's huge cash flows (which will likely continue to grow) the company can easily finance its share repurchases in addition to its dividend and the capital expenditures that are required to grow the business.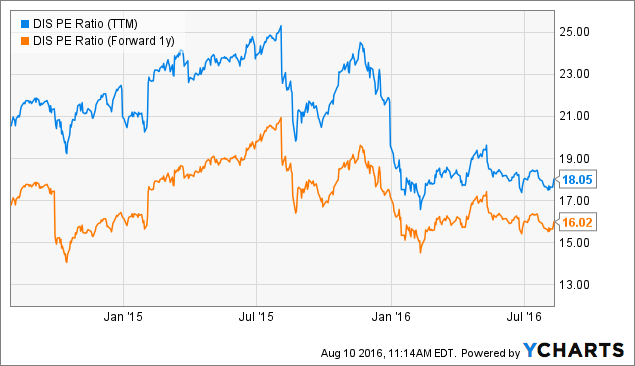 With Disney's shares trading at 18.1 times trailing earnings and just 16 times forward earnings the company's shares look attractively priced right now. Shares are cheaper than they were over the last two years, and they are also inexpensive versus the broad market's valuation -- the S&P 500 index trades at an astonishing 25.2 times trailing earnings. With Disney's continuing revenues, earnings and cash flow growth, its very strong brands, high shareholder returns and history of strong performance, I believe buying shares of Disney at just 18 times trailing earnings seems like a compelling idea for investors with a long term horizon.
Takeaway
Media Networks are still growing, albeit at a low pace. Disney's other divisions are growing much faster, which means Disney's dependence on ESPN and its other media franchises keeps declining, which will lead to a more diversified business ultimately.
With the Shanghai park opened just a couple of weeks ago and with Disney's very strong movie pipeline I believe we will continue to see a strong performance from Disney's growth drivers Studio Entertainment and Parks and Resorts.
With high shareholder returns and a low valuation Disney's shares look very attractive at a price below $100, I believe.
Author's note: If you enjoyed this article and would like to read more from me, you can hit the follow button at the top of the page, right next to my name and icon, to get informed about new articles.
Disclosure: I am/we are long DIS.
I wrote this article myself, and it expresses my own opinions. I am not receiving compensation for it (other than from Seeking Alpha). I have no business relationship with any company whose stock is mentioned in this article.