At the onset of previous bear markets, sectors that drove the decline often underperformed the S&P 500 Index before the sector index and broad market decline started. The move to underperformance was an early warning that the sector would play a key role in driving the bear market. This is discussed in the Investor's Business Daily Guide to the Markets.
Relative performance (also called relative strength) is shown by plotting the sector index divided by the S&P 500 Index, with a falling line showing underperformance.
For example, in April 2007, the S&P Commercial Banks Index relative strength line broke its support level (top chart).
S&P Commercial Banks Index and strength vs. S&P 500 Index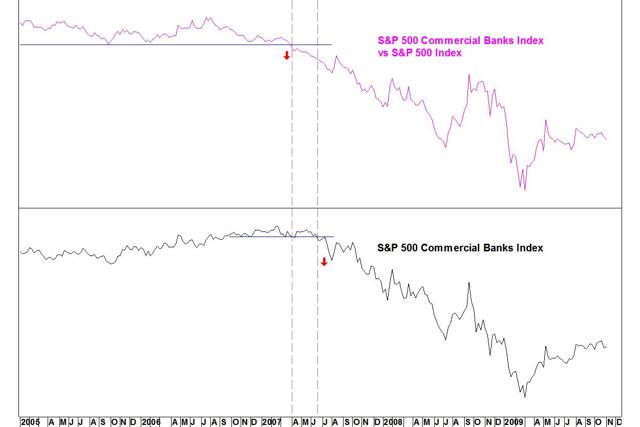 This was 11 weeks before the sector index broke its price support (bottom chart), which eventually brought about the broad market decline.
Not every move to underperformance means the sector will fall in price. If the broad market remains in an uptrend, the sector can hold up and even rally.
If a bear market started soon (I make no comment on the timing of that here), parts of the consumer discretionary sector could drive the decline. Firstly, the SPDR S&P Retail ETF (NYSEARCA:XRT) has moved to underperformance.
SPDR S&P Retail ETF and strength vs. S&P 500 Index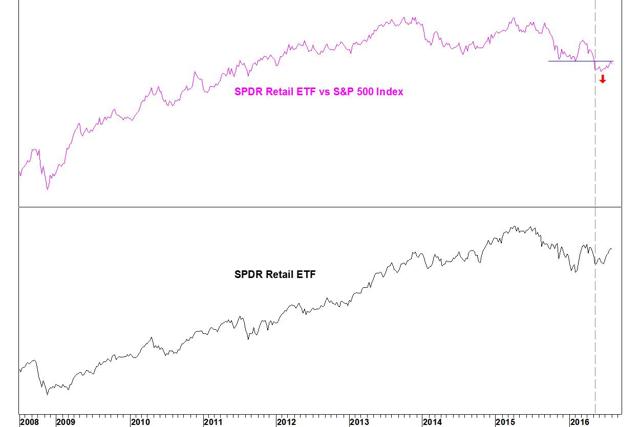 The relative strength line (top chart) has formed a top since 2014 and in May broke the most recent support level. The price (bottom chart) has not yet broken support.
Another consumer discretionary sub sector with potential to be a factor in a bear market is restaurants.
S&P 500 Restaurants Index and strength vs. S&P 500 Index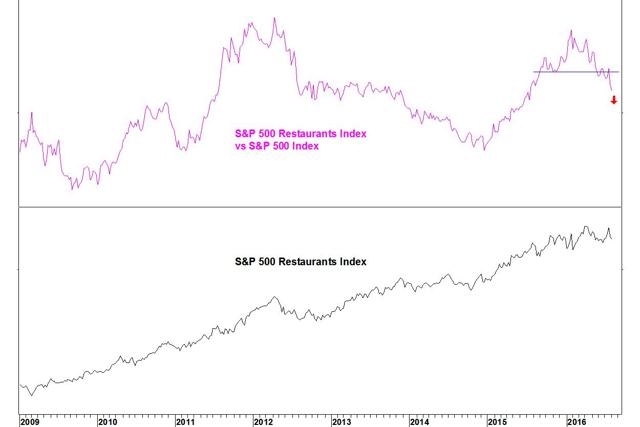 In the last two weeks, the sector has underperformed significantly, breaking support against the S&P 500 Index. This history of this sector shows that moves to underperformance are not disastrous if the broad market continues rising. If that changes though, look out below!
Whether a bear market materializes or not, there is a better alternative sector to move money into. One technique for identifying long-term trend changes is to look for moving average crossovers.
The average price over a number of preceding days is plotted. When a short-term average (fewer days, closer fitting) rises above a long-term average (more days, slower to respond), a bullish trend change is indicated. This technique works better when there hasn't been a cross for a long time and when both averages are rising. The idea can be applied to ratios of price series as well as a single series.
The chart above showed a long-term top formation for XRT against (divided by) the S&P 500 Index, so we should expect many sectors to show favorable characteristics when plotted against XRT. Therefore, we should first check each sector against the S&P 500 Index.
iShares DJ US Telecom vs. S&P 500 Index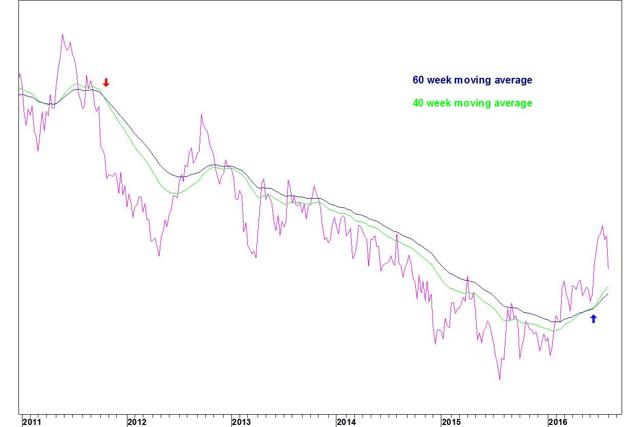 The iShares U.S. Telecommunications ETF (IYZ) underperformed the broad market until the mid-2015 low. The relative strength then bottomed and a bullish moving average crossover occurred this May, the first cross since 2011.
iShares DJ US Telecom vs. SPDR S&P Retail ETF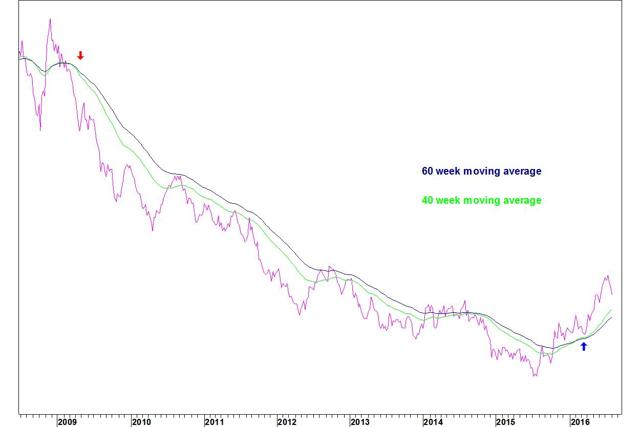 Underperformance compared to the retail sector ETF was in place for even longer. This has bottomed out and a bullish moving average crossover occurred in February. This suggests a move to outperformance by IYZ of XRT in the long term.
Caveats
Long-term moving average crossovers don't tell you the exact timing that portfolio changes should be made. The underperformance by IYZ in the last few weeks could easily continue for a while.
Moving averages lag prices, so crossovers give late indication of trend change.
Investors might want to make use of other tools to reduce drawdown suffered when waiting for the crossover that will signal reversing the initial portfolio change.
Disclosure: I/we have no positions in any stocks mentioned, and no plans to initiate any positions within the next 72 hours. I wrote this article myself, and it expresses my own opinions. I am not receiving compensation for it (other than from Seeking Alpha). I have no business relationship with any company whose stock is mentioned in this article.