GW Pharmaceuticals (NASDAQ:GWPH) released Q3 results which were basically in line and set up plans for the future of this leading medical marijuana company.
As I pointed out in my previous article, more important for investors is whether the company can continue to have promising results for its drug Epidiolex. These tests currently target four childhood epilepsy conditionsL Dravets Syndrome, Lennox-Gastaut syndrome, tuberous sclerosis ("TSC"), and infantile spasms. Epidiolex is a liquid formulation of pure plant-derived cannabidiol.
Orphan designation has been given by the FDA for these conditions. This allows for a 7-year patent protection and fast-tracking of the testing process. The European Medicines Agency (NYSEMKT:EMA) has confirmed a similar program.
Testing for a whole range of conditions using different cannabinoid formulae is also starting up. I had detailed some of these in my previous article. A summary of some of these tests from the company website is detailed below.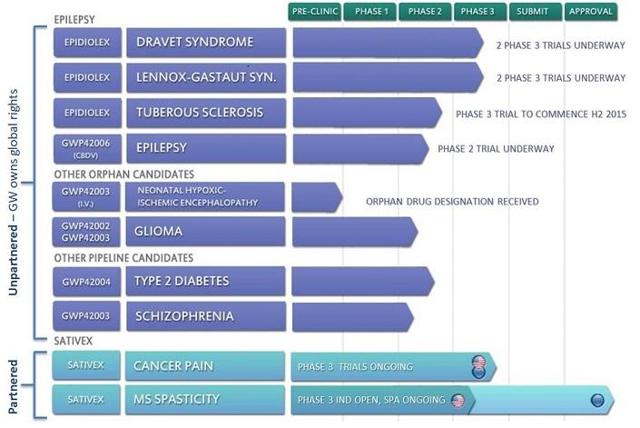 The earnings release gave some vital up-dates on the above.
Apart from Epidiolex, there is the company's Sativex nasal spray which contains two cannabinoids, THC and CBD. This product is at Phase 3 testing for treatment of cancer pain. It is already sold in 28 countries for the treatment of spasticity caused by multiple sclerosis. Multiple sclerosis affects 1.2 million people worldwide, of whom about 84% suffer from spasticity. So the total world market potential is quite substantial.
At the Q3 earnings announcement the company stated that a further Phase 2 study was under way with the FDA for spasticity due to cerebral palsy. Data from this is expected in Q4. In the quarter under review the value of Sativex sales rose 36% on a year-on-year basis.
Results
The full figures can be seen here.
Earnings estimates by analysts had been quite varied. They ranged from an earnings per share loss of $0.10 to a loss of $1.90. Consensus had been a loss of $1.21. In fact the figures came out to a loss of £0.05 (US$0.065) per share. So the loss per share was better than anticipated.
For the nine months to 30th June after-tax losses totaled £46.7 million. This compares to £32.3 million for the nine months to 30th June 2015. The company put this increased number down primarily to the increased costs of the Epidiolex Phase 3 trials. Expenses in general also rose quite substantially.
Year-on-year Research and Development Expenditure increased 23% while Sales, General and Administrative expenses increased 87%. The former was due to increased testing procedures in both Europe and North America. The latter was mainly due to setting up facilities in the USA prior to anticipated commercial launch of Epidiolex next year. The company intends to commercialize Epidiolex using their own sales and marketing organization.
Vitally for a drug development company, cash reserves are strong. Cash and cash equivalents amounted to £191.2 million, compared to £234.9 million as of 30th September 2015. At the end of Q2 the company had given a figure of £192.7 million. However following this cut-off date, the company subsequently raised £273.1 million in a successful fund-raising exercise.
At the results briefing the company gave some much awaited up-dates on their testing progress.
CEO Justin Gover stated that as a result of their pre-NDA (New Drug Application) meeting:
"We have now reported two positive Phase 3 trials for Epidiolex and are on track for an NDA filing that includes both the Dravet Syndrome and Lennox-Gastaut Syndrome indications".
He confirmed the company had a promising pre-NDA meeting with the FDA and expected submission for both childhood epilepsy conditions in the first half of 2017. The ongoing Phase 3 trial for TSC will commence in Q4 2016. Over 1,000 patients are now being treated with Epidiolexunder Expanded Access Treatment IND's (Investigational New Drug applications), U.S. State programs, and in an open label extension trial. The open label extension trial has now been joined by 99% of the participants from the original randomized controlled clinical trials.
Further treatment is proceeding in partial-onset epilepsy studies in adults at Phase 2 schedule. Data on this is expected in the first half of 2017. Epilepsy drug treatment potentially has a multi-billion dollar potential. GW Pharma's route to this can be seen through means of approaching it from the niche applications of childhood epilepsies. So the potential for Epidiolex on the whole is a lot greater than might be estimated by just looking at the numbers suffering from childhood epilepsy.
Phase 2 trials should commence in H1 2017 for autism spectrum disorders. For NeoNatal Hypoxic Ischemic Encephalopathy (NHIE) an intravenous CBD Phase 1 clinical program is expected to start in Q4 2016. Orphan designation has been given for this by the FDA. There are up to 12,000 cases of NHIE each year in the USA.
Orphan status had also been given in the quarter under review for the company's tests for glioma, a tumor that develops in the brain or the spine.
Promising early indications for cannabinoid treatment of schizophrenia and diabetes were also noted by the company in their Form 6-K.
There is a fully enrolled study for Recurrent Glioblastoma Multiforme ("GBM") in Phase 1b/2a. Results are expected to be published in Q4 2016.
Cash in Hand for the Future
Key to the prospects of any drug development company is having sufficient funds to bring the products to market through the lengthy testing process. The cash in hand figures announced at the Q3 results seems to be more than sufficient. Last month GW Pharma had a very successful fund raising exercise. This raised the proposed US$289.8 million in the form of a public offering of its American Depositary Shares (ADS's). These were priced at US$90.This has successfully put a floor under the stock price in fact. It is an example of how stock dilution need not necessarily be a negative for stock-holders.
Justin Gover stated, regarding Epidiolex:
Our recent successful financing has provided GW with the necessary capital to move forward with confidence in preparing to execute a highly successful launch.
Though I'm not personally a fan of charts and technicals when measuring stock performance, the technical factors are in GW Pharma's favor as well. Market Edge (subscription required) point out that upside momentum is very strong for a stock that has outperformed the market over the last 50 trading days. Having more up than down days is seen as a sign that stocks are under accumulation, a bullish condition. The stock is trading above both a rising 50-day moving average and a 200-day moving average. Institutional support is strong with 69% of shares held by institutions.
The Big Picture.
Medical marijuana is increasingly being accepted around the world and this appears to be an unstoppable process. The situation in the USA is less clear. Astonishingly cannabis is still listed as a Schedule 1 drug along with the likes of heroin and crack cocaine. The U.S. elections may have some impact on this. Hillary Clinton is, not unusually, unwilling to commit very much though she has said cannabis should become a Schedule 2 drug. With Donald Trump, who knows?
More importantly medical marijuana is increasingly being accepted on a state-by-state basis. Currently 25 states allow medical marijuana and three more have legalization initiatives on the ballot this November. They are Florida, Missouri and Arkansas. There is a forward looking risk of conflict between Federal and State bodies.
Conclusion
Investing in drug development companies is always a risky business due to the uncertainty of FDA approval. A startling confirmation of this was seen recently with Bristol Myers (NYSE:BMY). Their share-price dropped 20% overnight when Phase 3 clinical trials with the FDA for their lung cancer drug "Opdivo" proved to be disappointing.
However GWPH is a long way down the road and the undoubted leader in the medical marijuana field. My previous article dealt with some of the competitors. These include Insys Therapeitics (NASDAQ:INSY), Zynerba Pharma (NASDAQ:ZYNE) and Zogenix (NASDAQ:ZGNX). None have a pipeline anyway approaching that of GW Pharma. Readers will do their own due diligence.
It seems clear though that if one believes in the potential efficacy of cannabinoids as a medical treatment, then GW Pharma is the outstanding company in the field. There is great optimism that the manufacture and combined commercial sale of Epidiolex for both Dravets Syndrome and for Lennox-Gastaut Syndrome will eventuate in 2017. Epidiolex will thus join Sativex as a meaningful income-earner. It though has far greater dollar potential than Sativex at the moment. Looking further down the line the company has a series of advanced clinical programs in multiple cannabinoid product candidates. This should ensure a pipeline of products down the road.
Disclosure: I am/we are long GWPH.
I wrote this article myself, and it expresses my own opinions. I am not receiving compensation for it (other than from Seeking Alpha). I have no business relationship with any company whose stock is mentioned in this article.