Wall Street is a rigged place. This does not come as news or surprise to anyone who has been associated with the stock market directly or indirectly for a good period of time. Instances of insider activity, ticking off analysts, manipulating financial reports, spreading false rumors, and many other activities often put common investors at a disadvantage. These happen more frequently than one would anticipate.
The highly coveted Wall Street does not provide a level playing field to every participant. It discriminates; giving some an opportunity to make more money than others. Access to material non-public information gives some "close aides" a decisive edge in the crazy industry of stocks.
A recent Wall Street Journal report titled Companies Routinely Steer Analysts to Deliver Earnings Surprises revealed how rigged the game actually is. As we, common investors, celebrate the earnings beat of our stocks, the managements are laughing their way home. Only a small percentage of investors like to view things as they really are, and are not affected by the so-called earnings beat. They understand that the beat has been achieved by lowered estimates, and the underlying business is actually struggling.
At this point, many would be wondering that the lowered estimates do reflect the tough business conditions, and therefore, beating them is a feat in itself. I agree with those who have this view, but unfortunately, it's not this simple. The game is a lot murkier than we would like to believe.
Chairman of Expedia, Inc. (NASDAQ:EXPE), Barry Diller, told WSJ that analysts and investor-relations executives work together to keep estimates low. With nudges and phone calls, analysts are urged to lower their estimates, making it easier for companies to beat them.
According to an analysis by The Wall Street Journal, analysts steadily decline their earnings and revenue estimates after the end of a quarter to allow companies to post a "positive surprise" rather than an "embarrassing miss."
I have tried to explain this earlier as well, in my article titled S&P 500: What Are We Really Chasing?, in which I suggested that the analysts steadily lower their earnings estimate with time. Analysts at the brokerage firms have vested interests in the earnings estimates; they are clearly not an investor's friend.
Analysts can go horribly wrong in their estimates, and the S&P 500 (NYSEARCA:SPY) is a perfect example. According to FactSet, analysts have been lowering their S&P 500 CY 2016 earnings projections since the beginning of this year. On December 31, the estimated growth rate was 5.9%, which had declined to 1.3% by March 31. At the end of June, the growth rate had plummeted to 0.1%. The most recent estimate has turned negative at -0.3%.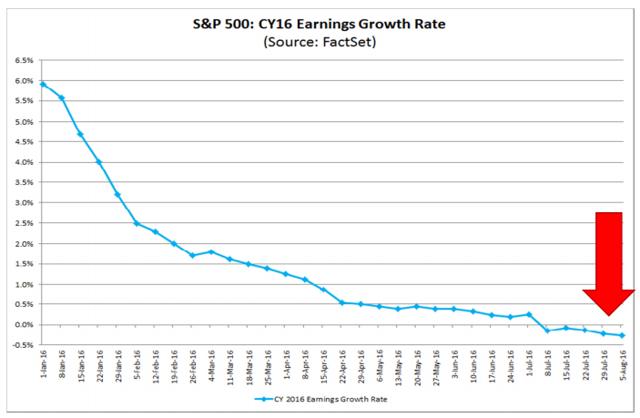 More Theatrics Than Reality
Companies' investor relations executives and the analysts are hand in gloves in this charade. The practice to push the estimates lower has become so commonplace that there is no merit left in even taking them seriously.
A handful of selected analysts are "informed" about the upcoming results, who then update their research reports accordingly in order to give an impression of accurate prediction. Clients of such fortunate analysts also benefit immensely from the crucial information.
Sometimes, the IR teams call on the analysts to discuss their estimates, and remind them of "certain deals" or "possibly lower numbers" to coerce them to lower their estimates. Jeffrey Harte, banking analyst at investment banking firm Sandler O'Neill + Partners LP, confirmed this to WSJ:
"Companies have called to ask if I was aware of their guidance and incorporated it into my models."
Why would analysts want to engage in such activities? They risk losing reputation if their estimates are way off than the actual numbers, and are kept away from attending management meetings or conference calls if they do not take the calls.
Take a look at the four snapshots below which clearly tell how the analysts' estimates are lowered as the earnings date nears. And how the earnings beat is achieved.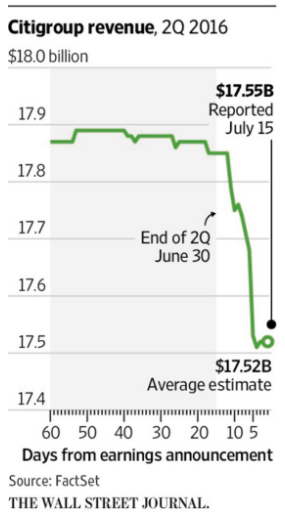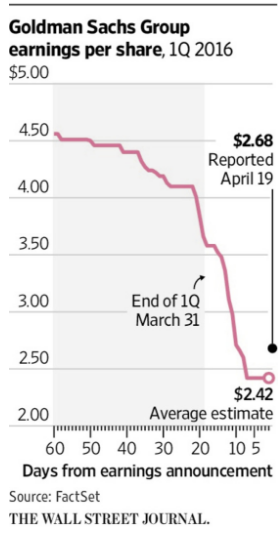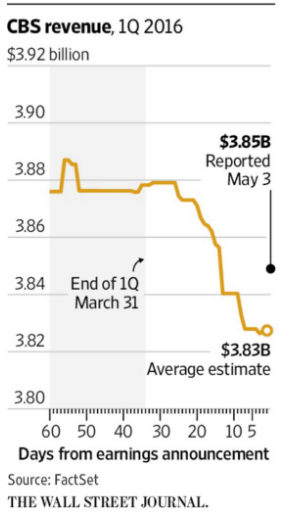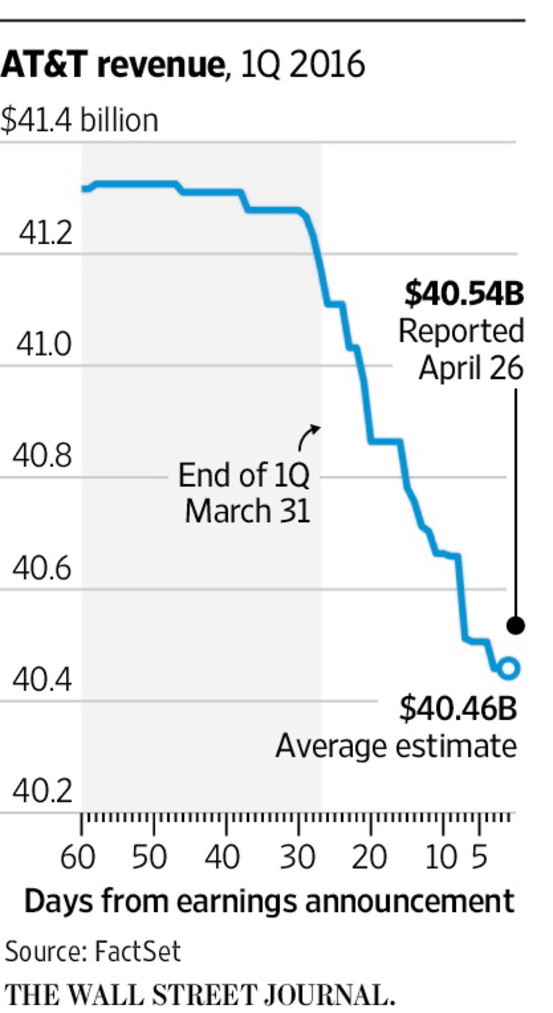 What Is The SEC Doing?
In 2000, the Securities and Exchange Commission adopted the final rule on Selective Disclosure and Insider Trading to address:
The selective disclosure by issuers of material non-public information.
When insider trading liability arises in connection with a trader's "use" or "knowing possession" of material non-public information.
When the breach of a family or other non-business relationship may give rise to liability under the misappropriation theory of insider trading.
The SEC adopted the Regulation FD (Fair Disclosure), which I advise that readers should look into at least once. The rule allows the companies to guide the analysts in right direction such as in correcting historical facts, but prohibits them from sharing information which could benefit only a fraction of the large investing community.
All the companies mostly have a similar answer: "We understand the rules, and our teams follow them diligently."
So, What Should Investors Do?
Beating the Wall Street at its own game is extremely difficult (or pretty much impossible) in the near term. However, in the longer term, a conservative investor can definitely achieve much better results.
Apart from this, investors can choose to just focus their attention on what the management reveals publicly in its meetings or SEC filings, and follow just this single metric. There is no need to follow each and every analyst and consider their rigged estimates.
For example, consider Qualcomm (NASDAQ:QCOM). I am long this stock, and want to reveal that I only follow what the management says in its commentary and what decisions is it taking to enhance the shareholder value. You can read my latest on QCOM titled Qualcomm's Licensing Division Gets A Major Boost to get an idea on how to evaluate the stock. I follow the quarterly guidance and examine how the earnings beat (if any) was achieved to get my fair idea on the ticker.
This may vary for different investors with different research styles and with different stocks.
Now Read: All Bull Markets Must End Terribly!
Disclosure: I am/we are long QCOM.
I wrote this article myself, and it expresses my own opinions. I am not receiving compensation for it (other than from Seeking Alpha). I have no business relationship with any company whose stock is mentioned in this article.
Additional disclosure: Hi All, This was a modest attempt to put out the truth behind the earnings beat. I may have missed out on a couple of points, and would welcome your perspective and criticism in the comments below. If you like what has been presented here, consider sharing this. You may also subscribe to my updates via the Follow button. Hope to see you in my next analysis. Thank you, and have a wonderful day!